These lemon olive oil cookies with a lemon drizzle are what I like to call, little drops of lemony heaven. They are tart, sweet and filled with bursts of citrus flavour.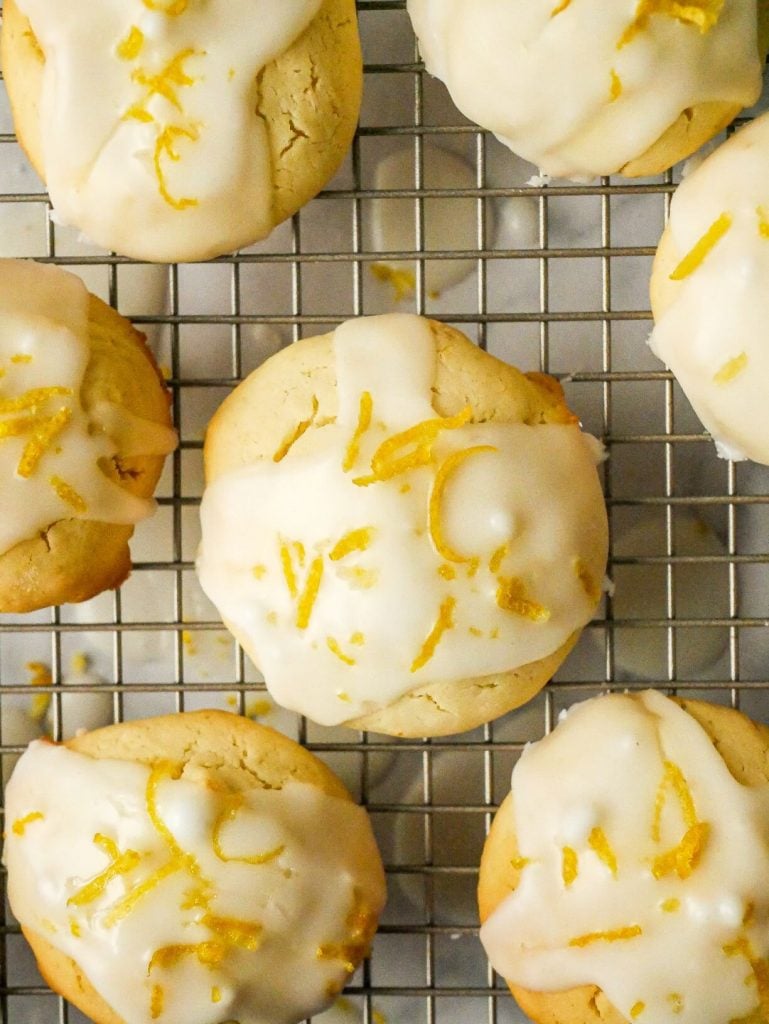 Lemon Olive Oil Cookies
My mum's abuela used to make these lemon olive oil cookies for her all the time and they then became something my mum would make for me and my brother. They are always greeted with a smile from us as they are the sweetest little cookie to enjoy with a cup of tea or simply on their own. They are incredibly light with beautiful notes of citrus throughout as they have been made with all parts of the lemon and are finished off with a tart yet sweet lemon drizzle. They are a great recipe to have up your sleeve for when guests are visiting or to simply keep in a cookie tin in your pantry for when that sweet craving hits!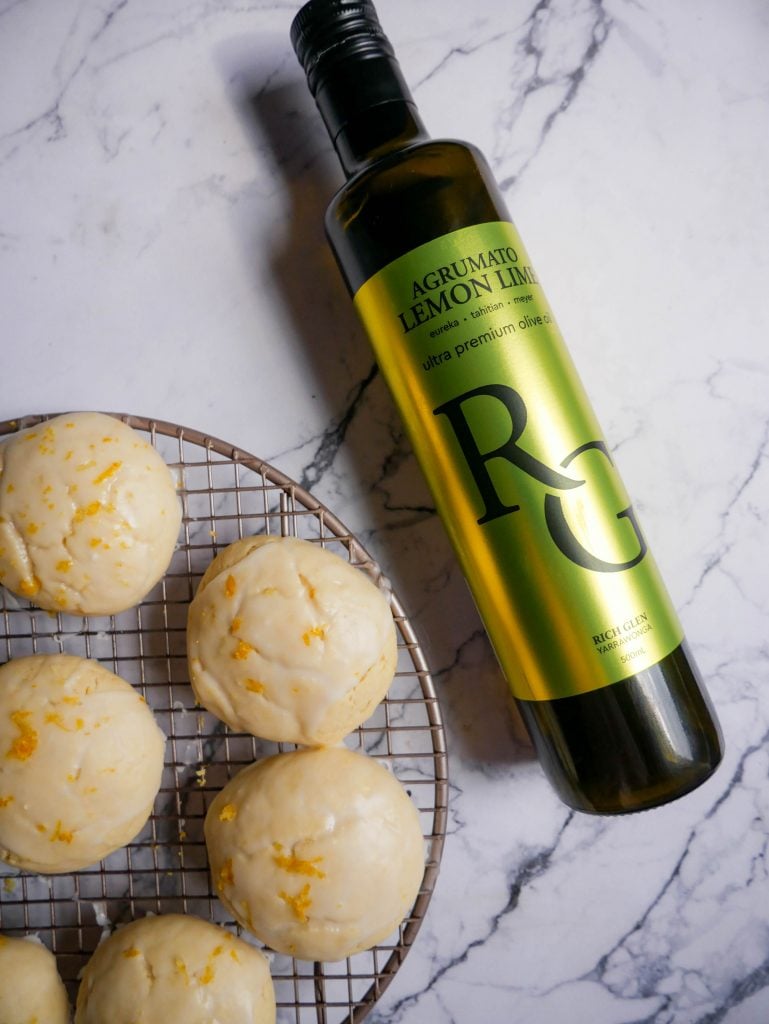 Olive Oil in Cookies
The olive oil helps create that light texture and flavour and the most fruity flavour throughout. By using olive oil as opposed to butter, these cookies are extremely moist and also dairy free. I like to use a flavoured olive oil from Rich Glen to give these cookies an extra citrus flavour. An original flavour extra virgin olive oil will work just as well! I recommend using a light olive oil.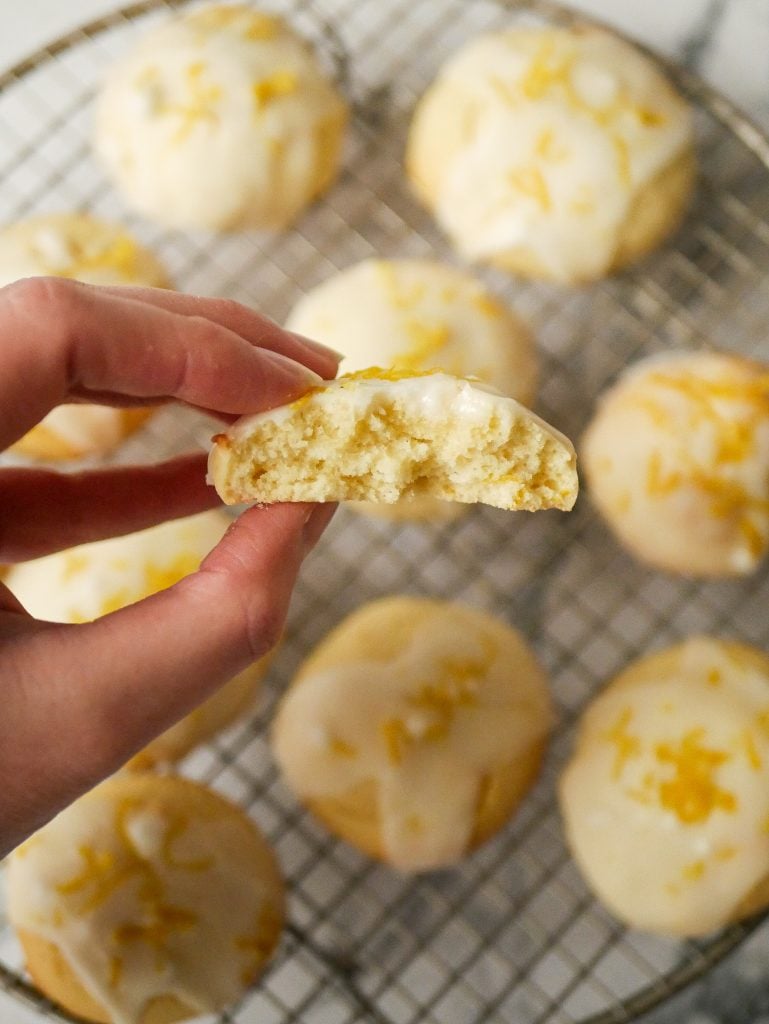 Lemon Drizzle
The tart yet sweet lemon drizzle is the perfect finish to these lemon olive oil cookies. It's made by mixing together icing sugar and lemon juice until you have that perfect drizzle consistency. Add your lemon juice to your icing sugar slowly until you achieve your desired consistency.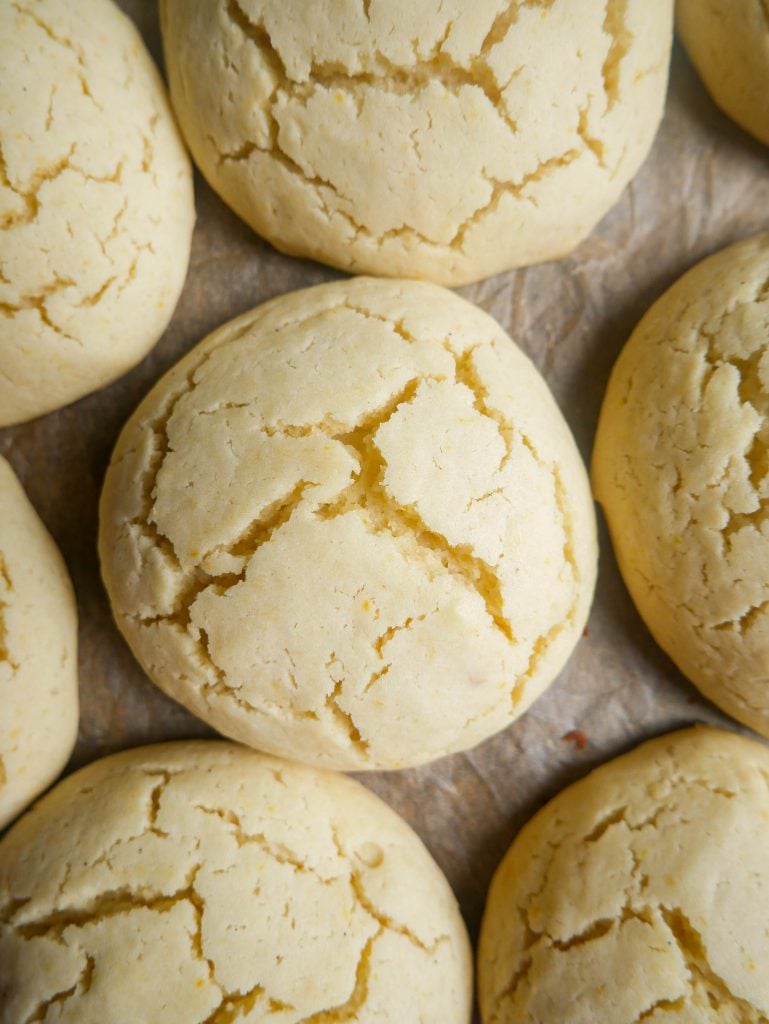 Making the cookies
These cookies are extremely easy to make. If you don't have stand mixer that is perfectly fine as everything can be whipped by hand. When rolling the cookies into their shape, I suggest firstly rubbing your hands with a little olive oil so the batter does not stick. This will also add an extra depth of flavour to the cookies as they will be coated in that beautiful zesty olive oil.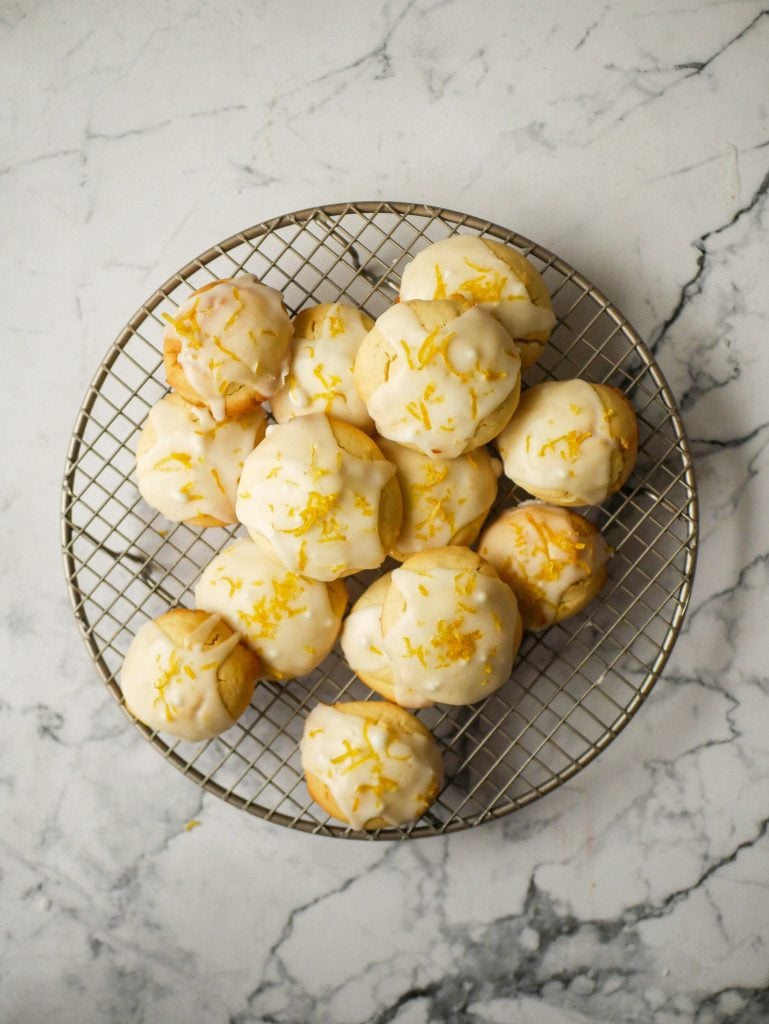 Frequently Asked Questions
Do I need a stand mixer?
Unlike when you bake with butter, baking with olive oil does not require a stand mixer and this recipe can be easily whipped by hand if you don't have one.
How do you get nice even cookies?
I recommend using an ice cream scooper or tablespoon to ensure your cookies are roughly the same size. If you don't have either of these, you can weigh the cookie batter on scales.
How do you roll the cookies into shape?
I use my hands and lightly oil them to prevent the batter from sticking to my skin. I also lightly oil the tools I am working with such as an ice cream scooper or tablespoon.
How do you store the cookies?
I store them in an airtight jar in my pantry and they can be stored for several days.
Check out more of my lemon sweets:
Lemon, blueberry and ricotta olive oil cake
If you make this recipe, please tag me on Instagram, Tik Tok or Pinterest so I can see your wonderful creations!
If you have any questions or would like to leave a review, please do so here! I always love answering your food and recipe related questions and hearing your feedback on my recipes.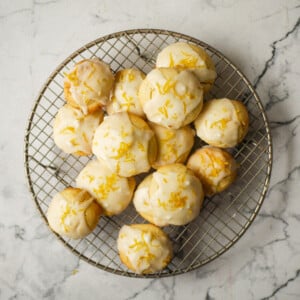 Lemon Olive Oil Cookies with a Lemon Drizzle
The sweetest little cookie to enjoy with a cup of tea or simply on their own.
Ingredients
Cookies
2 cups white all purpose flour sifted
1 tsp baking powder
1 tsp salt
1 cup icing sugar sifted
1/3 cup olive oil
1/2 cup lemon juice
2 lemons zested
1 egg room temperature
Lemon Drizzle
1/2 tbsp lemon juice
lemon zest for sprinkling
1 cup icing sugar
Instructions
Cookies
Preheat your oven to 180 degrees Celsius. 

Sift flour, baking powder and salt into a bowl and set to the side. Beat the icing sugar, olive oil, lemon zest and juice in a free standing mixer on a medium speed until all ingredients are well mixed. The mixture will take on a bright yellow colour and smooth texture. Add in the egg and mix until well combined. Using a spatula, scrape down the sides of the bowl to ensure everything is well mixed. 

Turn the mixer down to low and add in one third of the flour mixture. Repeat this step two more times until all the flour mixture has been added and everything is well combined. 

Pre-line a baking tray and grease with olive oil. Add a teaspoon of mixture to your hands and roll into a ball then place onto the tray. The cookie batter should be thick enough for this to be done however, if it will not hold you can simply place it straight onto the baking tray. As the batter will be quite sticky, I like to spray my hands with Bertolli Olive Oil so they are generously greased and the batter is easier to roll in my hands. This step also coats the cookie batter in some of that lovely olive oil. Leave a generous amount of space in between each cookie as they will expand when baking. You will need two medium sized baking trays.

Bake your cookies for 15 - 16 minutes. Leave your cookies to cool on a cooling rack and pour the lemon drizzle and a sprinkling of lemon zest onto each individual cookie.