This might sound like a crazy recipe. Cheese? Apple? Cinnamon? Pastry? But, I promise you, my apple cinnamon galette with cheesy pastry is such a fun and tasty dessert.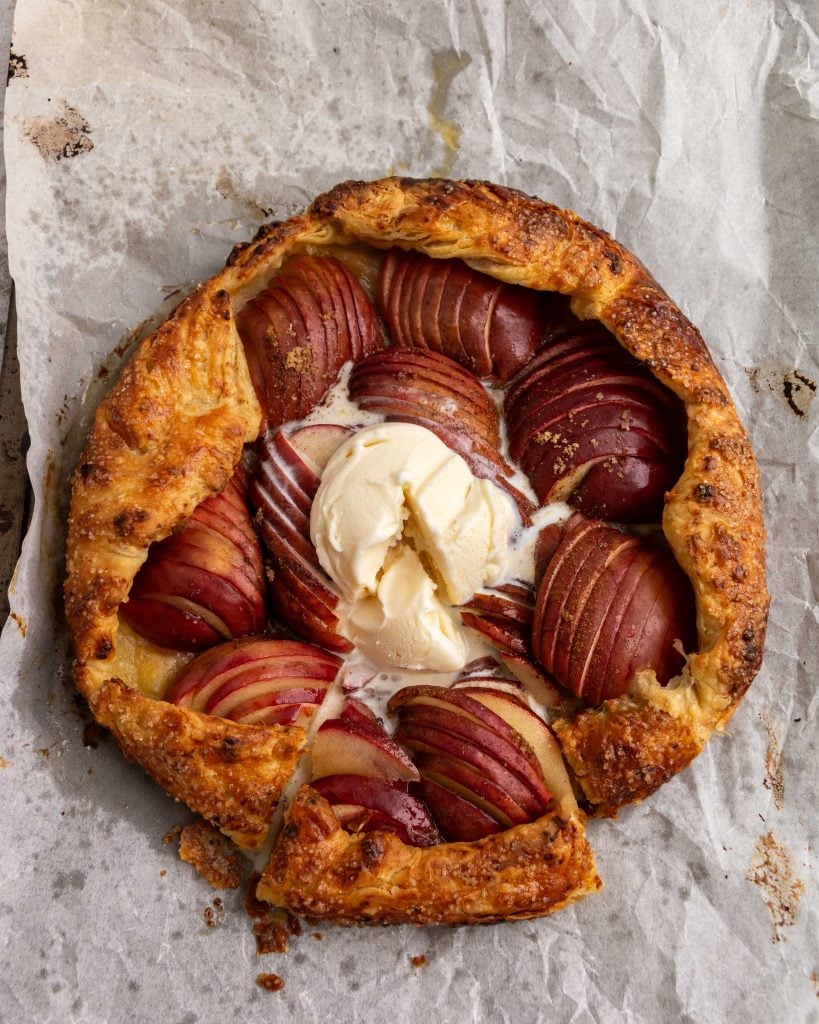 Apple cinnamon galette with cheesy pastry
I know that this will be a flavour combination that might get those pesky internet commentators to chuck in their two cents. They're just missing out though! This is basically a cheese board in pastry! Sweet slices of apple with sharp cheddar – what is not to love?
Pastry! Yes, you're making pastry!
Here we go again! I love to get my followers trying things that they never thought they could do – like making pastry! We've made ones with cream cheese, and one with sour cream. Even garlic confit! I really see puff pastry as being a building block of flavour. And, for this crafty little recipe, a delicious sharp cheddar will be the additional agreement that will bring this recipe from tasty to extraordinary!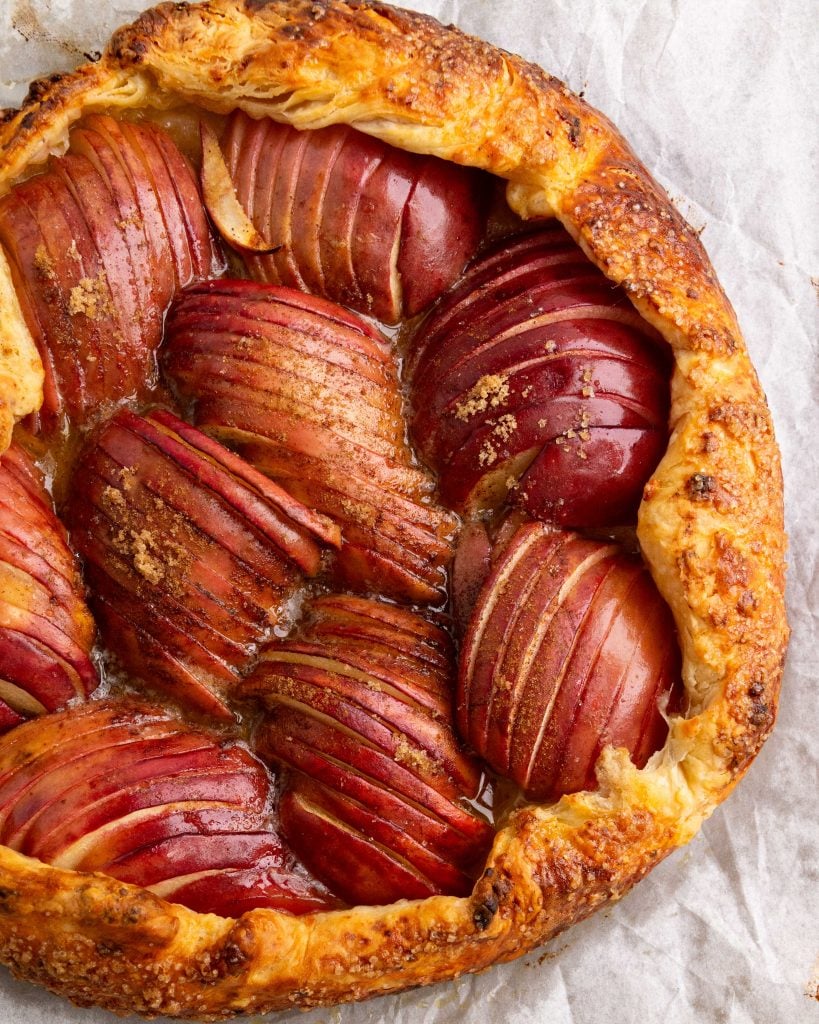 Need some puff pastry help?
New to making pastry? I've detailed it all in my summer tomato tart recipe – it's nowhere near as difficult as it looks.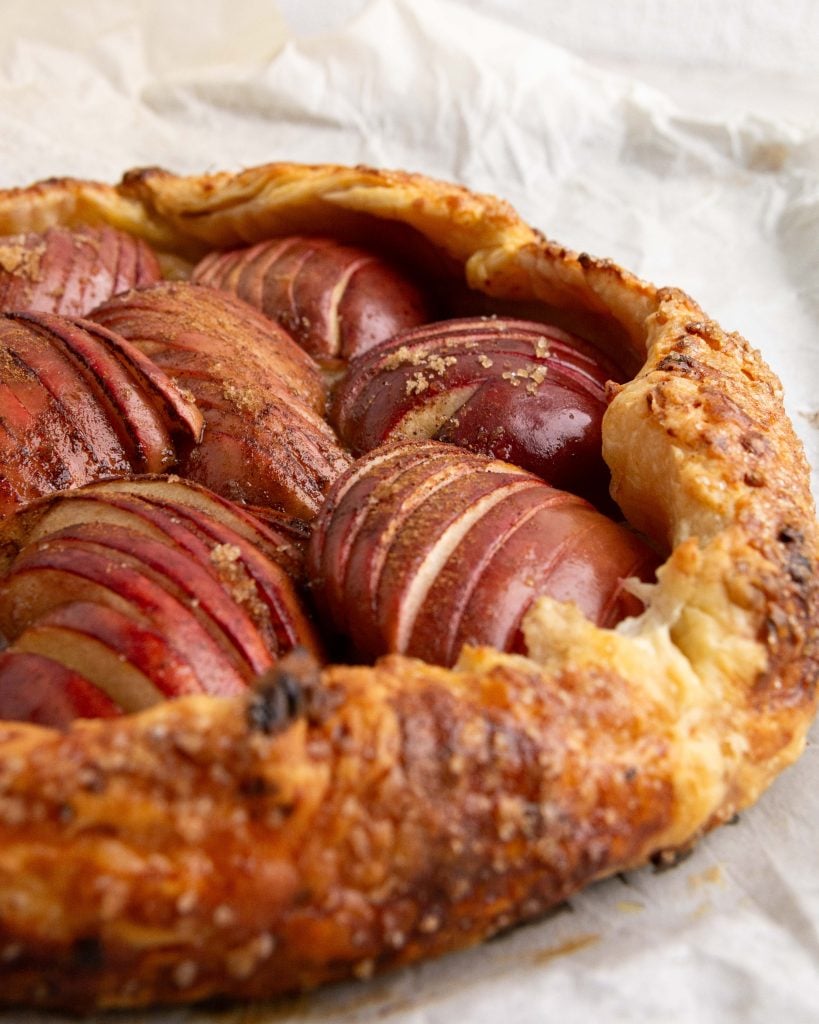 An apple a day keeps the galette tasty!
For this recipe, a red apple is the preferred choice. Red apples are sweet more than they are sour, and they also go a lot softer than green apples when cooked down, and you don't want a crunchy galette. The apples require very thin slices as well to aid in the cooking process so take your time and make sure those slices are nice and thin – practice and patience makes perfect.
Cinnamon for some flavour
Cinnamon is such a great addition to a dessert to keep it from going to sweet. It has a really lovely funkiness to it that just gives it a really unique flavour. I tend to use cinnamon but you could use cinnamon sugar if you want it slightly sweeter.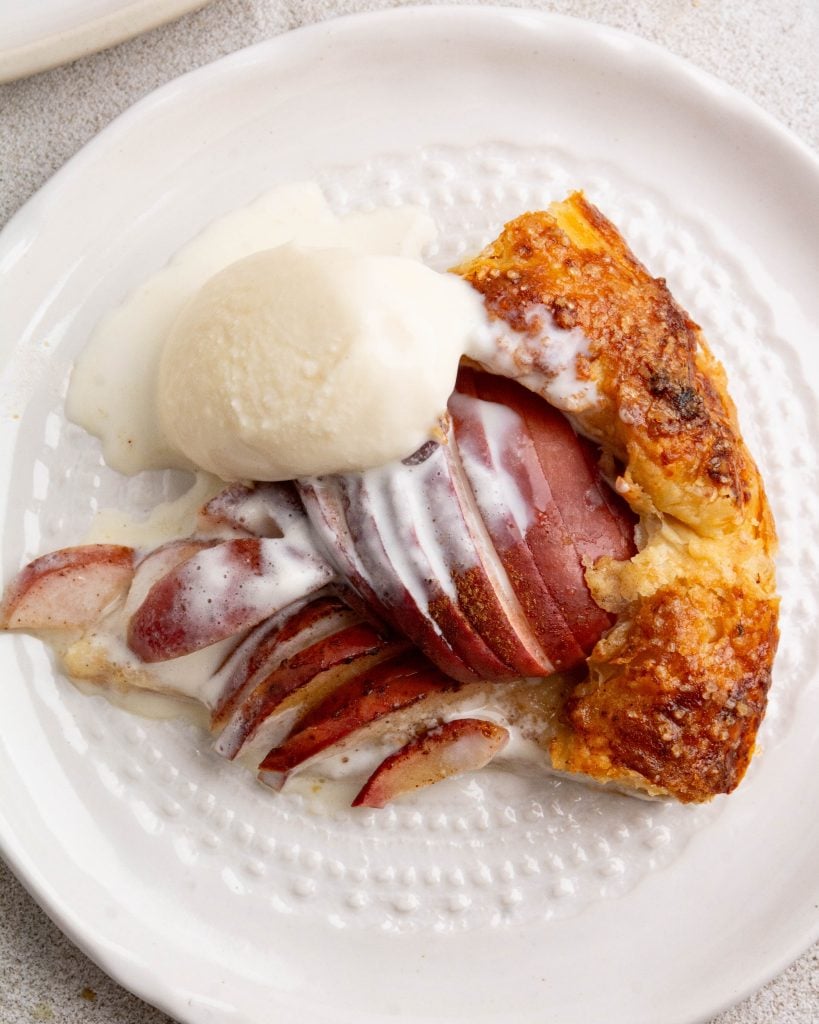 FAQ for the apple cinnamon galette with cheesy pastry
Can I use a different cheese?
You could branch out and use a blue cheese, which would be very much like a cheeseboard. However, it is a really strong flavour so adjust accordingly.
What should I serve this with?
Icecream, of course! Or you could whip up some cream if ice cream isn't your thing.
If you make this recipe, please tag me on Instagram, Tik Tok or Pinterest so I can see your wonderful creations!
If you have any questions or would like to leave a review, please do so here! I always love answering your food and recipe related questions and hearing your feedback on my recipes.
Images by Alanna Penn Photography.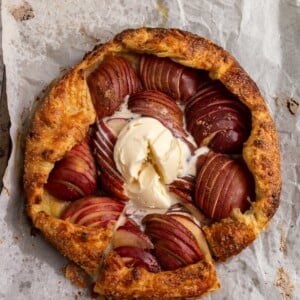 Apple cinnamon galette with cheesy pastry
It might sound like a strange combination but this is one you'll be making over and over again.
Ingredients
Cheddar cheese puff pastry
300 g plain flour (extra for dusting) 2 cups
1 tsp sea salt flakes
150 g salted butter
200 g sour cream
50 g cheddar cheese grated
Apple galette
4 red apples
2 tbsp brown sugar
2 tsp cinnamon
50 g cold butter cut into small cubes
1 tbsp demerara sugar
1 egg brush for pastry
ice cream to serve
Instructions
Cheddar cheese puff pastry
Chill a large bowl, a box grater and the butter in the freezer for 20 minutes before making the pastry.

Place the flour and salt in the chilled bowl and whisk together. Grate the butter using the chilled grater into the flour. Rub the butter into the flour until you have a pebble-like crumbly texture. You can do this by pinching and rubbing the butter and flour between your fingers.

Create a well in the centre of the mixture and add the sour cream and Cheddar cheese. Use a fork to slowly combine the flour by bringing it from the outside into the sour cream and cheese in the centre, until most of the flour is moist.

Lightly dust a work surface with flour and shape the dough into a disc. The dough should be firm and moist but not sticky. You want just enough moisture so the dough is barely sticking to itself. If it needs more moisture, slightly wet your hands when working with it or, if it's too dry, lightly dust it with flour. Cover with plastic wrap and leave to rest in the fridge for 2 hours or ideally overnight

Using a rolling pin, roll the dough out into a 2 cm thick and long rectangle. Fold the dough into thirds as if you were folding a piece of paper to go into an envelope. Turn the dough clockwise and roll it back out into a 2 cm thick rectangle. Repeat this step six times until you have created many layers and the dough is smooth.

Divide the dough into two and wrap each piece in plastic wrap. Leave to rest in the fridge for a minimum of 15 minutes or up to 2 days. If you are not using within 2 days, you can store in the freezer for 3 months.
Apple galette
Preheat the oven to 200 degrees Celsius / 390 degrees Farenheit.

Take one disc of puff pastry. Sprinkle your kitchen bench or work surface with flour. Using a rolling pin, roll the dough out to a large circle that is roughly 4 mm thick and 25 cm wide. Roll the dough onto the rolling pin, then lay it over the prepared tray.

Core the apples. Cut them in half then slice the halves into very thin strips. Fan out the apple strips by pressing down onto them and pushing them away from you. Using a bench scraper or large knife, slide it under the apple slices and then transfer to the rolled out pastry sheet, starting from the outside edge leaving a 3cm boarder and working into the middle.

Sprinkle over the cinnamon and sugar. Place the small cubes of butter over the apples and tuck into any gaps.

Fold the outside 4 cm edge over, pinching the dough together to form a rustic circle shape. Brush the egg wash over all of the dough then sprinkle with the demerara sugar. This will help give the pastry a lovely golden colour. Bake for 20 minutes or until golden and crispy.

Leave to rest for 15 minutes before slicing into it. Serve with a big scoop of ice cream.