It's picnic season in the Southern Hemisphere and there's nothing I love taking more to a picnic than a summer tomato tart. But, this one is a bit different because the pastry is cheese flavoured.  And, yes! In this recipe you make your own puff pastry from scratch but trust me it's really not as hard as you think and totally worth it!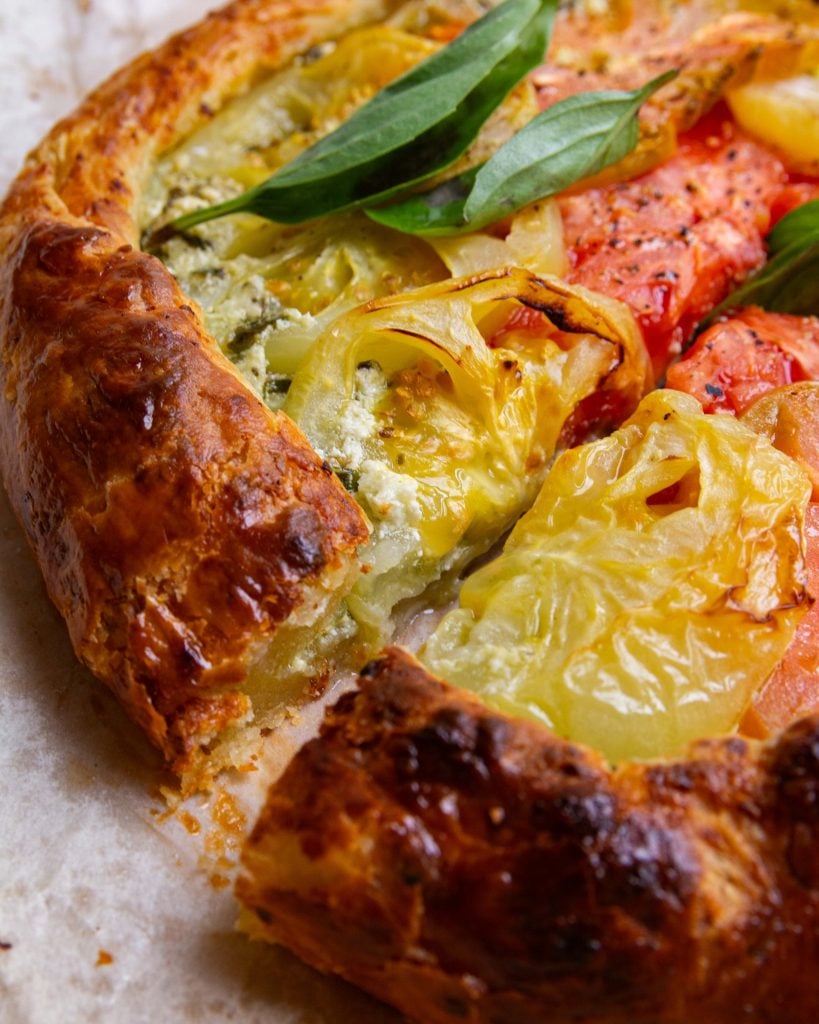 Summer Tomato Tart
Sweet, tart, acidic and rich – these are all the things that make a summer tomato tart such a welcome part of summer, therefore tomato season. 
This tomato tart has three main components: the beautiful tomatoes – I choose heirlooms because of their flavour and also, they just look so gorgeous. 
The other components are my walnut pesto, which is turning out to be one of the most versatile recipes recently! I've used it for eggs, pasta, sandwiches.
And, of course, the puff pastry. Follow along with my instructions and I promise you – you'll be a pastry expert in no time.
Toma(y)to, tomato
Summer tomato tart is obviously all about the tomatoes. You can really use any type of tomato for this recipe but I just have such a soft spot for the heirloom. But, if you can't find them – the boldness of a roma would also work. You could even do little halves or quarters of cherry tomatoes. The secret is to salt your tomatoes for 5 minutes before placing them into the tart. This will extract some moisture so when they bake away your tart doesn't turn into a soggy mess. 
Summer tomato tart with pesto?
Yes, that's right! The savouriness of walnut pesto is such a fun companion for the sweet tomato. The nuttiness and fresh herbs will have you wanting another slice!
You can do it! (You can make pastry!)
It's every home chef's Mount Everest, but pastry really isn't as complicated as it looks. Here's my advice when attempting puff pastry.
Brrr it's cold in here.
Freeze your ingredients and also your tools for making puff pastry 20 minutes prior to making your puff pastry. Yes, this includes your bowl, grater and even fork! Cold temperatures means everything when making puff pastry and by placing your butter and tools into the freezer beforehand, you will keep it at the coldest possible temperature when making your dough. 
Cheese graters aren't just for cheese.Layering
A little trick I learnt along the way is to grate your butter. This will make it much easier for you to break the butter into the flour with your finger tips and evenly distribute the butter across the flour.
Layering.
To get those beautiful flakey layers it's important you layer your dough or for a more technical term, laminate it. This means rolling the dough out flat, and folding the dough over itself into thirds as though you are folding an envelope to go into a letter. Repeat this step up to 6 times to create those iconic puff pastry layers. 
Work fast.
It's impossible to stop the temperature of the cold butter going down a few notches in degrees which is why I recommend working quickly when making your dough!

If you make this recipe, please tag me on Instagram, Tik Tok or Pinterest so I can see your wonderful creations!
If you have any questions or would like to leave a review, please do so here! I always love answering your food and recipe related questions and hearing your feedback on my recipes.
Tomato tart
It's picnic season with this summery delight!
Ingredients
Cheddar cheese pastry
300 g plain flour plus extra for dusting
1 tsp sea salt flakes
150 g salted butter
200 g sour cream
50 g cheddar cheese grated
Walnut pesto
2 garlic cloves
1/4 cup walnuts chopped
1 bunch fresh basil
1/4-1/2 cup extra virgin olive oil
30 g parmesan grated
30 g pecorino romano grated
flaky sea salt
Tomato tart
1 disc cheddar cheese puff pastry
2 large tomatoes sliced
100 g ricotta
2 tbsp walnut pesto
salt and pepper
olive oil
1 egg whisked for brushing dough
Instructions
Cheddar cheese puff pastry
Chill a large bowl, a box grater and the butter in the freezer for 20 minutes before making the pastry.

Place the flour and salt in the chilled bowl and whisk together. Grate the butter using the chilled grater into the flour. Rub the butter into the flour until you have a pebble-like crumbly texture. You can do this by pinching and rubbing the butter and flour between your fingers.

Create a well in the centre of the mixture and add the sour cream and Cheddar cheese. Use a fork to slowly combine the flour by bringing it from the outside into the sour cream and cheese in the centre, until most of the flour is moist.

Lightly dust a work surface with flour and shape the dough into a disc. The dough should be firm and moist but not sticky. You want just enough moisture so the dough is barely sticking to itself. If it needs more moisture, slightly wet your hands when working with it or, if it's too dry, lightly dust it with flour. Cover with plastic wrap and leave to rest in the fridge for 2 hours or ideally overnight.

Using a rolling pin, roll the dough out into a 2 cm thick and long rectangle. Fold the dough into thirds as if you were folding a piece of paper to go into an envelope. Turn the dough clockwise and roll it back out into a 2 cm thick rectangle. Repeat this step six times until you have created many layers and the dough is smooth.

Divide the dough into two and wrap each piece in plastic wrap. Leave to rest in the fridge for a minimum of 15 minutes or up to 2 days. If you are not using within 2 days, you can store in the freezer for 3 months.
Walnut pesto
Place the walnuts, garlic cloves and big pinch of salt into a food process and blend until you have a chunky texture. Add the basil leaves to the processor and blend while slowing pouring in the olive oil. Stir through the grated cheese.
Tomato tart
Preheat the oven to 180 degrees Celsius / 355 degrees Fahrenheit.

Place the tomato slices onto a plate or tea towel, sprinkle generously with salt and leave to sit for 10 minutes to allow some moisture to be released.

In a small bowl, mix together the ricotta and pesto until well combined.

Take one disc of puff pastry. Sprinkle your kitchen bench or work surface with flour. Using a rolling pin, roll the dough out to a large circle that is roughly 4 mm thick and 25 cm wide. Roll the dough onto the rolling pin, then lay it over the prepared tray.

Evenly spread the ricotta pesto over the puff pastry, leaving a 4 cm border around the edges. Place the tomato slices over the ricotta pesto sprinkle with a pinch of pepper and drizzle with olive oil.

Fold the outside 4 cm edge over, pinching the dough together to form a rustic circle shape. Brush the egg wash over all of the dough. This will help give the pastry a lovely golden colour. Bake for 15–20 minutes or until golden and crispy.

Leave to rest for 15 minutes before slicing into it.