If you're new around here, I love garlic. I'm a garlic girl and love to find new ways to use my garlic confit. This garlic confit aioli is definitely a win! It uses 10 garlic confit cloves that adds a lovely depth of flavour.
Making Aioli
Making aioli from scratch is extremely easy, especially when you have an immersion or stick blender. It's important that in the first few stages you don't move the stick blender as this will prevent the oil and egg from emulsifying. We're basically trying to combine two ingredients that don't like to be combined. When you start to see the ingredients come together, that's your sign to start moving your blender up and down to slowly incorporate all of the olive oil. Continue this step until you have a thick and creamy consistency.
Garlic Confit
I find garlic confit to be one of the most beautiful things you can cook. Confit is a French cooking technique where something is cooked in lots of fat at a low heat and for a very long time. For most part, the fat is usually an animals fat such as duck or butter however, when making garlic confit a high quality extra virgin olive oil such as Rich Glen Olive Oil, is a must. The garlic is fully submerged in olive oil and simmers away until golden and brown and slightly caramelised. It will be soft to touch and have a buttery and velvet like texture that will melt at the slightest touch. Read more about my garlic confit here.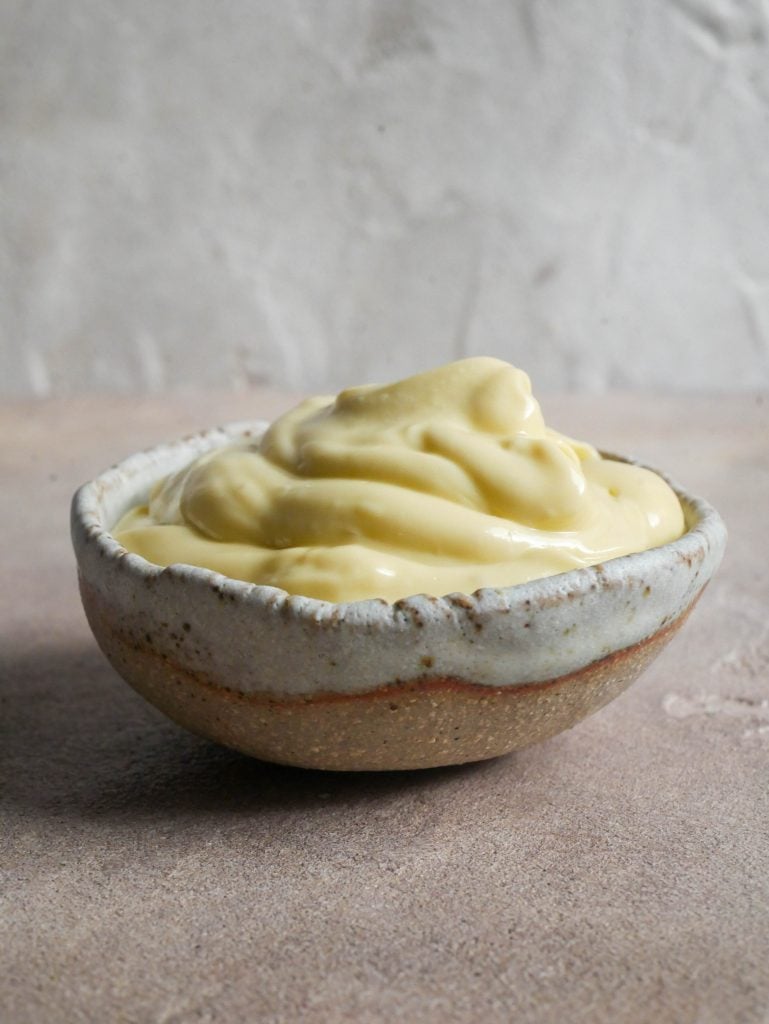 Frequently Asked Questions
Is it safe to use a raw egg?
If the eggs you're using have been pasteurised they will be safe to consume raw as the harmful bacteria has been removed. It will be listed on the egg carton if the eggs are pasteurised.
How long can I store the aioli?
The aioli can be stored for up 4 days in the fridge when kept in an airtight sterilised jar or container.
Can I use a neutral oil?
You absolutely can! Vegetable, canola or avocado oil can be used and this will give the aioli a more mild flavour.
If you make this recipe, please tag me on Instagram, Tik Tok or Pinterest so I can see your wonderful creations!
If you have any questions or would like to leave a review, please do so here! I always love answering your food and recipe related questions and hearing your feedback on my recipes.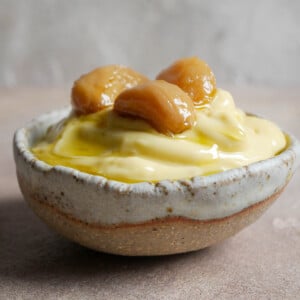 Garlic Confit Aioli
This aioli It uses 10 garlic confit cloves that adds a lovely depth of flavour.
Ingredients
10 garlic confit cloves
1/2 cup garlic confit olive oil
1/2 cup grapeseed oil
1 egg
1 tbsp lemon juice
pinch of flakey sea salt
Instructions
Place all ingredients into glass container or jug that is just wide enough to fit an immersion blender. Using an immersion blender, blend all ingredients together being careful to not move the blender up and down. Once the ingredients begin to emulsify, move the blender up and down while slowly incorporating all of the oil. Continue until you have a thick consistency.

Store in an airtight container or jar in the fridge for up to 3 days.