Growing up, lamb kebabs or souvlaki marked the end of a night out. The garlicky sauce with the rich lamb was the perfect savoury treat. Getting older, I've learned that souvlaki is not just good at the end of the night – but any time of day! And slow roasted lamb souvlaki is a fun treat for a dinner party that allows guests to be in control of their meal.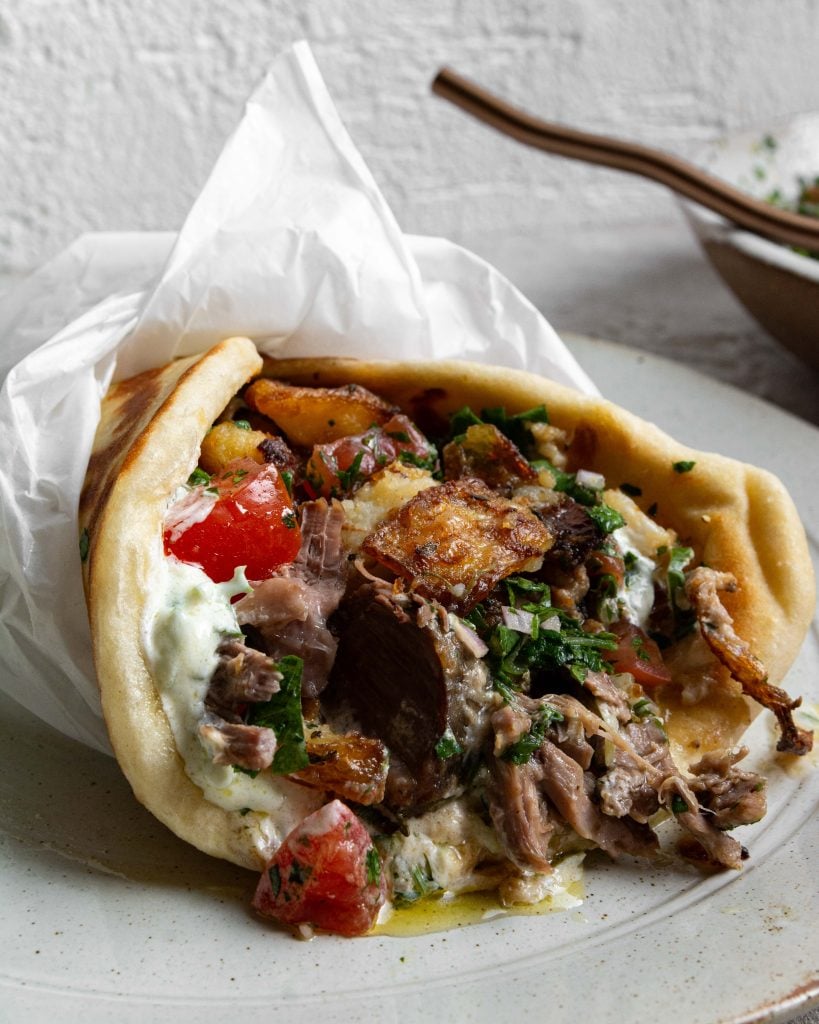 Slow roasted lamb souvlaki 
When you first see this video, you'll notice one thing – it is long. Yes, it is a bit of a labour of love to make the perfect slow roasted lamb souvlaki. But, it is so worth it. And none of the elements are particularly hard, it can just be a bit of a day in the kitchen. So fill up your wine glass, get some great music going and you'll have the time of your life followed by some incredible flavours.
The lamb – of course! 
The most important part of this meal? Roasted lamb! What's a slow roasted lamb souvlaki sans-lamb? You can use my slow roasted garlicky lamb recipe to really nail this dish and create some magic. It is very garlicky but there are so many other flavours going on that you won't even notice, it all complements one another.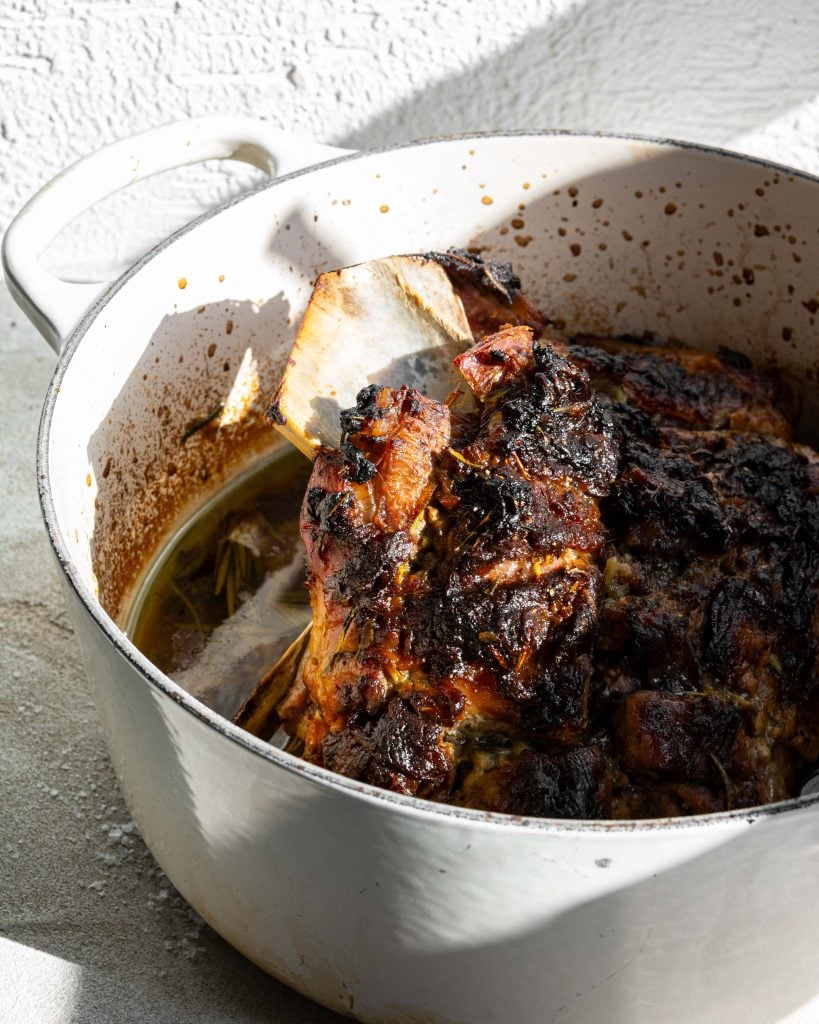 Tabbouleh (herby salad)
Tabbouleh is a staple of Middle Eastern cuisine. There are a few variations of it, some with bulgur wheat or even quinoa if you want to make it into a stand alone salad. But as this one is going into the souvlaki itself, keeping it simple and without all the grains will make it part of the flavour building rather than becoming overly filling. Because, trust me, this is a filling meal. This recipe was sent to me by my dear friend Maya and it's one we turn to more times that I can count.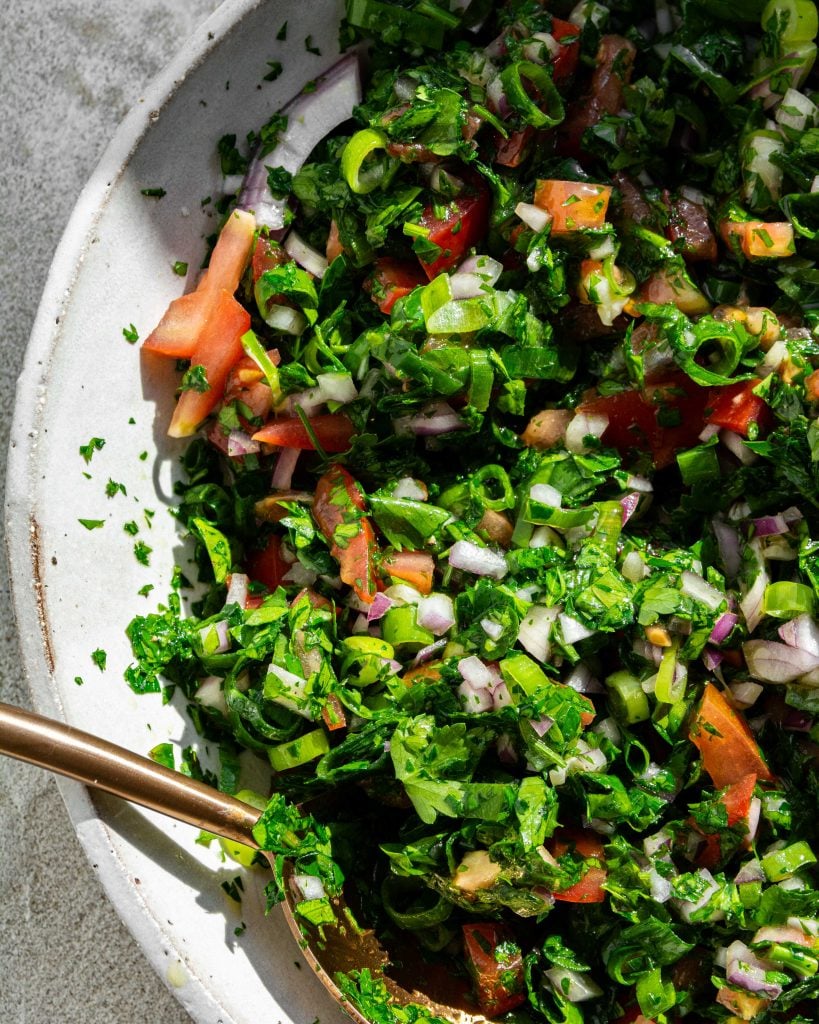 Crispy roasted potatoes
Some people add roast potatoes, others add thick chips. I like to add my crispy potatoes into a slow roasted lamb souvlaki. Why? The texture, the crunch. They add flavour and texture. They're herbaceous and delicious (and, of course, garlicky!).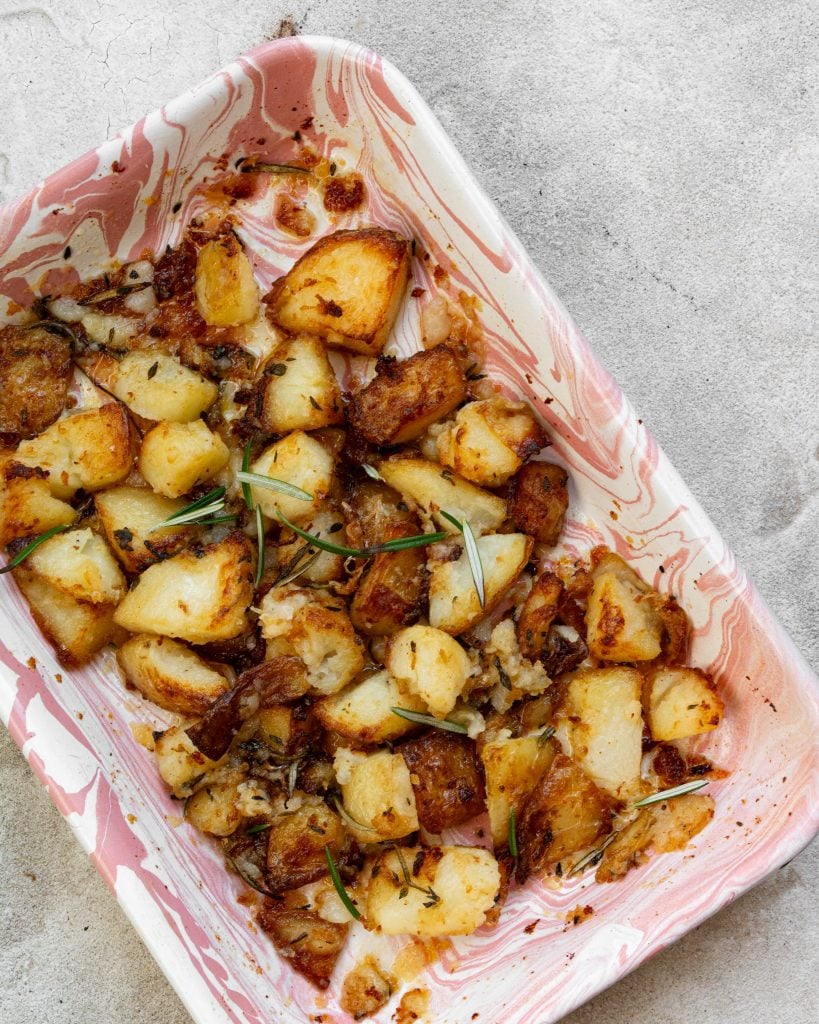 Tzatziki
Sometimes people will do hummus in their souvlaki, but I really enjoy mine with a strong tzatziki. Occasionally used as a dip for carrots or cucumber, tzatziki is a traditional condiment with so much Middle Eastern cooking. It's a yoghurt and cucumber sauce with lots of lemon juice and dill. The tartness will cut through the fattiness of the lamb – and also give it some moisture.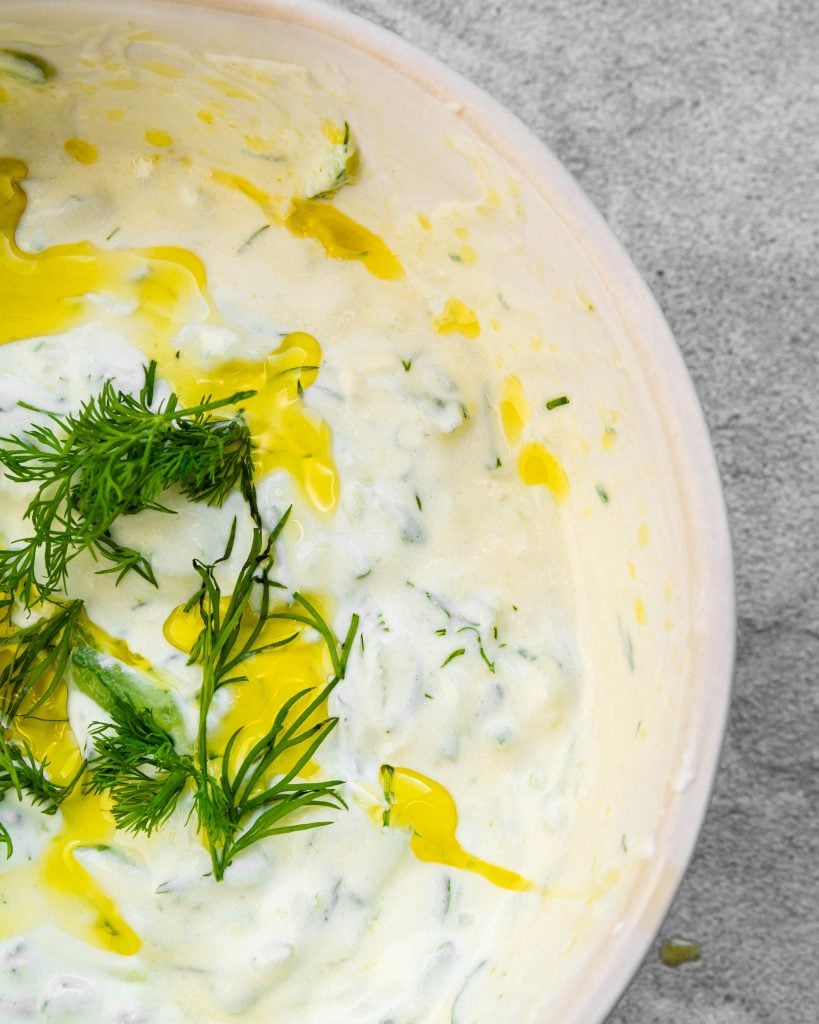 FAQ for slow roasted lamb souvlaki
Can I prepare this in advance?
You can prepare the lamb in advance! And all the other side dishes – if you were having a dinner party or lunch then some can be made the day before to cut back on cooking time that day.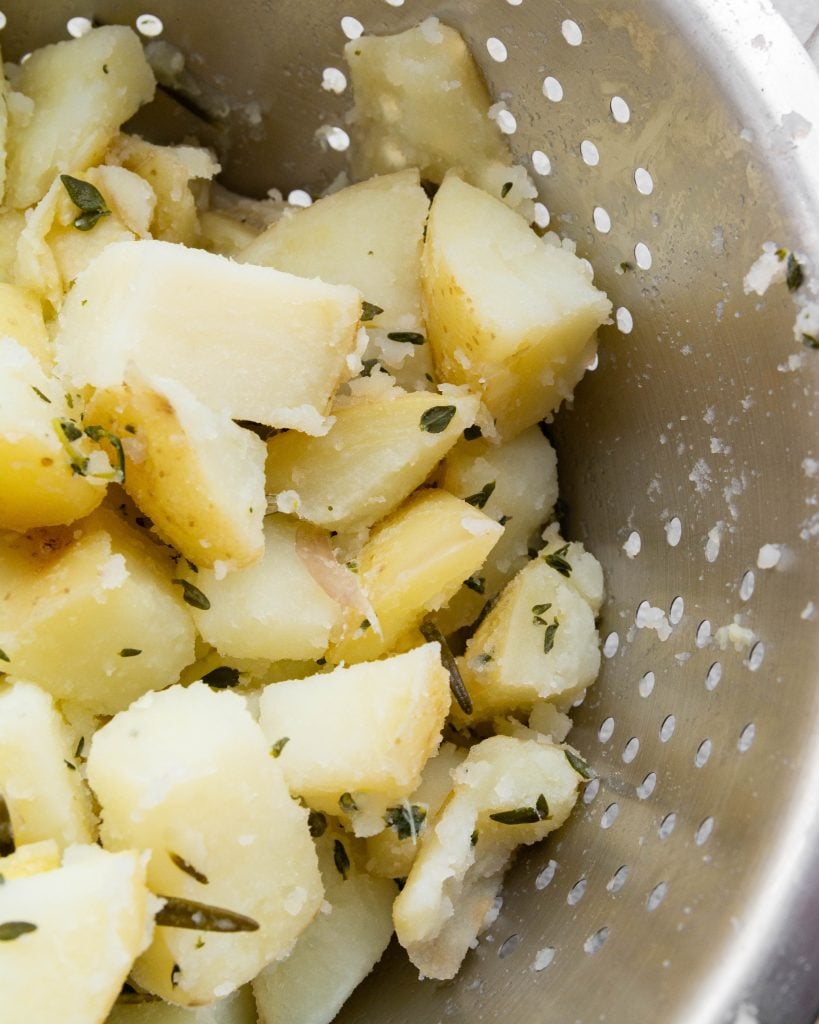 What else can I add?
You can add so many things to this – a lovely bitey feta or some chilli sauce would also suit it to give it some kick.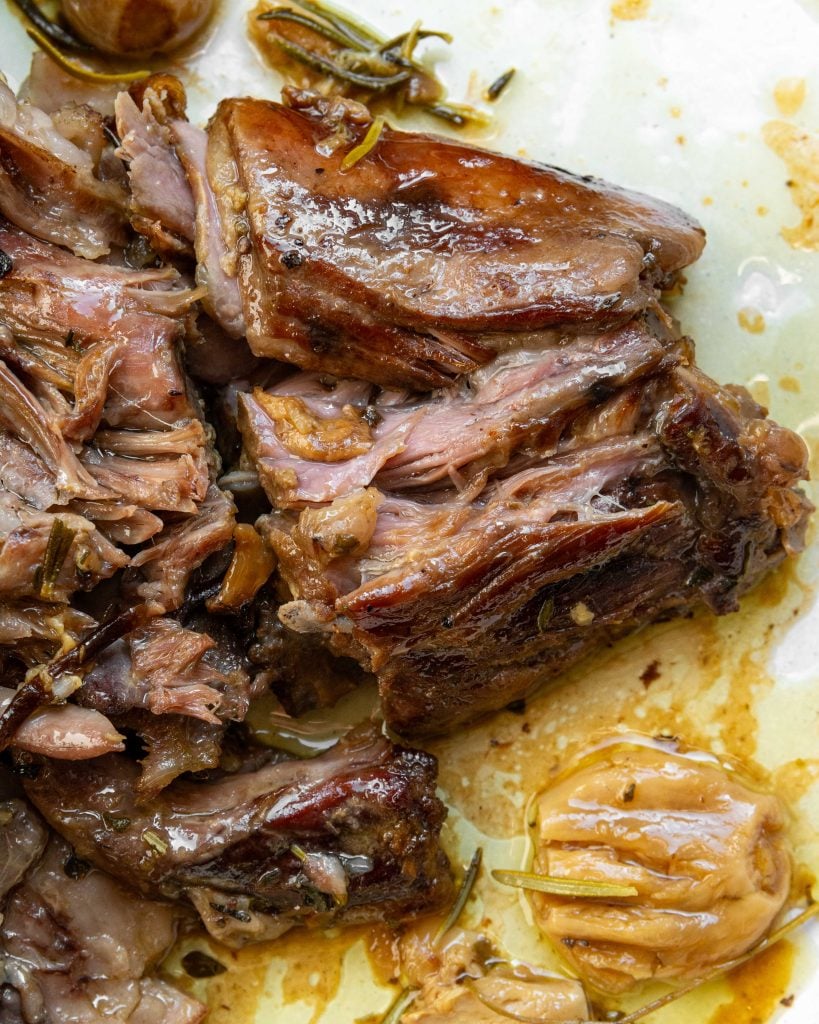 If you make this slow roasted lamb souvlaki, please tag me on Instagram, Tik Tok or Pinterest so I can see your wonderful creations!
If you have any questions or would like to leave a review, please do so here! I always love answering your food and recipe related questions and hearing your feedback on my recipes.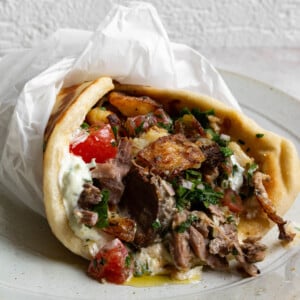 Slow roasted lamb souvlaki
No longer a late night snack, this is a whole Sunday lunch.
Ingredients
Slow roasted lamb
2.5 kg lamb shoulder bone in, room temp
40 garlic cloves peeled
4 sprigs rosemary
4 sprigs thyme
2 cups olive oil
4 anchovy fillters
1 tbsp baby capers
1 lemon zest and juice
250 mL white wine
salt + pepper
Crispy roasted potatoes
4 large russet potatoes peeled and cut into small cubes
6 cloves garlic
3 sprigs thyme
3 sprigs rosemary
1/2 cup olive oil
1/2 cup grapeseed or vegetable oil
salt + pepper
Tzatziki
1 cup plain Greek yoghurt
1 cucumber grated
2 tbsp olive oil
1 tbsp lemon juice
1 garlic clove grated
2 tbsp dill chopped
salt + pepper
Tabbouleh
2 large parsley bunches leaves removed from stems and finely chopped
1 bunch spring onions sliced
2 tomatoes diced
1/2 red onion finely sliced
1/2 cup olive oil
1 lemon juiced
salt + pepper
Instructions
Slow roasted lamb
Preheat the oven to 200 degrees Celsius / 410 degrees Fahrenheit.

In a small pot on a low heat, combine the 20 garlic cloves, 2 sprigs rosemary, 2 sprigs thyme and the olive oil. Bring to a slow simmer and simmer for 30 – 45 minutes or until the garlic is soft and slightly golden. Remove half of the olive oil and reserve for another use. In the same pot on the same heat, add the anchovies, baby capers and lemon zest. Cook for 5 minutes or until the anchovies have melted into the oil. Drain the oil and set to the side. Place the garlic mixture into a mortar and pestle. Pound into a paste.

Using a sharp knife, score the fat of the meat into a criss cross pattern. Try to not cut through to the meat. Rub the garlic and herb mixture all over, pushing it into the slits. Scatter the rest of the herbs and garlic into the bottom of a dutch oven or roasting tin that will hold the lamb as snugly as possible. Place the lamb on top of the herbs and garlic. Pour over the reserved olive oli, lemon juice and white wine. Season with a very generous amount of salt and pepper. Cover very well with alfoil or a lid and place into the oven. Immediately turn the heat to 140 degrees Celsius or 300 degrees Fahrenheit and cook for 4 hours or until the lamb is extremely soft and tender and falling off the bone.

Once the lamb is cooked leave it to rest for 15 minutes before breaking it a part. Serve with some fresh bread and all of the juices from the pan.
Crispy roasted potatoes
Preheat the oven to 200 degrees Celsius

Wash the potatoes in cold water then place them in a bowl and cover with cold water until they are full submerged. Leave the potatoes to sit in the water for 10 minutes, giving them a bit of a wash to remove as much starch as possible. Drain into a colander and rinse under cold water.

Place the potatoes in a large saucepan, cover with cold water and add a very generous amount of fine sea salt. Add the rosemary, thyme and garlic cloves that have been slightly smashed. Place the pan on high heat and wait for the water to boil. Once boiling, cook the potatoes for 5 – 8 minutes or until fork tender.

Drain the potatoes into a colander and discard the garlic cloves and herbs. Rough up the potatoes by mixing them with a spoon to increase their surface texture. Cover the colander with a tea towel and leave the potatoes to steam for 15 minutes.

While the potatoes are steaming, add the oil to a bake dish and place into the oven for 5 minutes or until piping hot. Remove the tin from the oven and very carefully pour the potatoes into the tin with the hot fats, you will hear a delightful sizzling sound. Stir the potatoes through the hot fats then bake for 45 minutes, tossing them and basting them with the oil every 15 minutes.

Remove the potatoes from the tin and serve with the lamb.
Tzatziki 
Grate the cucumber and place into a tea towel. Give it a big squeeze to remove as much moisture as possible.

Place all ingredients into a bowl and mix until well combined. Season with salt and pepper.
Tabbouleh
Place all ingredients into a large bowl and mix to combine. Season well with salt and pepper. Taste the salad to ensure you have enough seasoning and dressing and adjust to your liking.

Leave to sit for at least 10 minutes before serving to allow all the flavours to combine.

Souvlaki assembly

Drizzle a pan with olive oil and on a medium heat, heat the wrap for 1 – 2 minutes on each side or until slightly golden and toasted.

Assemble the soulvaki by spreading 3 of the cooked garlic cloves from tin that the lamb was roasted in onto the wrap. Followed by a layer of tzatziki. Top with a generous amount of lamb, followed by tabbouleh then finished with crispy potatoes. Serve immediately.