Hailing originally from Tuscanny, bruschetta is a staple across many menus. And it's not hard to see why.
Simple and simply tasty, bruschetta is about what so many Italian dishes are about: ingredients! Juicy and sweet tomatoes, basil and a good quality olive oil on top of a piece of toast serving as its very own vessel for the food? What could be better? Here at Daen's Kitchen we're pretty sure there's not much better than that.
But what do you need to make a bruschetta that is sure to fly off the plate? It's all about nailing the basics for a No Frills Bruschetta that's bound to be a hit.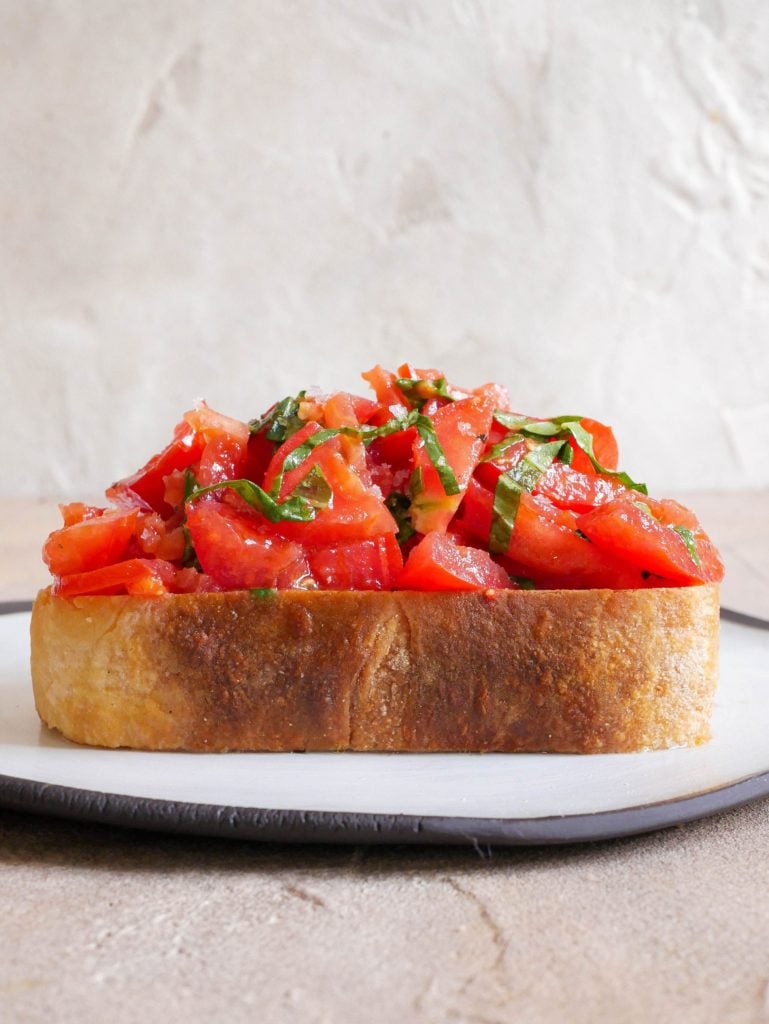 There's no bruschetta without tomatoes
For the best bruschetta, you're going to want good quality tomatoes. Big juicy vine ones or even little and sweet cherry ones – it doesn't matter, what matters is that they are full of flavour.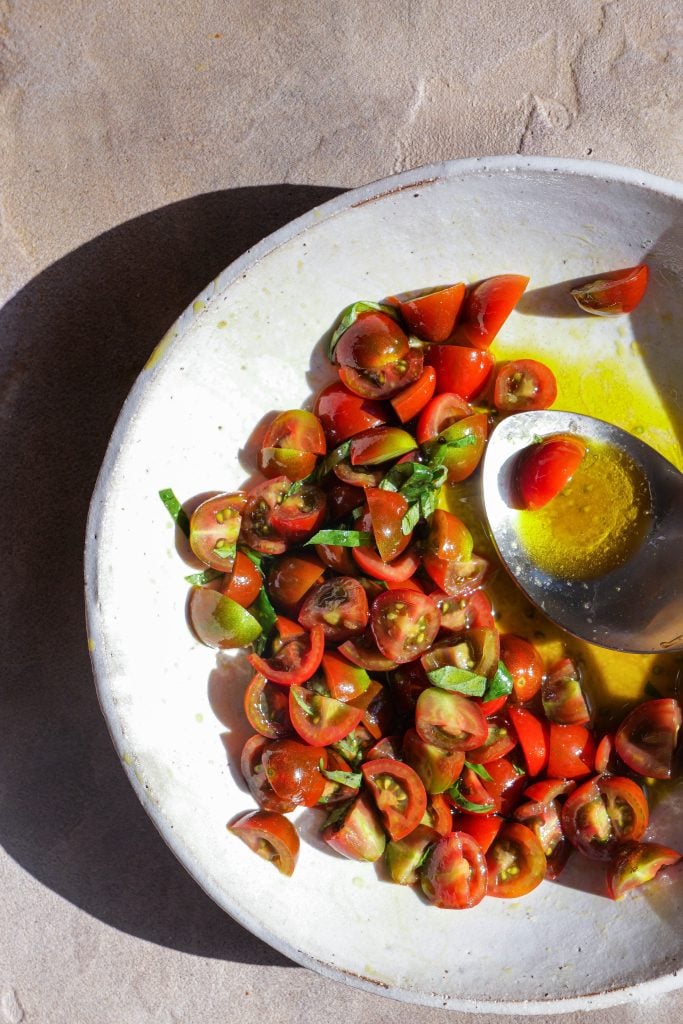 Basil
This is one of those recipes where dried herbs are no substitute for the real deal. You need fresh basil. It's about bringing that taste of Italy with the big, bold flavours that you can only get from fresh basil.
Olive oil
Sometimes people underestimate the power of a high quality extra virgin olive oil. I'm so passionate about the quality of olive oil I literally made my own! Olive oil is crucial to bring a subtle and fruity flavour to the dish. After you've chopped up the tomatoes, add some olive oil and leave it to marinate for a few minutes so that all the juices gather and you can drizzle it over the toast.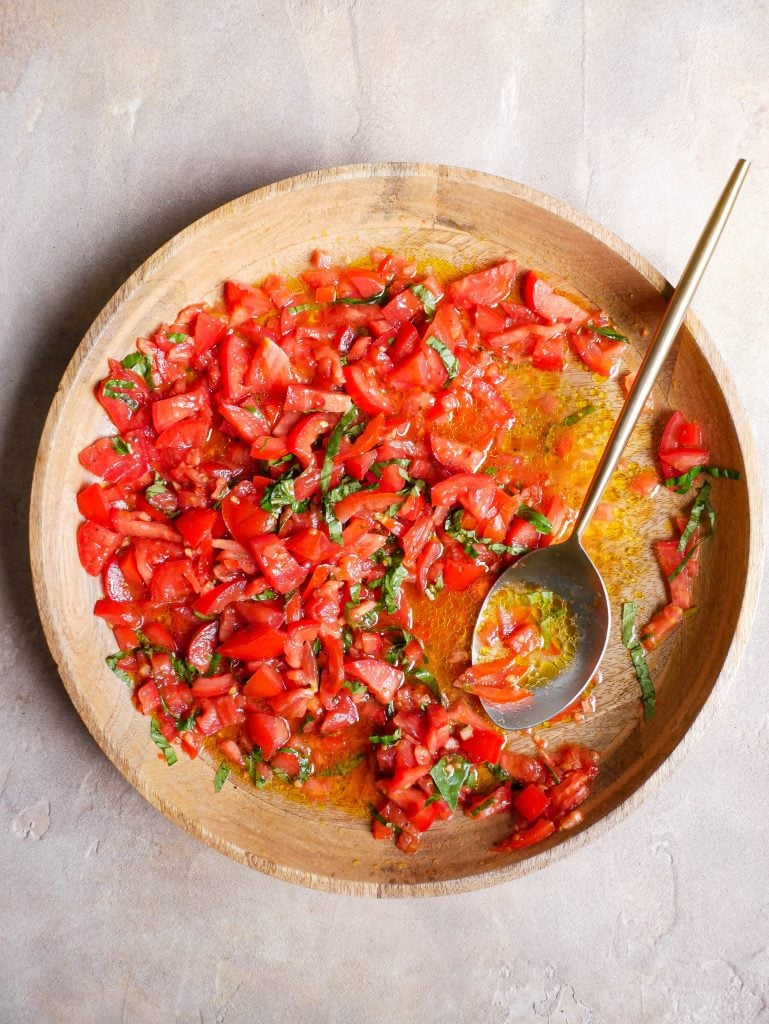 Toast
Oh, the toast. It can make or break a bruschetta – literally! A piece of bread that is overdone in the oven can become stale and hard to eat. Nothing worse than losing half your tomatoes in a battle of the bread! I cook mine in the pan with a good quality olive oil. It tastes like a big crouton (YUM!).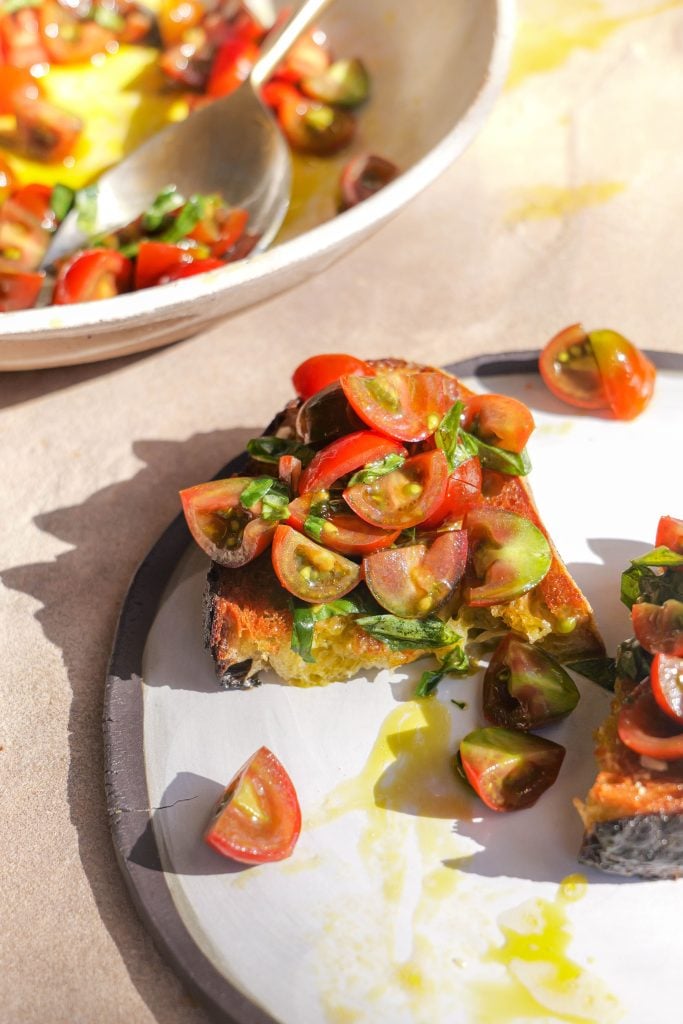 Bruschetta but make it frilly
The best thing about bruschetta is that it's so customisable! A poached egg can make it brunch, burrata can make it a heartier meal. You can add in some chili flakes for a bit of a kick or even a drizzle of balsamic glaze for a tart and sweet finish.
Bruschetta is ideal for a dinner party or an entree. Going on a picnic? Bruschetta is a great addition! Prepare the bread and pack the tomatoes separately and make them there for a delicious snack.
Want to make even more scrumptious toast? I've got something for everyone, from the perfect avocado toast that you won't break the bank, to a delicious pesto egg for a fancy brunch and a whipped avocado and cream cheese creation that is drool-worthy.
If you make this recipe, please tag me on Instagram, Tik Tok or Pinterest so I can see your wonderful creations!
If you have any questions or would like to leave a review, please do so here! I always love answering your food and recipe related questions and hearing your feedback on my recipes.
No Frills Bruschetta
A classic for a reason, this is all about ingredients.
Ingredients
4-6 Large ripe tomatoes
3 tbsp Olive oil + extra for drizzling
1/2 bunch fresh basil save some for serving
1 tsp flakey salt
2 garlic cloves
1 loaf white sourdough
Instructions
Drizzle each side of your sourdough slices with olive oil and place into a cast iron pan. Cook on a  low heat for roughly 5 – 10  minutes each side.

In a large bowl, toss together the tomatoes, basil leaves, olive oil and salt. Leave to marinate for several minutes. 

Rub the garlic onto each slice of toasted bread and spoon the bruschetta mixture on top. Finish with a sprinkling of fresh basil leaves