Originating in Rome, focaccia is one of the most popular breads around the world, and also one of my most popular recipes. Why? Because, it's absolutely delicious and also a cinch to make. Focaccia is this magical bread that is good by itself, with sandwiches or dipped into the traditional oil and vinegar. This time I've paired it with my garlic butter for an indulgent snack that's summer picnic ready (or perfect for the Thanksgiving table). Garlic butter focaccia is a real crowd pleaser.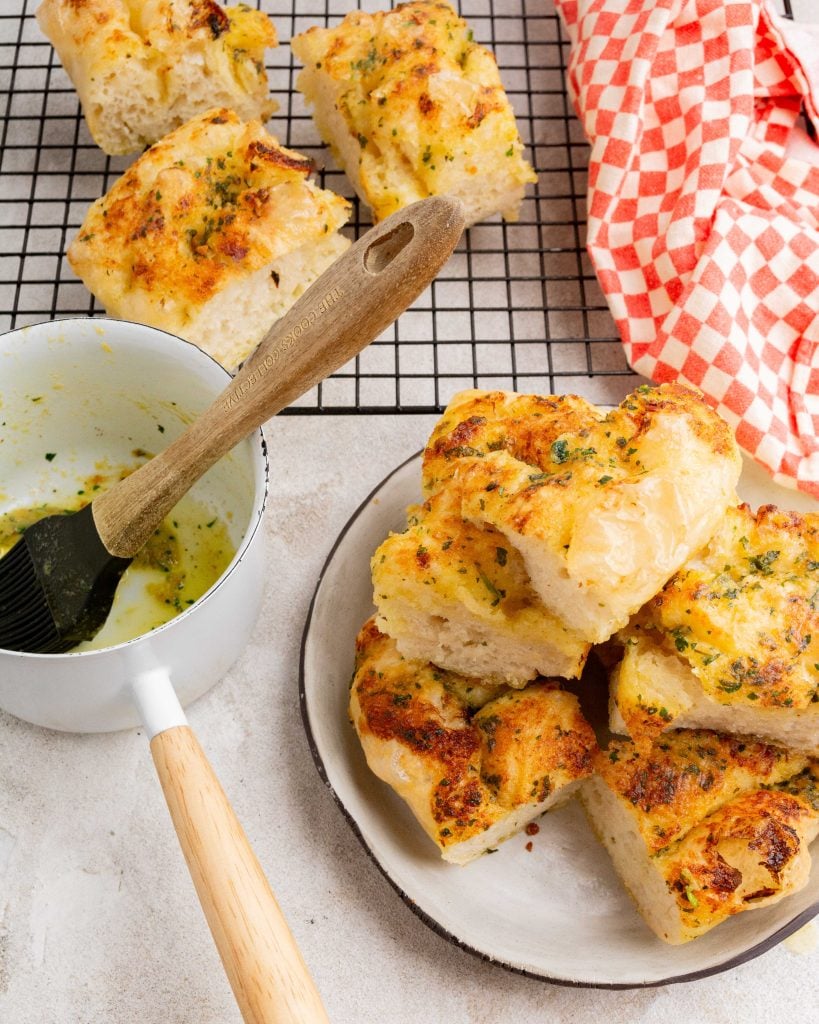 Garlic butter focaccia
Why garlic butter? Well, as the internet's go-to garlic girl, I couldn't possibly have all my variations without one that was dedicated to garlic! It's almost a twist on garlic bread but can also be used as the base of other ingredients, like a roasted eggplant sandwich or for your leftover Thanksgiving meat – this would really suit some roasted turkey or cranberry sauce to add some sweetness to the decadent bread.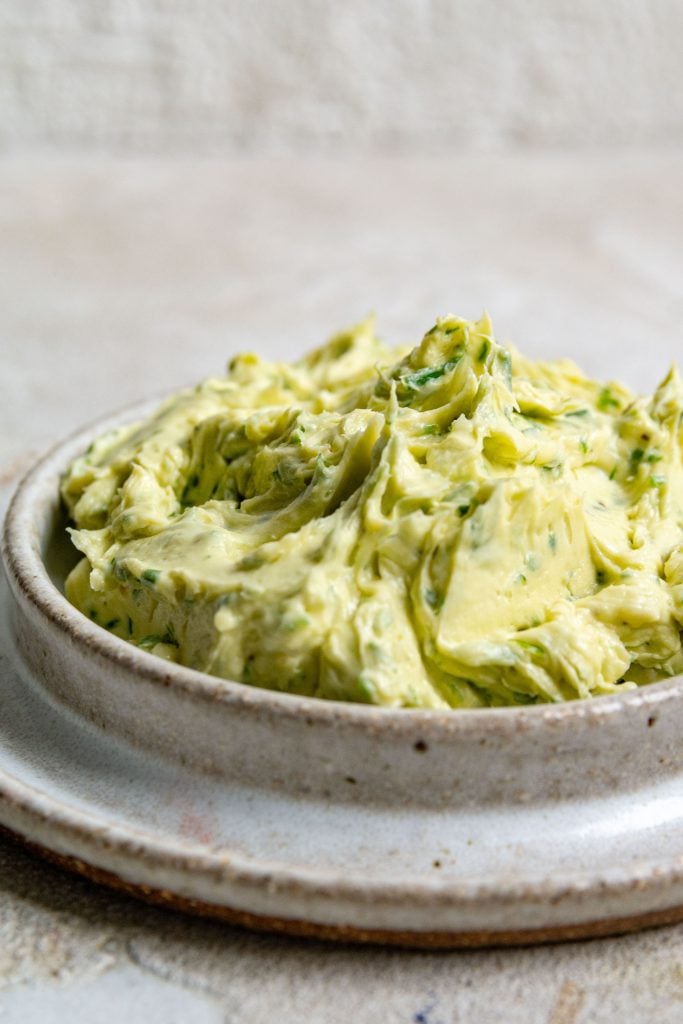 Bready or not!
I know that during many global lockdowns, people got their bake on! From experimenting with sourdough starters through to creating decadent and decorative focaccias and turkish breads, the sky became the limit for creative kitchen hands. And, do you know why? Because – baking bread can be so easy! Especially when it's my no knead focaccia!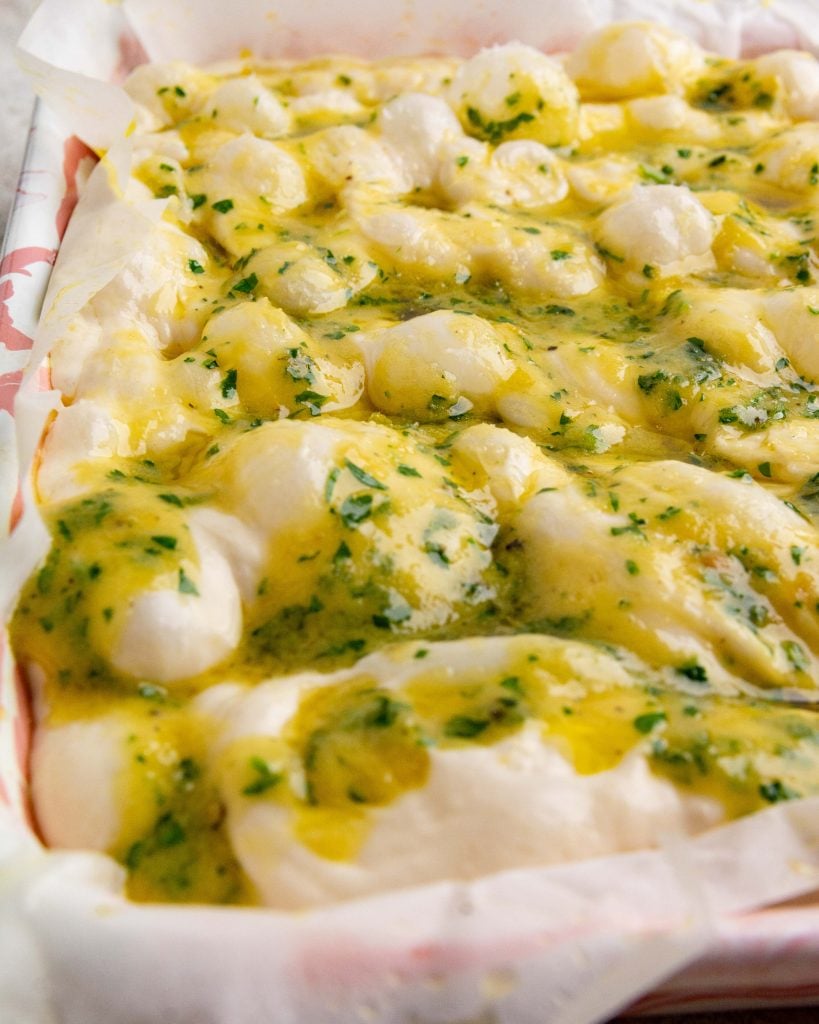 It's miraculously easy and also masquerades as being tough – everyone wins! It's such a great way to show off. The only thing you need is a bit of time.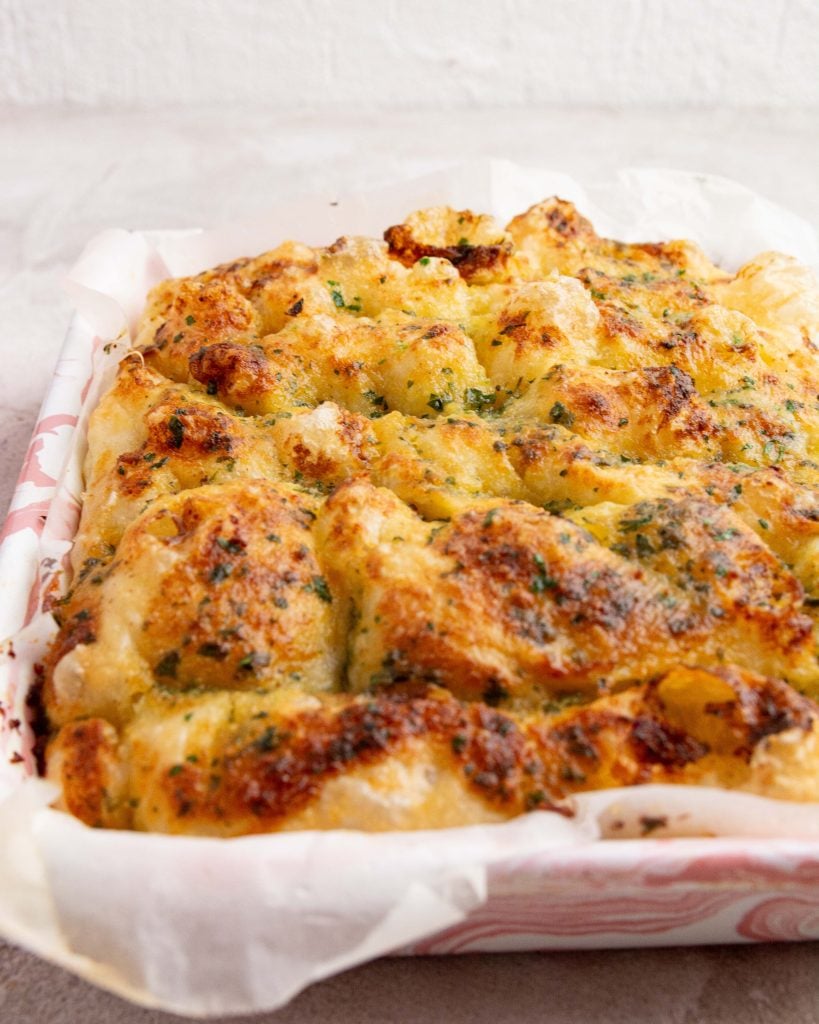 Baking bread is not a last minute decision. If you're heading out the door to a festive dinner party or potluck and you've forgotten to make something, sorry – focaccia is off the table. But, if you have time on your side – then this will knock the roast off the centerpiece!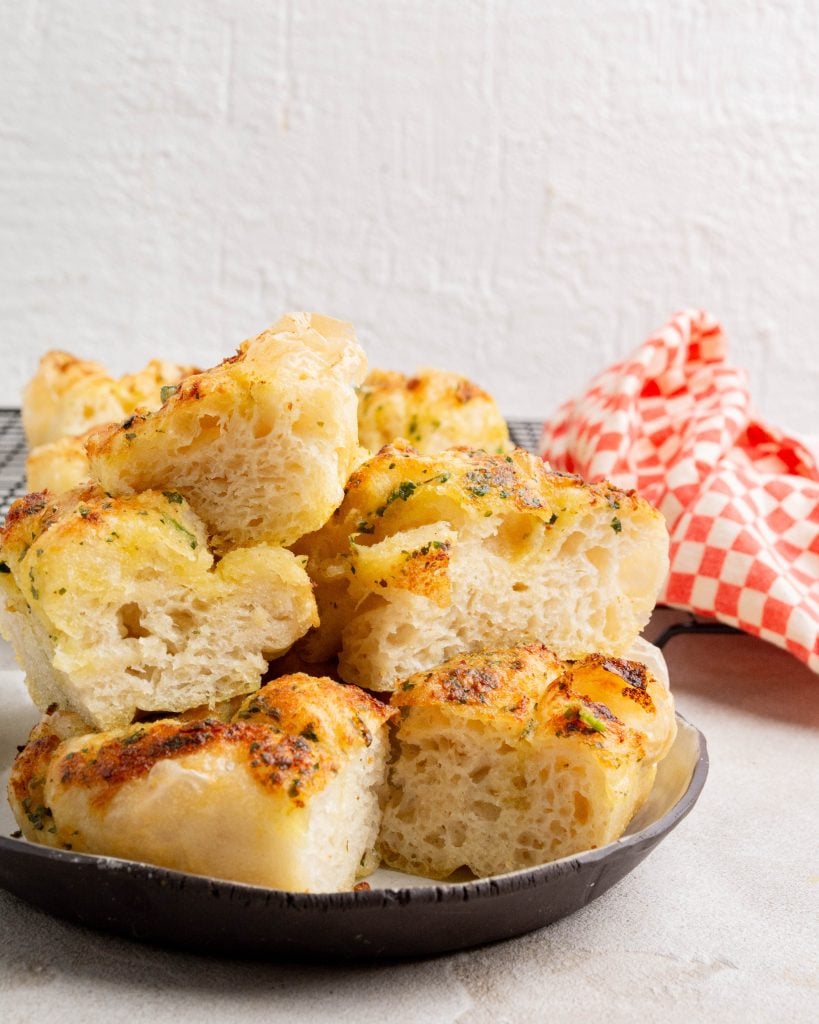 FAQ about garlic butter focaccia
What can I have it with?
This is such a great recipe because literally anything! If you're having a pasta dish it will be a great accompaniment. Pair it with a roast at the centre of the table. Or go vegetarian and replace the crackers with some bread to pair with my spicy feta dip.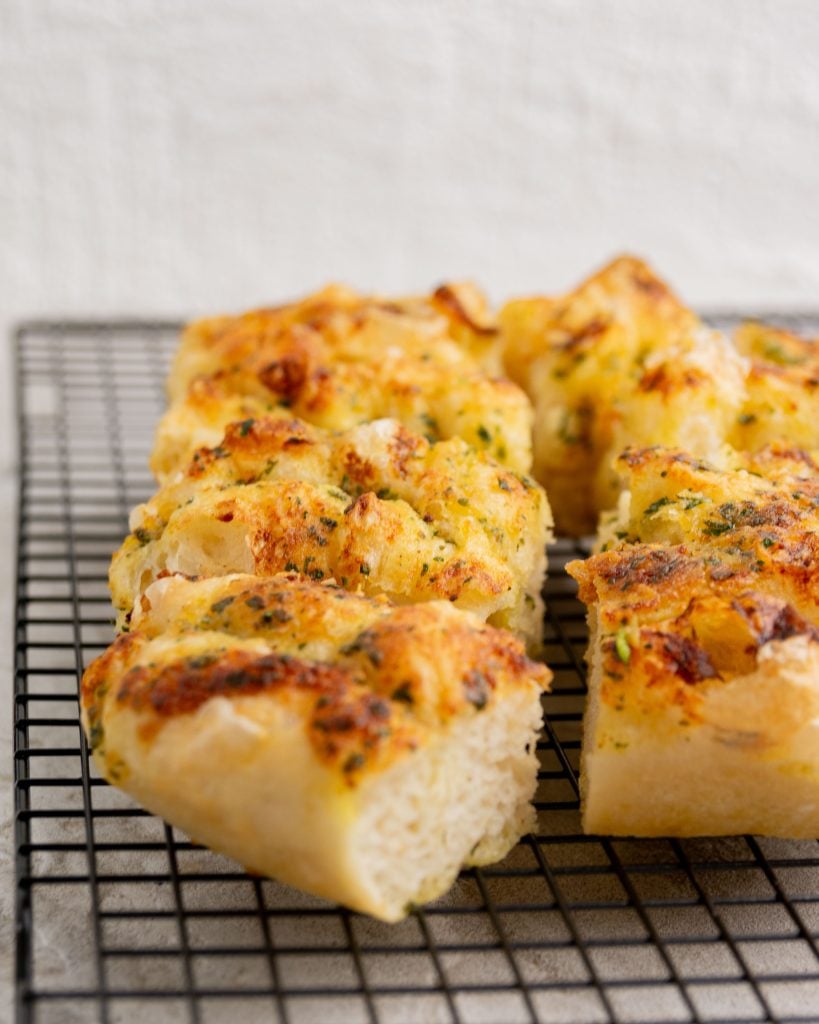 How do I tell when the bread is done?
This garlic butter focaccia will tell you when it's done by forming a crispy crunchy top and a fluffy inside. Tap your knife on the top of the bread to hear the satisfying sound when it's ready to pull out of the oven.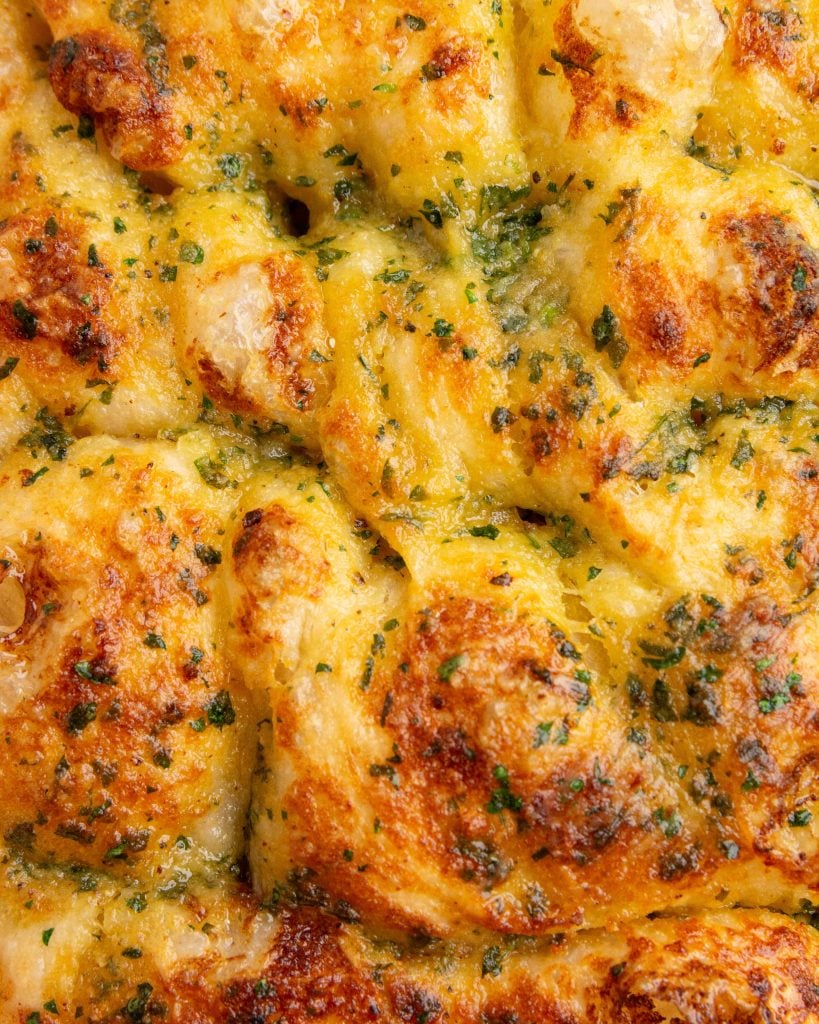 If you make this garlic butter focaccia, please tag me on Instagram, Tik Tok or Pinterest so I can see your wonderful creations!
If you have any questions or would like to leave a review, please do so here! I always love answering your food and recipe related questions and hearing your feedback on my recipes.
Images by Alanna Penna Photography.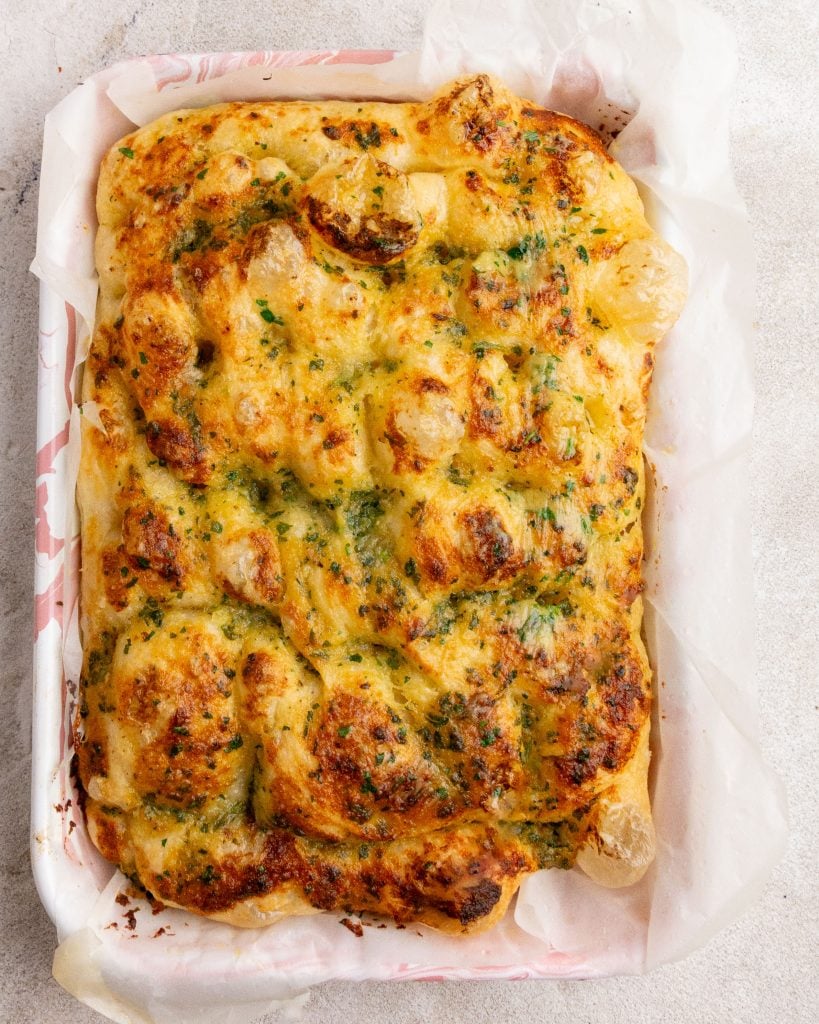 Garlic butter focaccia
Another variation of one of my favourite recipes!
Ingredients
Garlic Butter
2 bulbs garlic
1 tbsp olive oil
100 g unsalted butter at room temperature
30 g chives finely sliced
50 g parmesan grated
salt and pepper
Focaccia
700 g bread flour
680 g lukewarm water (100 degrees F / 34 degrees C) 95% hydration
7 g dry yeast
12 g fine sea salt
1 tbsp honey optional
60 g extra virgin olive oil
4 tbsp garlic butter
Instructions
Garlic Butter
Preheat oven to 160 degrees Celsius / 320 degrees Farenheit.

Using a sharp knife, slice the top off the garlic bulb, about 2 – 3 cm down from the top to expose the raw cloves. Place the bulb of garlic into the centre of an oven proof dish, drizzle with olive oil and season with salt and pepper. Bake for 1 hour.

Take the dish out of the oven and remove the garlic from the dish and set to the side. Allow to slightly cool until you are able to handle it. Using your fingers, squeeze the roasted garlic cloves out of their skin.

Place the garlic cloves, butter, chives, parmesan and pinch of salt and pepper into a food processor and blend. Alternatively, everything can be mashed together with a fork in a large bowl.
Focaccia
In a medium bowl, mix together the lukewarm water, yeast and honey with a whisk and leave to sit for 5 minutes or until the yeast has foamed. This will indicate that your yeast is active.

In a large bowl, combine the flour and salt and whisk together. Add the yeast water to the bowl with the flour and bring together with a wooden spoon or your hands until the flour and water is combined and there are no dry parts. The dough should be wet and sticky. Cover with plastic wrap or a damp tea towel and leave to sit for 10 minutes.

Uncover the dough and begin to stretch and fold. To do this, wet your hands, then take a section of the dough and stretch it up and fold it onto itself on the opposite side. Rotate the bowl and repeat this step three more times until you have gone all the way around the bowl. Cover and leave to rest for 10 minutes.

Repeat the stretch and fold method until a neat ball has formed.

In a clean bowl, drizzle 20g of extra virgin olive oil all around the sides and into the bottom. Transfer the dough to the oiled bowl and cover very well with plastic wrap. Leave to rest in the fridge for a minimum of 18 hours and maximum of 72 hours. This is proof 1.

Prepare a baking tin by greasing it with 20g of extra virgin olive oil. Transfer the proofed dough to the oiled baking tin. Using your fingers, stretch the dough out slightly into a rough rectangular shape. There is no need to stretch the dough out to the edges of the pan as the dough will rise and spread. Cover the tin with a damp tea towel and leave the dough to rise in a warm area of your house for 2 - 3 hours. If your dough is uncovered there is risk of too much air getting into the dough and creating a dry and crusty layer on top.

Preheat the oven to 200 degrees C / 390 degrees F

Melt 4tbsp of garlic butter in the microwave or on a low heat on the stovetop.

Once the dough has risen, use your fingers to dimple the dough. Drizzle the dough with the garlic butter and 1 tbsp of olive oil. This will help the crust of the dough get golden and crispy when baking. Finish off with a sprinkling of flakey sea salt. Bake for 30 minutes or until the dough has developed a golden crust on top.

Let the bread slightly cool before removing it from the baking tray. Place onto a wire rack and leave to rest for 30 minutes before slicing into it.