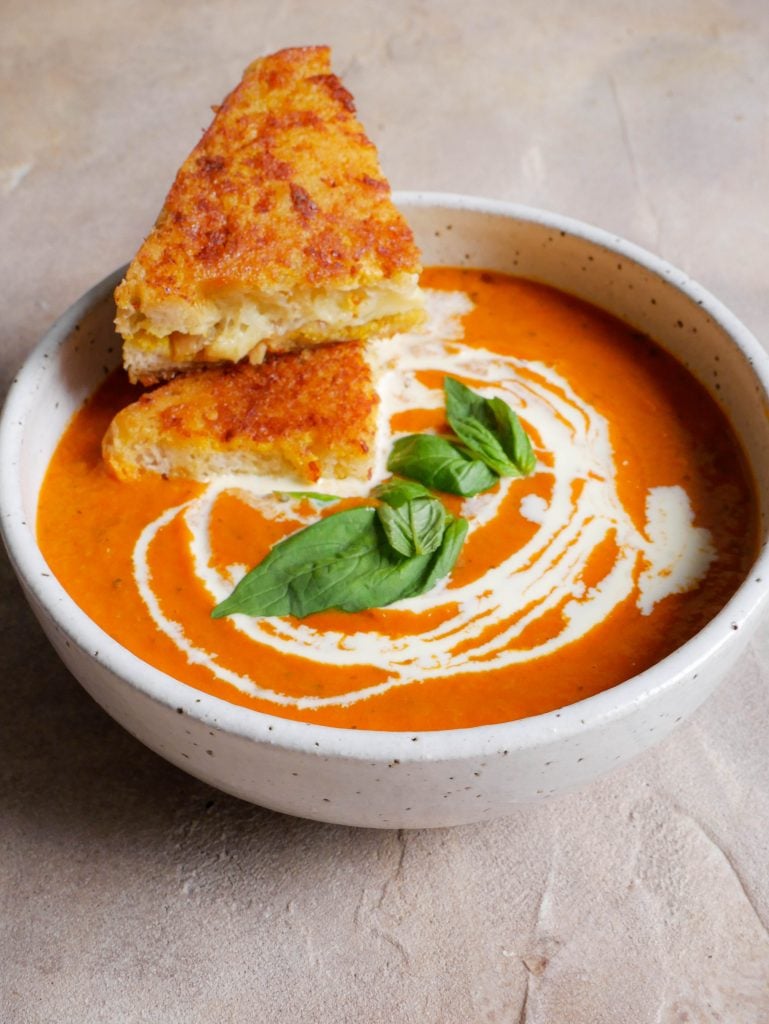 When the leaves start to turn brown and my coats come out of storage, so do my go-to comforting winter recipes such as this tomato soup with a cheese toastie. I always turn to my tomato soup when I am looking for something that is nourishing and will feed the whole family.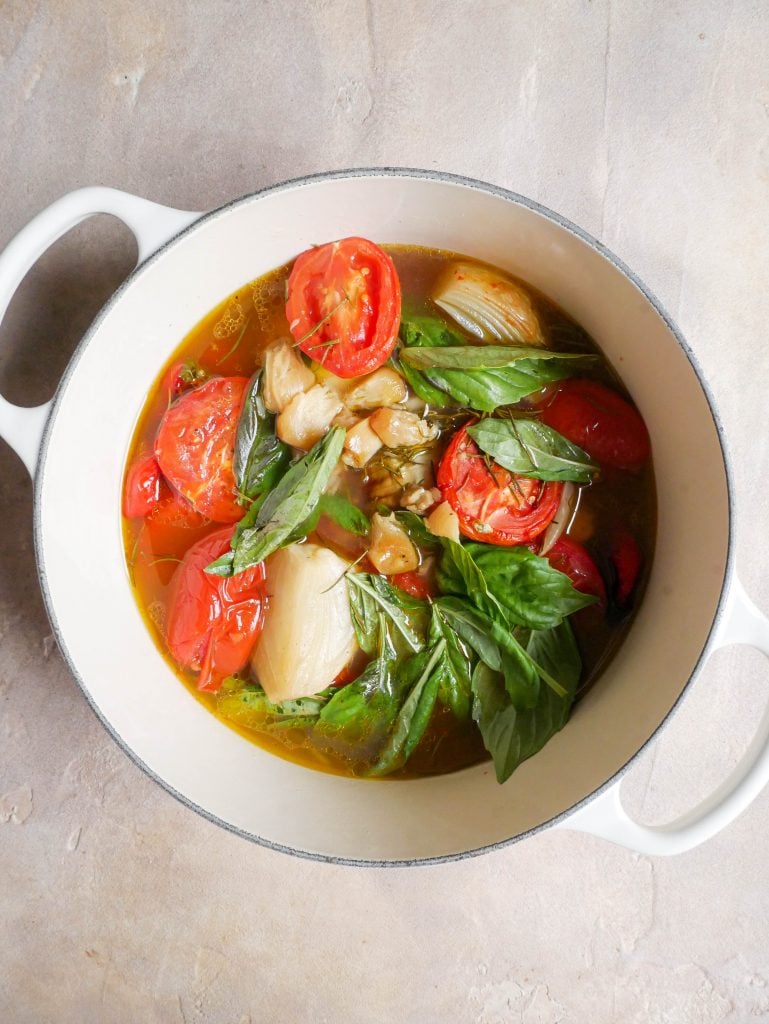 I roast all of the vegetables to further deepen and enhance their flavours. You can simply add the whole head of garlic to the baking tray with the vegetables however, if you roast it in a seperate baking that is covered the garlic will caramelise and be extra tasty. I also like to add lots of herbs to my tomato soup such as fresh rosemary and basil. The drizzle of cream at the end is optional yet it does create a lovely richness to the soup.
This tomato soup recipe is designed with lots of flexibility. I can be made with either a chicken or vegetable stock that is homemade or store bought and the vegetables can be altered to your personal taste – I prefer a mix of red peppers or capsicums and brown onions.
The trick to making the perfect cheese toastie is to brush the bread with mayonnaise and cook it in lots of butter on a low heat and for a long amount of time. Unfortunately this process cannot be sped up as the crust will burn. Patience is key but it's worth the wait! The garlic confit elevates this cheese toastie to new heights but is entirely optional!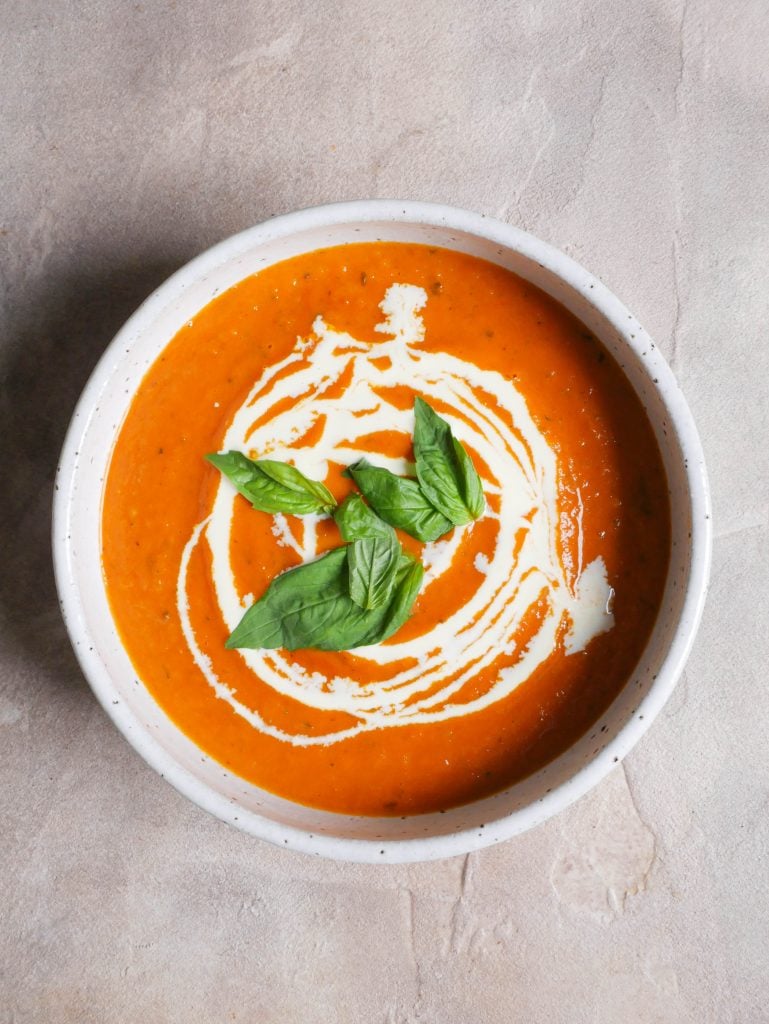 Frequently Asked Questions
What type of bread do you recommend for the cheese toastie?
My personal preference is a white sourdough however, a white ciabatta or simple white sandwich loaf works perfectly as well.
Is this tomato soup vegan?
This tomato soup recipe can absolutely be vegan which is why I recommend the heavy cream as optional ingredient and to replace the chicken stock with a vegetable stock.
Can I make this soup in advance?
Yes! This soup makes up to 4 serves and can be stored in the fridge in an air tight container for up to 4 days. Simply re-heat on the stove when you are ready to serve.
Can I change the herbs to my preference?
Absolutely! I recommend basil and rosemary however, most herbs would compliment this soup such as thyme, chives and parsley.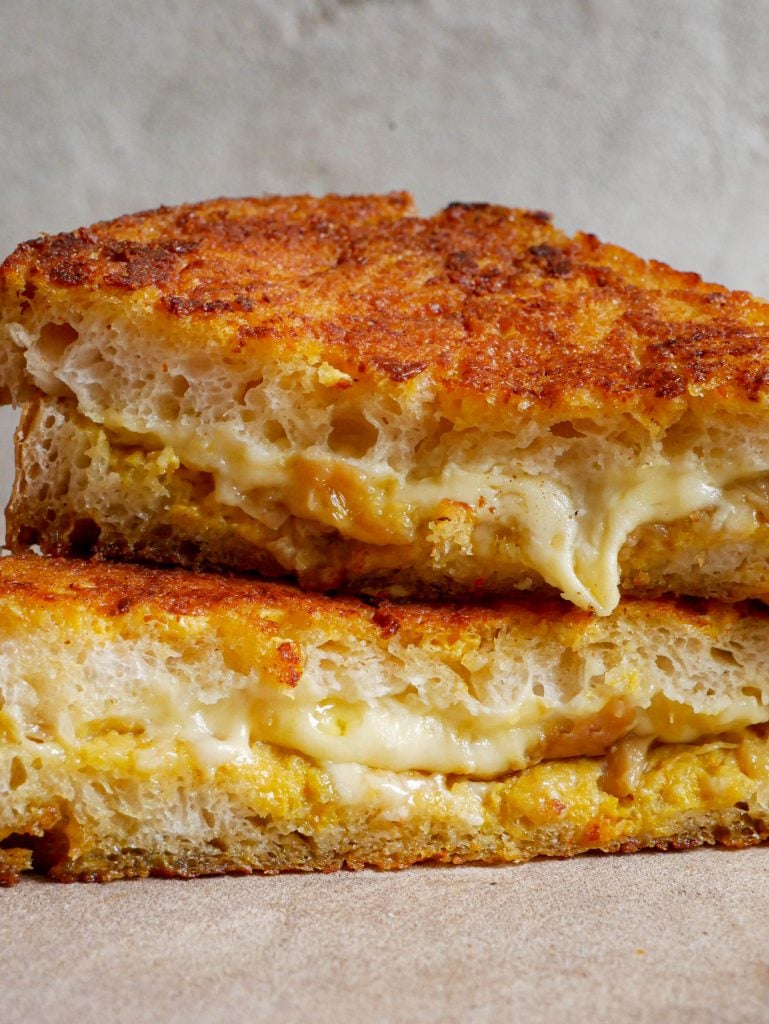 If you make this recipe, please tag me on Instagram, Tik Tok or Pinterest so I can see your wonderful creations!
If you have any questions or would like to leave a review, please do so here! I always love answering your food and recipe related questions and hearing your feedback on my recipes.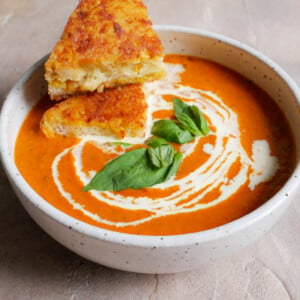 Roasted Tomato Soup & Cheese Toastie
Roasted tomato soup with a deliciously rich cheese and garlic confit toastie.
Ingredients
Tomato Soup
800 g roma tomatoes
2 red capsicums
2 brown onions
1 head of garlic
3 sprigs rosemary
3 tbsp olive oil
1 tsp flakey sea salt
1 tsp cracked black pepper
1 bunch fresh basil
2 cups chicken or vegetable stock
heavy cream (optional)
Cheese Toastie
4 slices white sourdough
30 g cheddar cheese grated
30 g Jarlsberg cheese grated
20 g parmeson or pecorino romano grated + extra for the crust
1 tsp dijon mustard
12 cloves garlic confit (optional)
2 tbsp mayonnaise
1 tbsp butter
olive oil
Instructions
Roasted tomato soup
Preheat the oven to 180 degrees celsius.

Skin the onions, de-seed the capsicums and cut the tomatoes, capsicum and onions in half. Place into an oven proof dish with the rosemary and drizzle the olive oil all over. Season with salt and pepper. Cut the top off the head of the garlic and place into a small oven proof pot with a lid or into a sheet of alfoil. Drizzle with olive oil and season with a pinch of salt and pepper. Cover and bake everything for 1 hour. Allow the garlic to slightly cool and squeeze the garlic cloves out of their skin. Remove the rosemary leaves from their stem and discard the stem.

Place all ingredients into a large pot with the chicken stock and 3/4 of the basil. On a high heat, bring to the boil and then turn the heat down to low and leave to simmer uncovered for 20 minutes or until the soup is at a consistency you desire. Allow the soup to slightly cool then place all ingredients into a blender and blend until smooth. You can also use a stick blender for this step.

Serve the soup into individual bowls and finish off with a drizzle of heavy cream and fresh basil leaves.
Cheese Toastie
Spread the garlic confit and a thin layer of dijon mustard onto the bottom slice of bread per toastie. Evenly distribute the cheese across the toasties then top with the second slice of bread. Brush the top and bottom slice of bread with the mayonnaise and some grated parmeson.

On a medium heat, melt the butter in a non stick pan with a drizzle of olive oil. Turn the heat to low and cook the toastie for 10 - 15 minutes per side to get that golden and crunchy layer. Serve with the tomato soup.