There are a few classic flavour combinations: lamb and rosemary, bacon and eggs, raspberry and chocolate. And now, I'm voting for potato and leek. Perhaps sometimes overlooked, potato and leek is so delicious. From a quiche through to my potato and leek soup, you'll not regret combining these two flavours.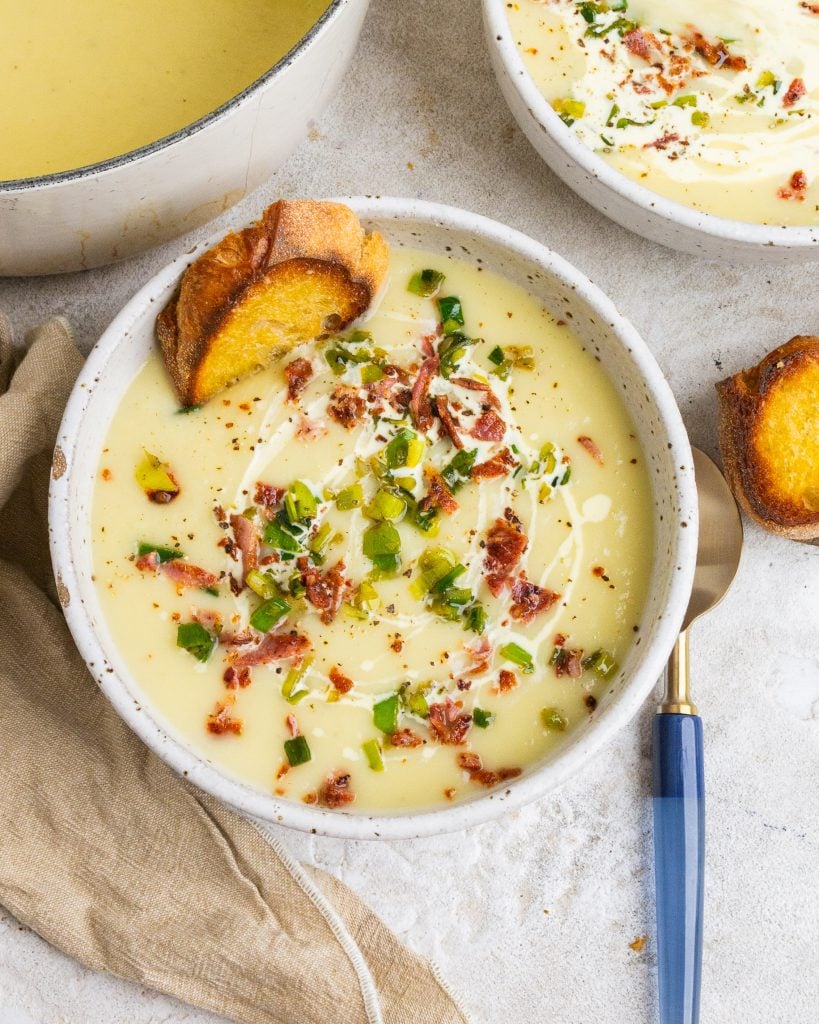 Potato and leek soup
Soup is everyone's comfort food, right? From ramens to tomato soups, every culture and every cuisine has a different way of making a bowl of love. I've dabbled with soups before, from my pumpkin to a roasted tomato and grilled cheese. I'm a huge fan of a hearty soup on a cold winter's day, tucked up on the couch. Even sipping it out of a mug. And, my potato and leek soup is no different.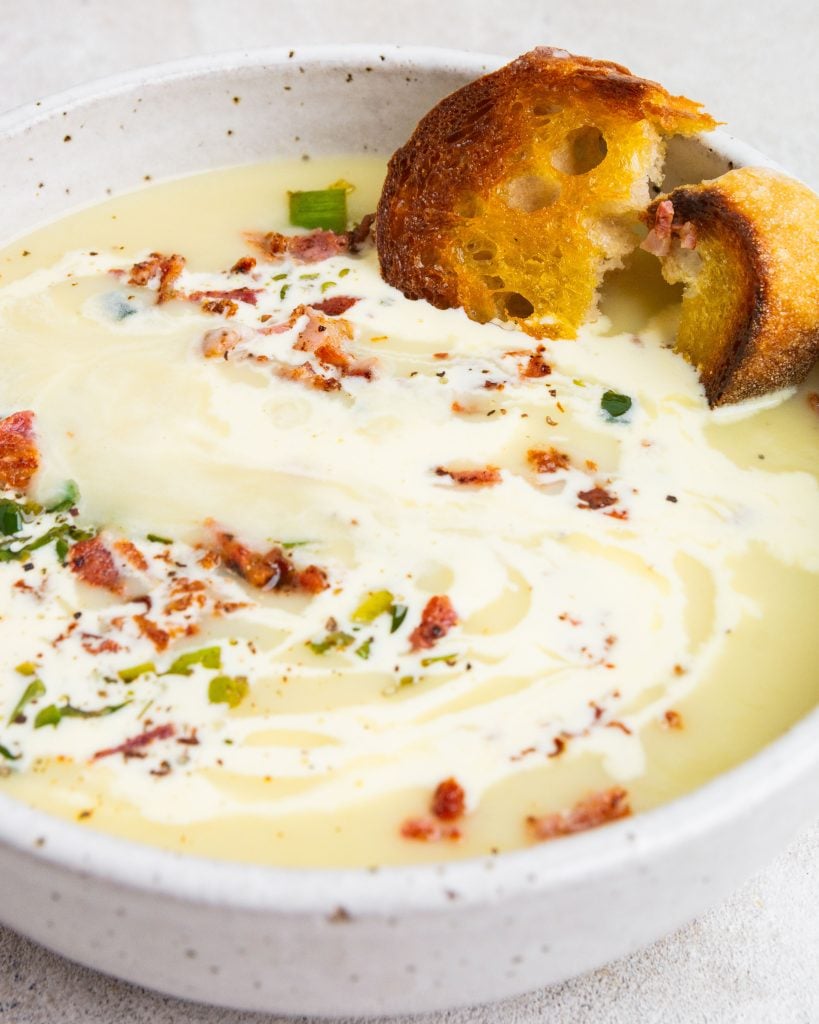 There's not many ingredients to this recipe. And, there's also a few options for you. I've added in bacon, but obviously that's not necessary and should be removed if you're a vegetarian. There's also the addition of cream, but some people aren't fans of really creamy soups – so you can omit this too.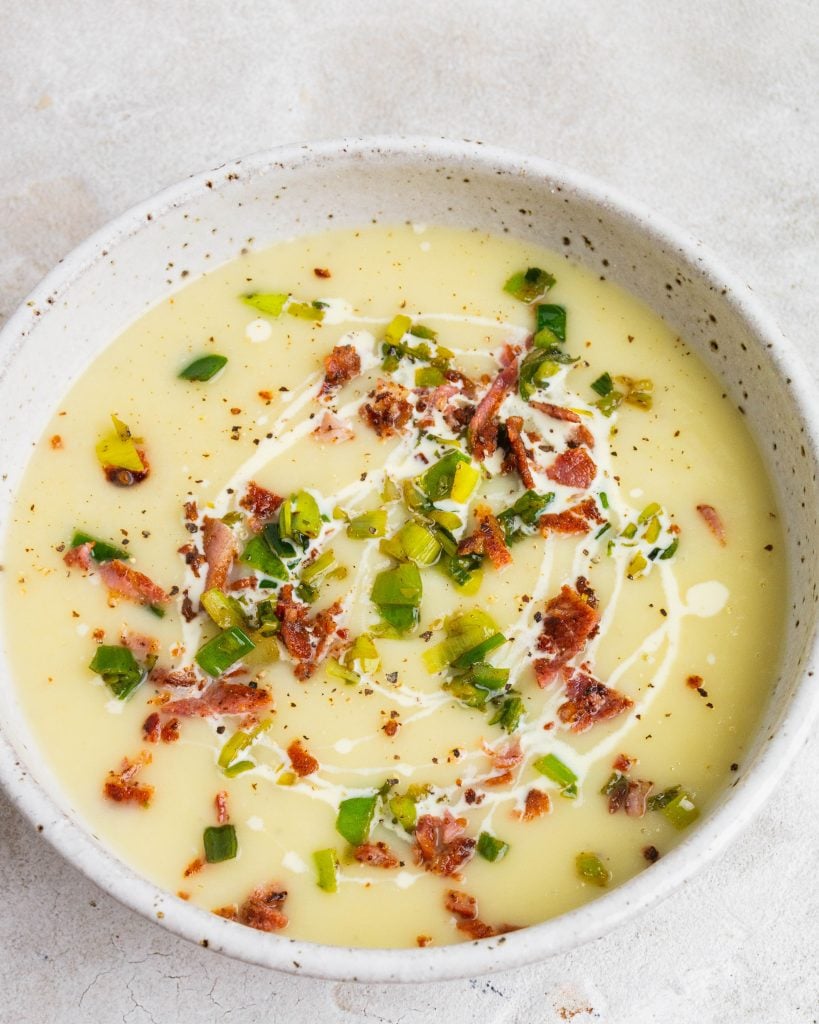 Leek
Leek is such a delicious vegetable. A close relative of the onion, leeks have more subtle flavour but it pairs so nicely with root vegetables. However, some people find them overwhelming or wasteful to prep with – but I'm here to tell you, you can use the whole thing! Don't just use the white part. The green parts can be added to a pan with oil and crisp them up. They're the perfect garnish to give your soup some texture.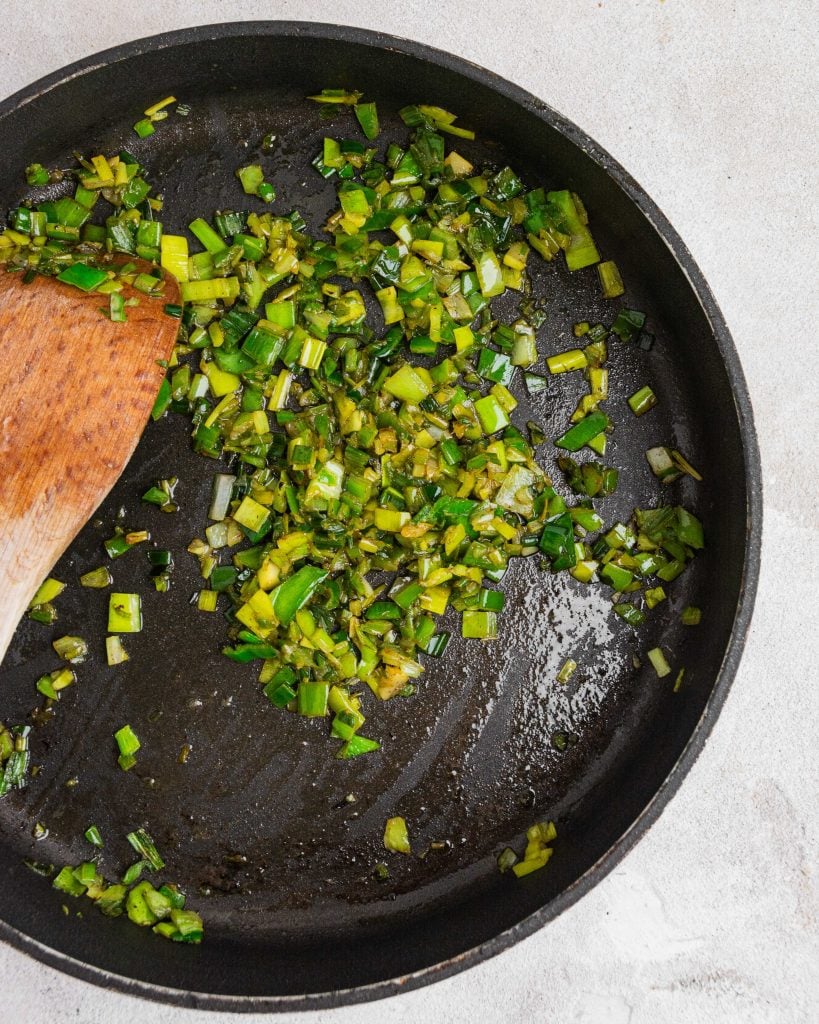 Blending smooth
Some soups can loan themselves to lumps. I mean, pea and ham soup is perfect for it. But, this soup, you're going to want to blend it down smooth. Using a stick blender it shouldn't take too longs as the potatoes will have gotten nice and tender in the stock.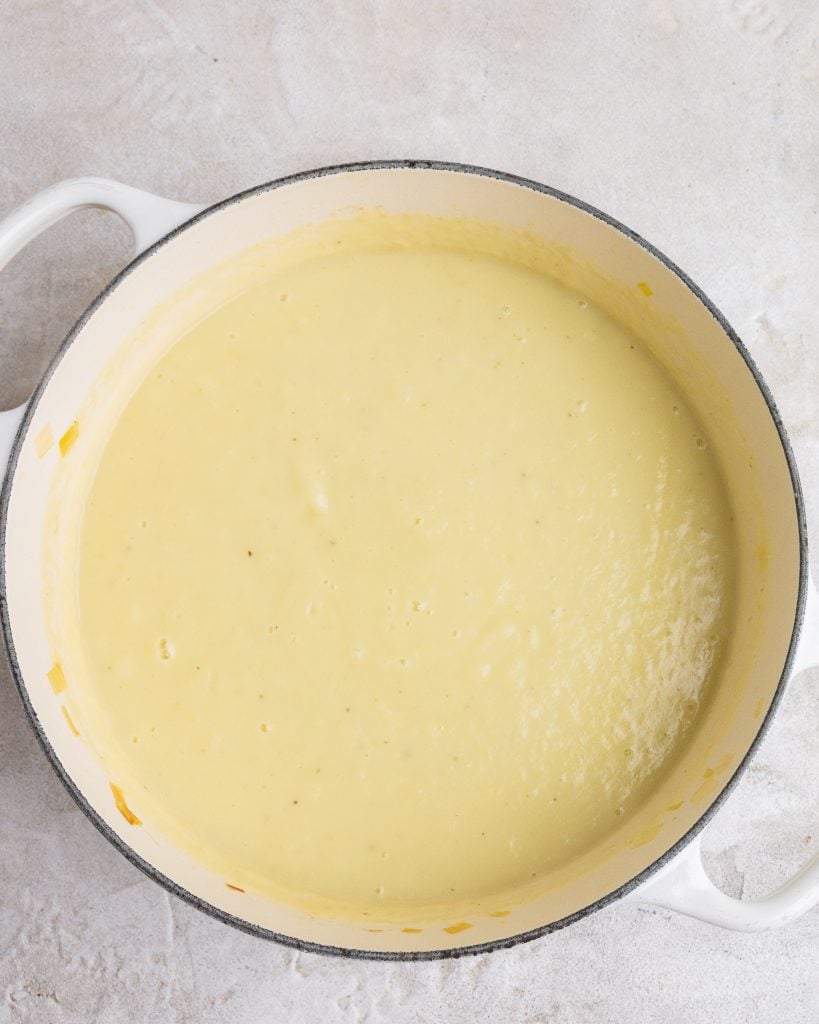 What do I serve it with?
For my potato and leek soup, I serve it with crispy fried baguette. Why this choice of bread? I think that it's a great choice as it's kind of a hybrid between being a crouton and some side toast. Kind of like a giant crouton! It's a really delicious thing to dip into the soup.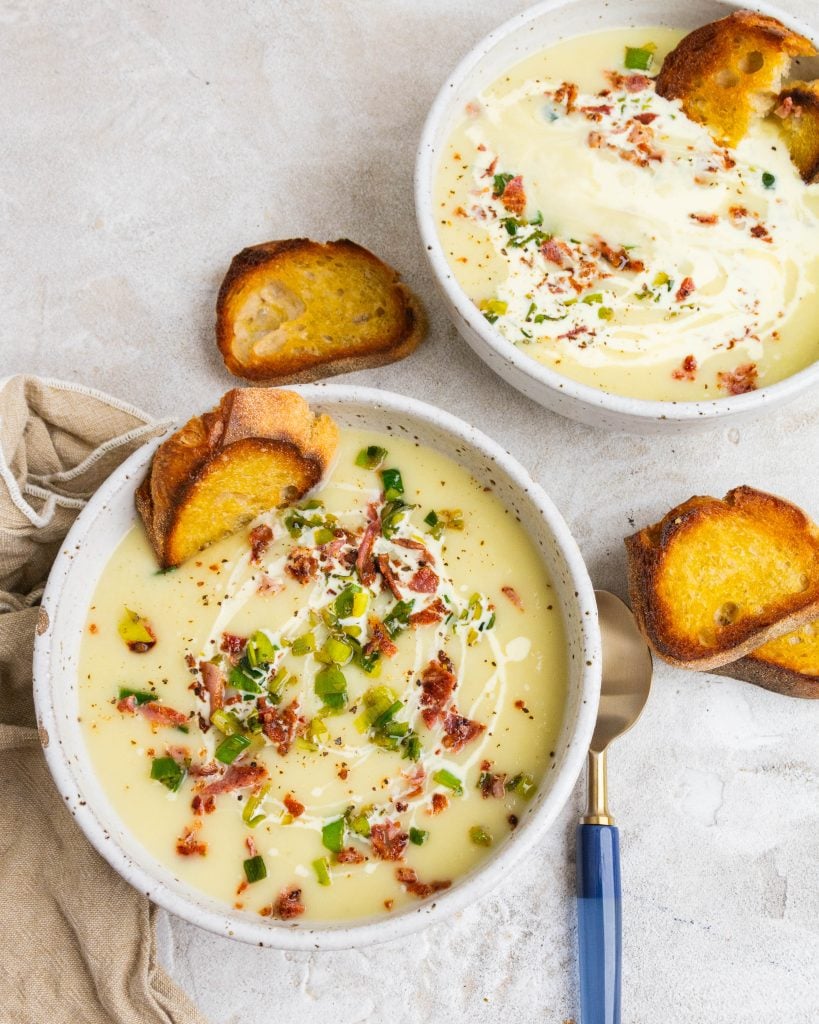 But, once again, this recipe is yours to own and go crazy with. Some people might add some chilli flakes on top for some kick. You might want to try it with my cheesy garlic bread for a bit more decadence.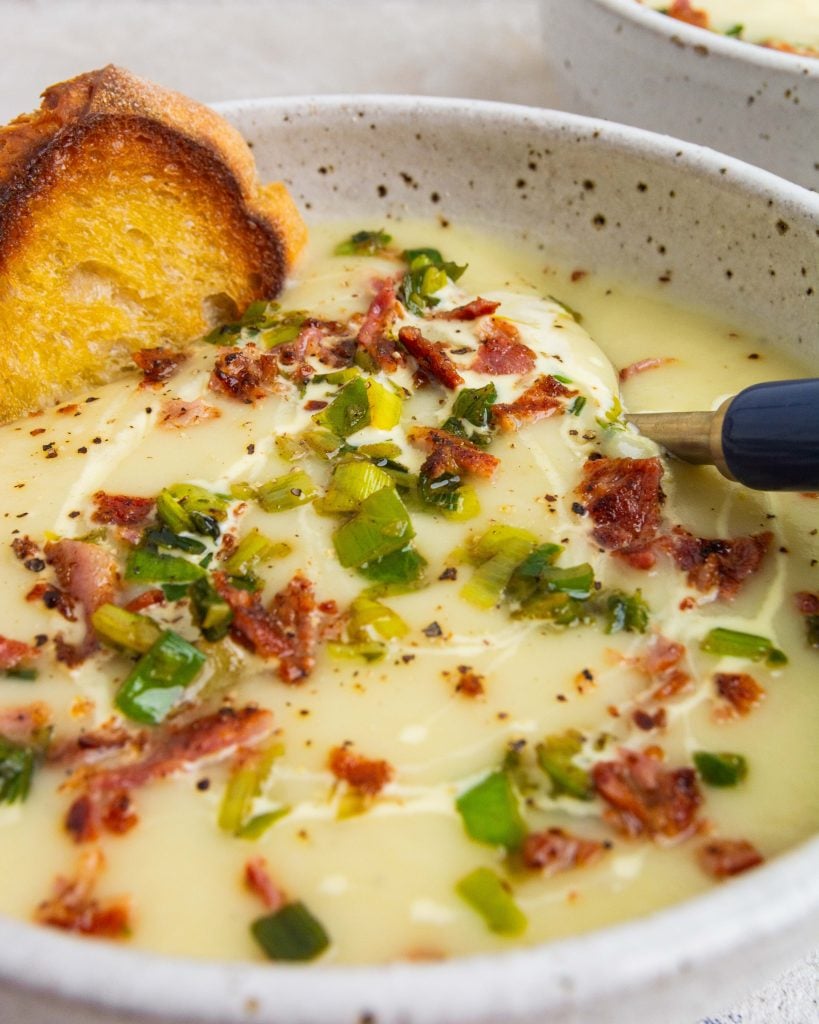 FAQ about potato and leek soup
What kind of potatoes do you use?
White potatoes are the best for this. It's not so much the type of potato but making sure it's really tender.
What else can I garnish with?
So many things! Chilli flakes, parmesan cheese, some truffle oil. This recipe is the base for your tastebuds.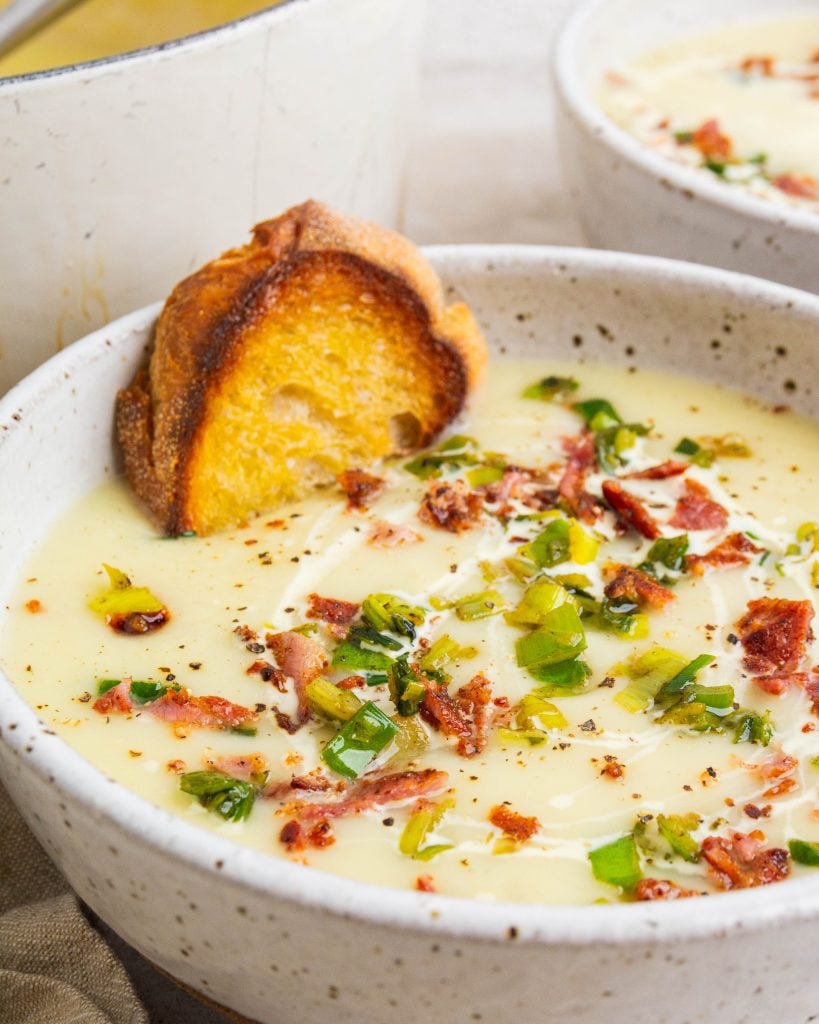 If you make this potato and leek soup, please tag me on Instagram, Tik Tok or Pinterest so I can see your wonderful creations!
If you have any questions or would like to leave a review, please do so here! I always love answering your food and recipe related questions and hearing your feedback on my recipes.
Images by Alanna Penna Photography.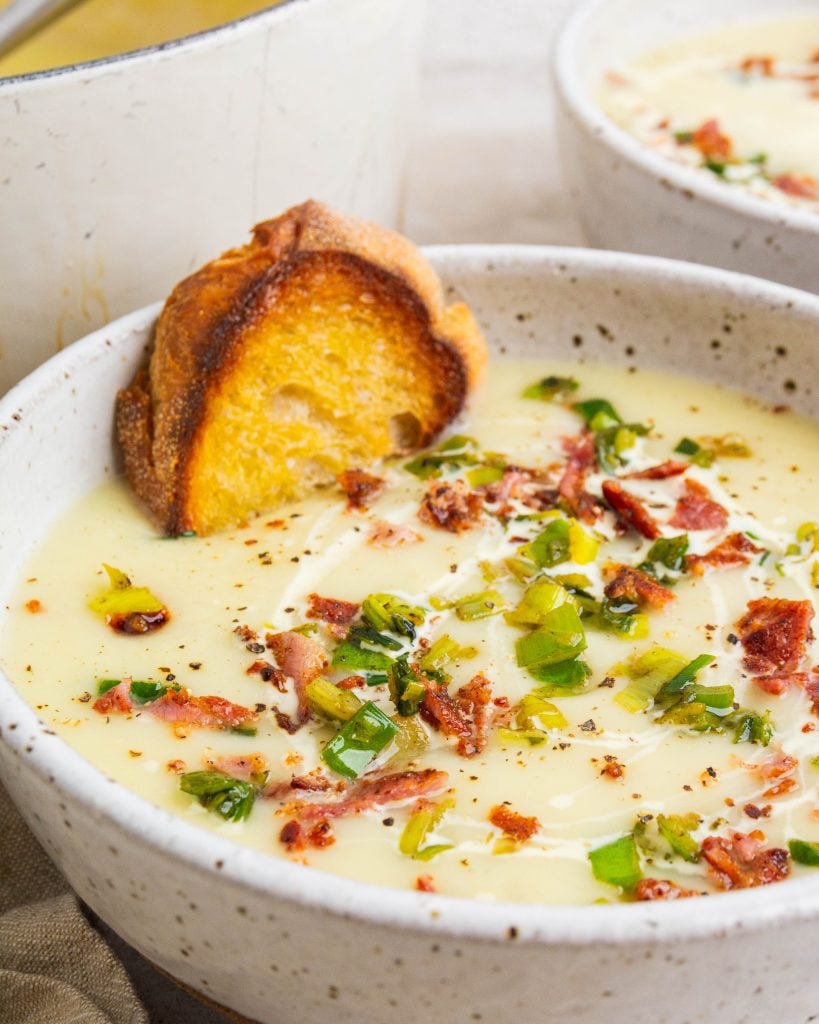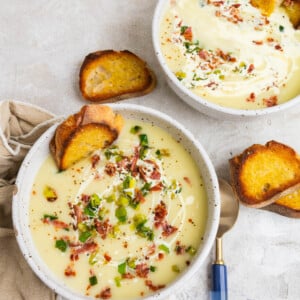 Potato and Leek Soup
A classic flavour combo in a bowl, you can't go wrong!
Ingredients
1 kg white potatoes peeled and quartered
2 large leeks
1 bulb of garlic
100 g butter
2 1/2 tbsp olive oil
1 L chicken or vegetable stock
200 g streaky bacon
1 cup heavy cream optional
1 baguette sliced
Instructions
Preheat the oven to 200 degrees Celsius / 390 degrees Fahrenheit.

Cut the top off the garlic bulb roughly 2cm down from the top so the cloves are exposed. Place the garlic into an oven proof dish and season with ½ tablespoon olive oil and a generous amount of salt and pepper. Bake for 1 hour. Leave the garlic to cool then squeeze out the cloves.

Slice the green tops off the leek, finely dice and set to the side. Finely dice the white and pale green parts of the leek.

In a large pot on a medium – high heat, melt the butter. Add two tablespoons olive oil and leeks and cook for 10 minutes until soft and sweet. Add the potatoes, stock, garlic cloves and a generous amount of salt and pepper. Bring to the boil then cover and turn the heat to low or until the soup is at a gentle simmer. Simmer for 30 minutes or until the potatoes are soft and cooked through.

In a cold fry pan, add the bacon. Turn the heat to high and cook for 3 -4 minutes on each side or until crispy. Remove the bacon from the pan, ensuring you leave all of the fat behind. Turn the heat to medium and add the leek tops. Sautee for 5 minutes or until soft.

On a grill plate or large fry pan on a low – medium heat, drizzle the baguette slices with the remaining olive oil and cook for 5 minutes on each side or until golden and crispy.

Take the soup off the heat. Using an immersion blender, blend until smooth. Season with salt and pepper and stir through cream if using.

Top with crispy bacon bits and fried leek tops. Serve with olive oil fried bread.