Pastina is Italy's ultimate comfort food. It's buttery, cheesy, creamy and silky, will cure any ailment and feels like a big warm hug from mom in a bowl.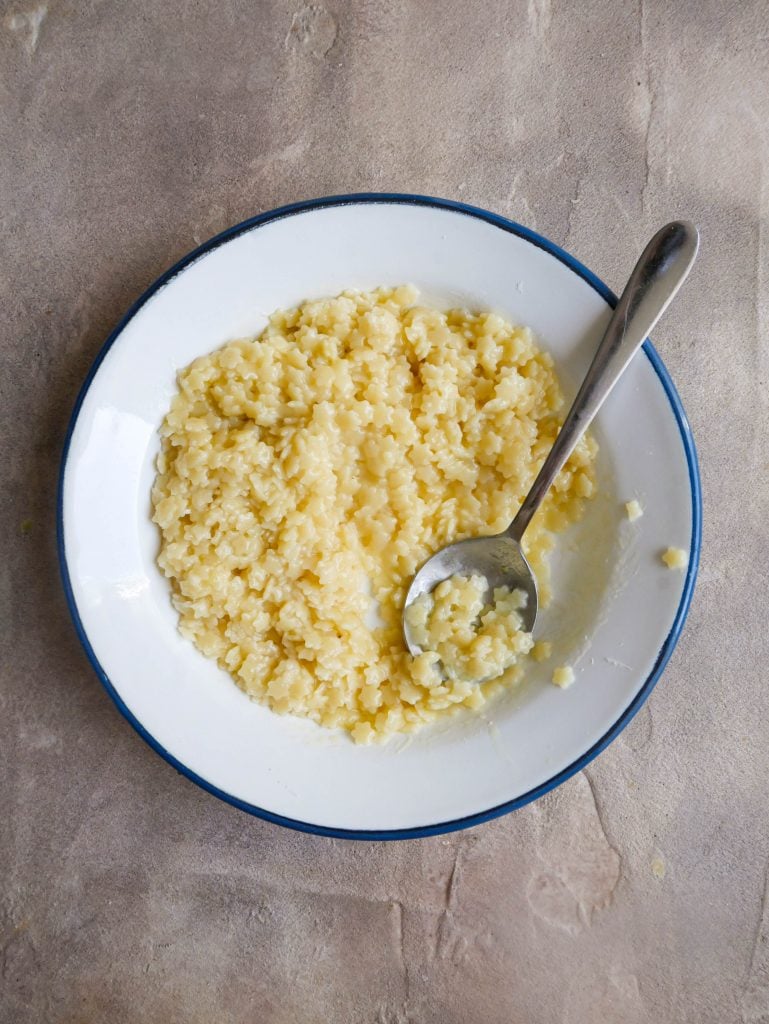 The ultimate comfort food
Pastina is a big warm hug in a bowl. It's known as Italian comfort food and for good reason. It's believed a bowl of pastina will cure any cold, mend any broken heart and bring a smile to your face on those not so great days. This dish is creamy, silky and buttery. Growing up, there was an unspoken rule in our house for when eating pastina. It had to be eaten on the couch and in the most comfortable clothes you owned. Eating it this way just made it taste so much better! Check out more of my pasta recipes here.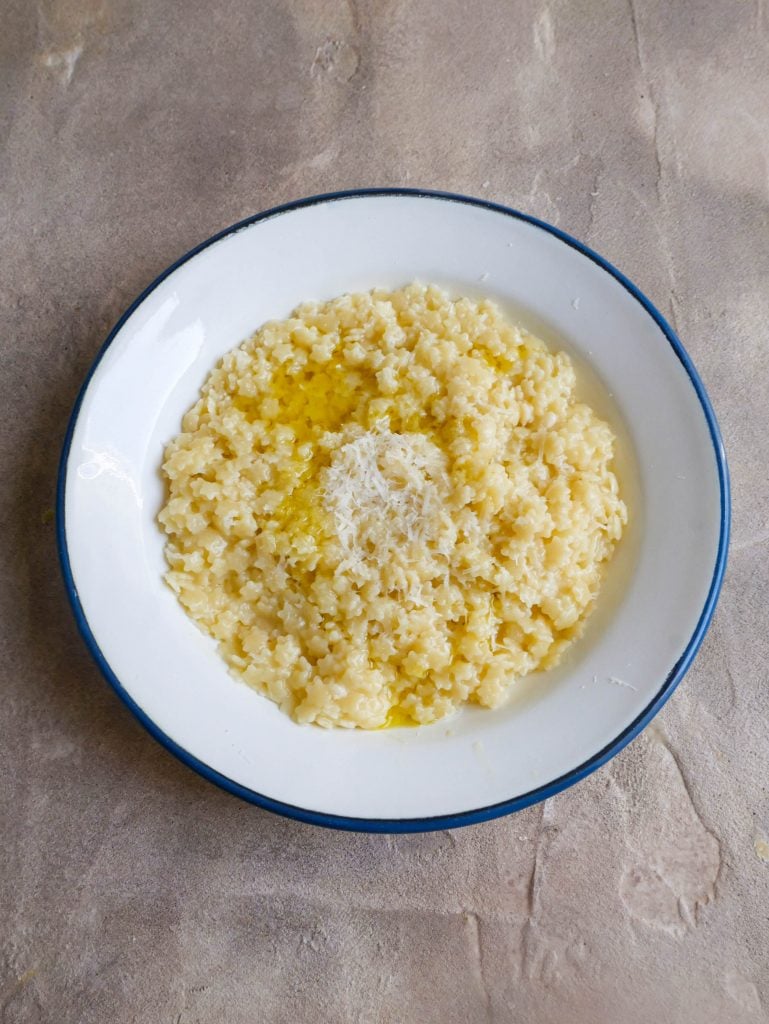 What is pastina?
Pastina is an Italian word that translates to tiny pasta. It can come in a variety of shapes from little circles to little stars. Pastina is different to orzo as it's slightly smaller and not shaped like a grain of rice. The little pasta is cooked in brodo (homemade chicken broth or vegetable broth) for that extra flavor and a small knob of butter until it's plump and has absorbed most of the stock. It's then finished off with parmesan cheese, a little more butter and sometimes a whisked egg! Everyone has their own version of pastina. Some people like to make it more like a soup while others like to make it thicker and more like a risotto. This recipe will leave you with a thick and risotto-like pastina. If you prefer your pastina more soupy, you can view my pastina in brodo recipe here. The homemade chicken broth is made with onions, celery, carrots, bay leaves and chicken bones that are simmered for several hours for that depth of flavor.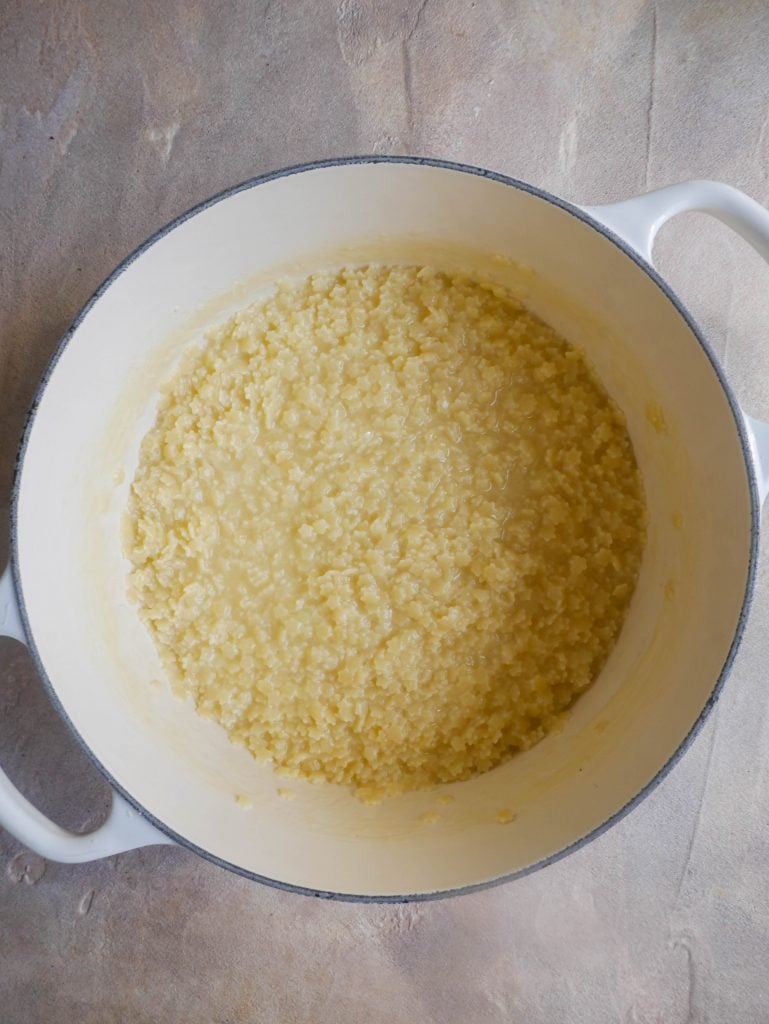 If you make this recipe, please tag me on Instagram, Tik Tok or Pinterest so I can see your wonderful creations!
If you have any questions or would like to leave a review, please do so here! I always love answering your food and recipe related questions and hearing your feedback on my recipes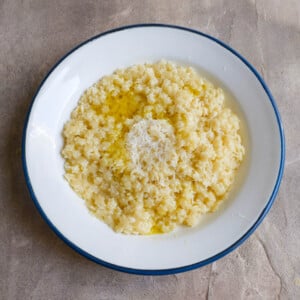 Pastina
Pastina is Italy's ultimate comfort food. It's buttery, cheesy and silky and will cure any ailment.
Ingredients
4 cups chicken stock 1 Litre
1 cup pastina
50 g butter
1/2 cup pecorino romano or parmeson grated + extra to serve
pinch of salt
drizzle of olive oil
Instructions
In a medium sized pot on a high heat, bring the chicken stock to a boil. Add the pastina and butter to the chicken stock and immediately turn the heat down to low - medium. Continuously stir the pastina until it's plump and has absorbed 80% of the liquid. 

Take the pastina off the heat, season to taste with salt and stir through the cheese . Finish off with a sprinkling of extra cheese and drizzle of olive oil