Pastina is Italy's ultimate comfort food. It's buttery, cheesy, creamy and silky, will cure any ailment and feels like a big warm hug from mom in a bowl.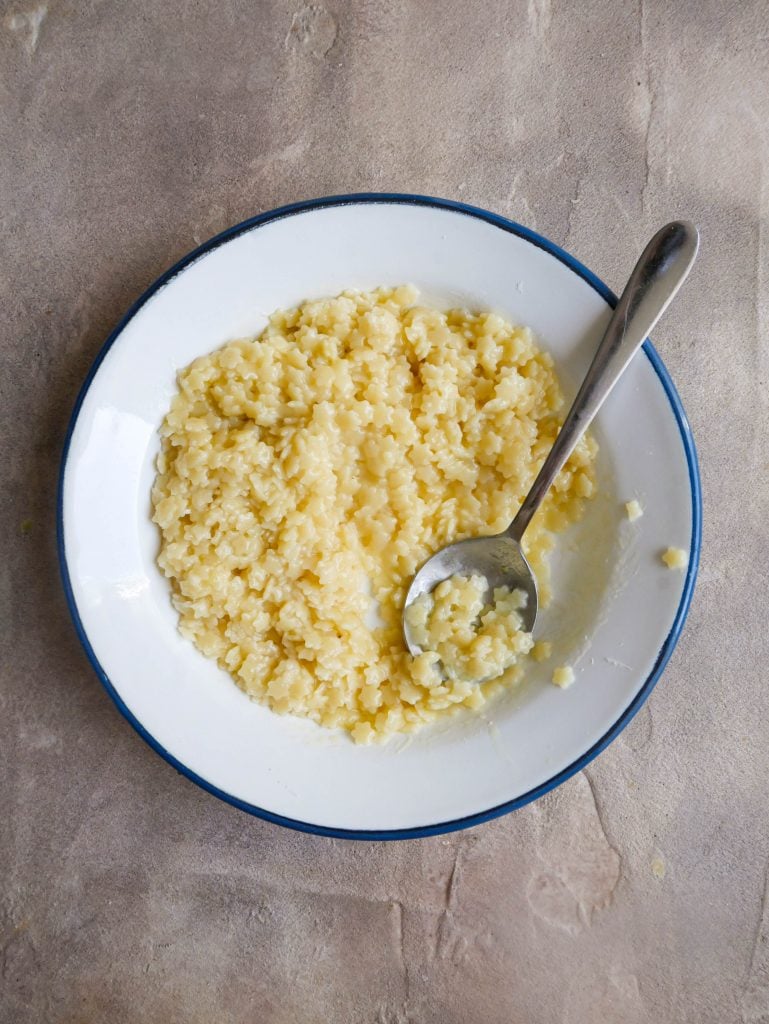 The ultimate comfort food
Pastina is a big warm hug in a bowl. It's known as Italian comfort food and for good reason. It's believed a bowl of pastina will cure any cold, mend any broken heart and bring a smile to your face on those not so great days. This dish is creamy, silky and buttery. Growing up, there was an unspoken rule in our house for when eating pastina. It had to be eaten on the couch and in the most comfortable clothes you owned. Eating it this way just made it taste so much better! Check out more of my pasta recipes here.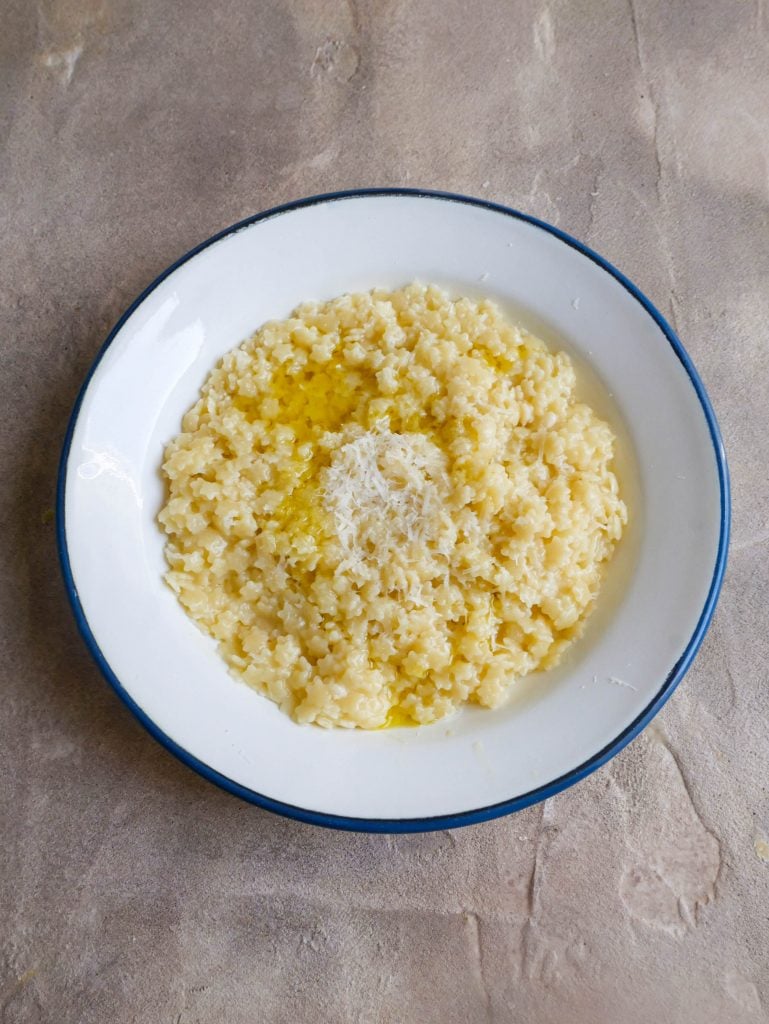 What is pastina?
Pastina is an Italian word that translates to tiny pasta. It can come in a variety of shapes from little circles to little stars. Pastina is different to orzo as it's slightly smaller and not shaped like a grain of rice. The little pasta is cooked in brodo (homemade chicken broth or vegetable broth) for that extra flavor and a small knob of butter until it's plump and has absorbed most of the stock. It's then finished off with parmesan cheese, a little more butter and sometimes a whisked egg! Everyone has their own version of pastina. Some people like to make it more like a soup while others like to make it thicker and more like a risotto. This recipe will leave you with a thick and risotto-like pastina. If you prefer your pastina more soupy, you can view my pastina in brodo recipe here. The homemade chicken broth is made with onions, celery, carrots, bay leaves and chicken bones that are simmered for several hours for that depth of flavor.
If you make this recipe, please tag me on Instagram, Tik Tok or Pinterest so I can see your wonderful creations!
If you have any questions or would like to leave a review, please do so here! I always love answering your food and recipe related questions and hearing your feedback on my recipes
Main Courses to Pair with Pastina
If you've just whipped up my easy pastina recipe and are wondering what main course to complement your delightful pastina dish with, don't fret! I have some delectable suggestions for you.
How about some grilled chicken infused with aromatic rosemary and a zesty kick of lemon? It's a match made in heaven with a simple pastina recipe. If you're in the mood for seafood, consider pairing your pastina pasta recipe with a perfectly seared salmon, glistening with a light drizzle of olive oil. The richness of the salmon harmoniously balances the understated elegance of the pastina.
And for those who crave something classic and hearty, there's nothing like traditional meatballs drenched in a flavorful marinara sauce. And hey, why not take it up a notch with my roasted garlic confit recipe? The more garlic, the better, in my humble opinion!
Whether you're preparing a pastina recipe for one or hosting a dinner party, these main course options ensure a balanced, wholesome meal. Remember, the beauty of a pastina recipe lies in its simplicity, allowing it to blend seamlessly with a variety of flavors.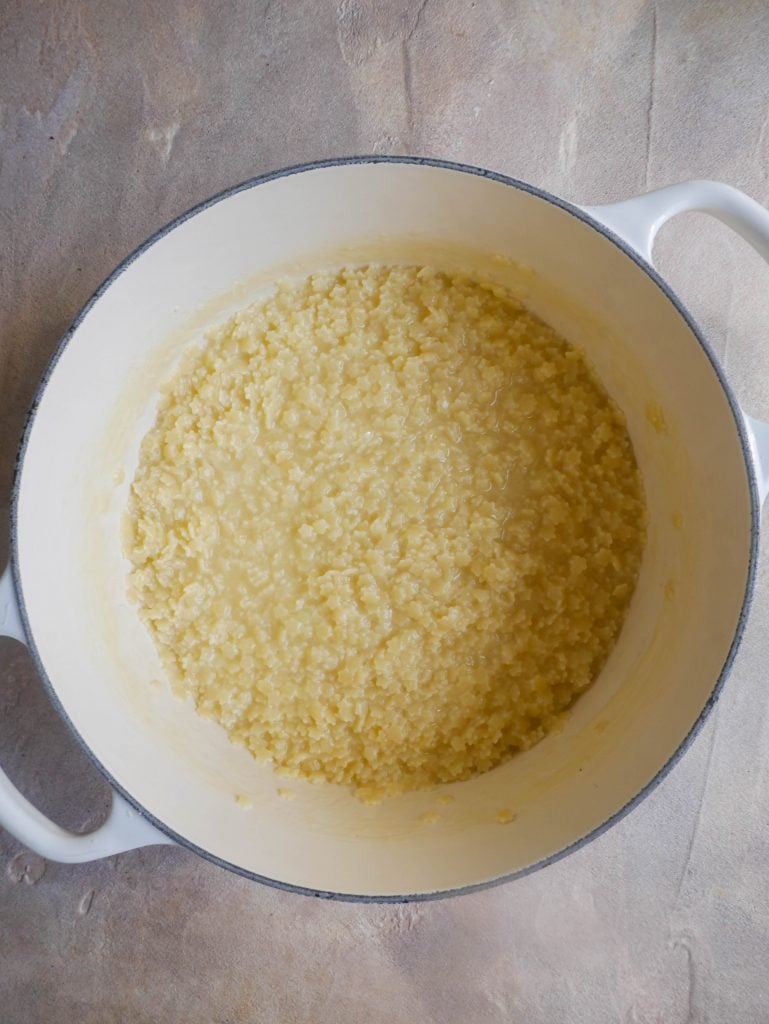 Side Dishes to Elevate Your Pastina Meal
Now, let's talk accompaniments, such as garlic roasted asparagus, where its earthy tones pair with the subtle flavors of a simple pastina recipe. And for those days when you're crafting a pastina recipe for one or many and wish to add a touch of Italian flair, a tomato and basil bruschetta is your answer. The freshness of tomatoes, combined with aromatic basil, contrasts beautifully with the warm, creamy texture of a pastina pasta recipe. You could also try out my herb focaccia recipe as a fun alternative to regular bruschetta bread.
But wait, there's more! How about a refreshing mixed greens salad, drizzled with a tangy balsamic vinaigrette? The crispness of the greens and the acidity from the dressing cut through the richness, making it the perfect partner for any pastina recipe.
Tips to Master the Art of Cooking Pastina
Here are a few key tips can turn your dish from good to simply divine.
Broth is Best
While water is the typical go-to for most pasta, pastina thrives in flavor when you up the ante. Swap out water for chicken or vegetable broth, and watch your simple pastina recipe transform into a comforting bowl of aromatic goodness.
Don't Forget the Cheese
Who can resist the allure of cheese in a pastina pasta recipe? It's almost essential. While pecorino romano or parmesan is a classic choice, don't hesitate to experiment. Whether it's the sharp bite of pecorino or the gooey melt of mozzarella, different cheeses can add layers of flavor and texture to your dish.
Stir Often
Pastina's small size means it can be a bit of a tricky customer in the pot. It has a knack for sticking to the bottom if left unattended. To achieve that perfect consistency, especially if you're making a pastina recipe for one, ensure you keep an eye on it, stirring gently but frequently.
Seasoning Matters
Just like any pasta recipe, seasoning is key. Salt your broth or water, taste as you go, and don't shy away from a pinch of herbs or spices if you feel your pastina dish needs a little oomph.
Frequently Asked Questions
Can I make a pastina recipe for one?

Absolutely! One of the charms of pastina is its adaptability. Whether you're cooking for one, two, or a whole family gathering, adjusting the portion is a breeze. A pastina recipe for one is perfect for those solo nights when you want to treat yourself to something special.
Are there gluten-free pastina options?

As more and more people seek gluten-free alternatives, many brands now offer gluten-free pastina. This way, everyone can enjoy the magic of this dish, regardless of dietary restrictions.
How do I store leftover pastina?

If you"ve cooked too much (is there such a thing?) and have leftovers, simply store your pastina dish in an airtight container in the fridge. It should stay fresh for a couple of days. When you're ready to enjoy it again, a quick reheat will bring it back to life.

What broth should I use?

Can we talk about my homemade chicken broth here. It's on my website! But also say homemade chicken stock is fine to use and a much quicker alternative.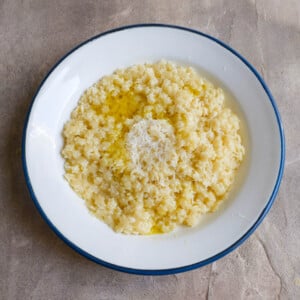 Pastina
Pastina is Italy's ultimate comfort food. It's buttery, cheesy and silky and will cure any ailment.
Ingredients
4 cups chicken stock 1 Litre
1 cup pastina
50 g butter
1/2 cup pecorino romano or parmeson grated + extra to serve
pinch of salt
drizzle of olive oil
Instructions
In a medium sized pot on a high heat, bring the chicken stock to a boil. Add the pastina and butter to the chicken stock and immediately turn the heat down to low - medium. Continuously stir the pastina until it's plump and has absorbed 80% of the liquid. 

Take the pastina off the heat, season to taste with salt and stir through the cheese . Finish off with a sprinkling of extra cheese and drizzle of olive oil