Say hello to the perfect summer salad. This peach salad is bursting with savoury and sweet flavours and has the most delicious garlic confit and balsamic glaze dressing.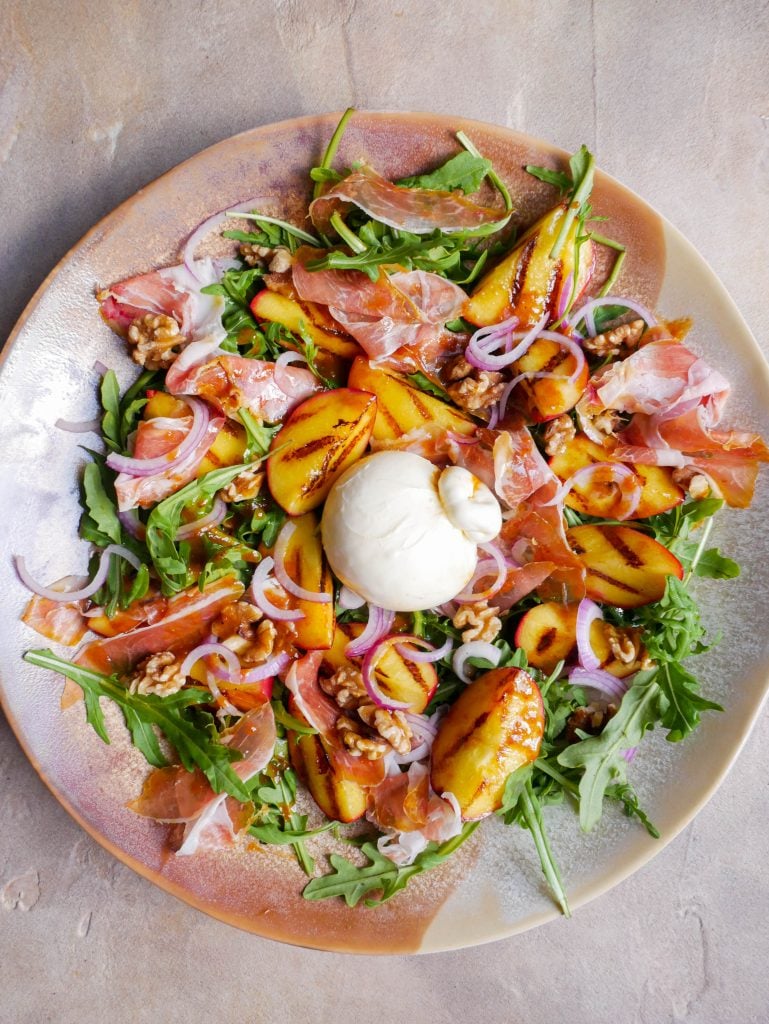 Peach Salad with Garlic Confit Balsamic Dressing
While this peach salad could work for any occasion, it's the perfect Christmas salad! The holiday season is fast approaching and if you're anything like me, your busily preparing your Christmas menu. I am from Australia where our Christmas it hot, sticky and spent by the pool eating mangoes. This peach salad with a garlic confit balsamic dressing is so easy to whip together and full of summery flavours. While you could make everything on the same day, the dressing can be made in advance. The garlic confit could also be replaced with a clove of fresh garlic to make this salad even more simple!
Sweet & Savoury
Growing up in an Italian household, the combination of sweet and savoury flavours is something I am very familiar with. However, I have come to learn that this is not a common flavor combination for most. This peach salad is a modern take on a traditional Italian peach, prosciutto and burrata salad. The sweet flavour of the peach is perfectly balanced by the saltiness of the prosciutto and creaminess of the burrata. While the walnuts and onion add a beautiful crunchy element. A more sweet and savoury combination you may be more familiar with is melon wrapped in prosciutto. You just have to trust me on this one because it tastes absolutely incredible!
What you need for this peach salad
Because this salad relies on minimal ingredients, I reccomend buying high quality produce if possible!
Peaches – it's best to make this salad in stonefruit season when peaches are juicy and sweet. By grilling the peaches for this salad, their natural sugars are intensified by the heat of the grill. This results in a sweet, soft and slightly caramelised peach.
Burrata – burrata is made from mozzarella and cream and is my favourite cheese! But if you are finding it hard to source, you can use goats cheese, ricotta or bocconcini as an alternative.
Prosciutto – a cured salty meat that adds a lovely salty element to the salad. Always buy freshly shaved prosciutto from a deli.
Ingredients cont…
Crunchy – the onions and walnuts create a lovely crunchy texture in the salad. But you can mix this up and use whatever nuts or crisp vegetables that you prefer.
Garlic confit dressing – I'm sure it's become apparent that I'm in love with garlic confit. It's sweet, soft and the perfect ingredient for a salad dressing.
Olive oil – I always recommend using high quality extra virgin olive oil which is why I always turn to Rich Glen or Daen's Kitchen olive oil.
Check out my other salad recipes
Basil Garlic Pest Summer Pasta Salad
Crispy Crumbed Chicken & Bacon Salad
If you make this recipe, please tag me on Instagram, Tik Tok or Pinterest so I can see your wonderful creations!
If you have any questions or would like to leave a review, please do so here! I always love answering your food and recipe related questions and hearing your feedback on my recipes.
Peach Salad with Garlic Confit Balsamic Dressing
Say hello to the perfect summer salad. It's bursting with savoury and sweet flavours and has the most delicious garlic confit and balsamic glaze dressing.
Ingredients
Garlic confit & balsamic glaze dressing
3 tbsp Rich Glen olive oil extra virgin
1 tbsp Rich Glen sitcky balsamic
1/2 shallot skin removed
1 tsp mustard
10 garlic confit cloves
Peach Salad
4 peaches de-seeded and quartered
1/2 tbsp RIch Glen olive oil extra virgin
1 burrata
250 g rocket
1/2 red onion finely sliced
50 g walnuts
100 g prosciutto
2 slices sourdough bread
Instructions
Garlic confit & balsamic glaze dressing
Place all ingredients into a food processor and blend until well combined. Alternatively, you can finely dice your shallot and place all ingredients into a jar. Pop the lid on and shake vigorously until well combined. 
Peach salad
Drizzle each side of your sourdough slice with olive oil and place into a cast iron pan. Cook on a very low heat for roughly 10 - 15 minutes each side.

Drizzle the peaches with olive oil. On a high heat on a grill plate, cook the peaches for 2 minutes on each side or until slightly charred. 

In a large bowl, assemble the remaining salad ingredients. Drizzle up to 4 tablespoons of dressing all over and serve with the toasted sourdough.