This perfectly balanced basil garlic pesto summer salad is made with a creamy and tangy dressing, crispy bacon bits and garlic chips and lots of cheese! It's the perfect addition to your next Summer feast.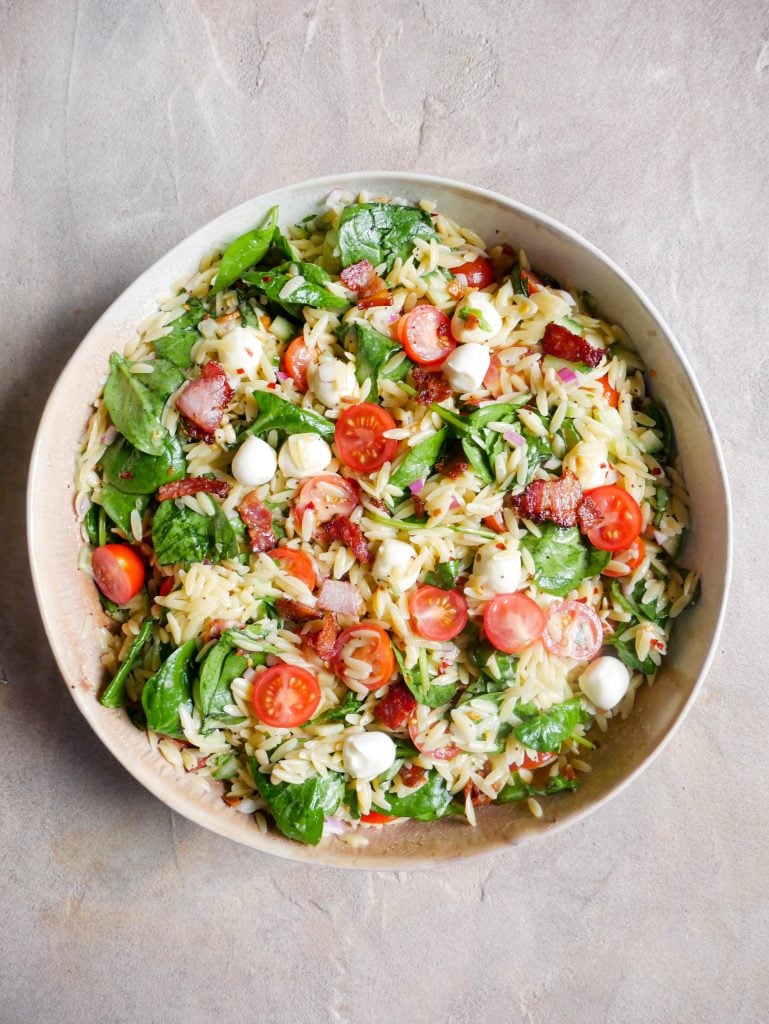 Basil Garlic Pesto Summer Pasta Salad
This might just be the most perfect pasta salad ever to exist! It's bright, colourful and full of summery flavours. It's also made with the most delicious basil garlic pesto salad dressing from my friends at Rich Glen Olive Oil. It just wouldn't be a salad from me without lots of garlic which is why I have included my garlic chips. They are create the perfect crunchy element to any salad! This pasta salad is also bursting with fresh summery veggies and two types of cheese. It's the ultimate crowd pleasing recipe to serve at your next summer dinner party!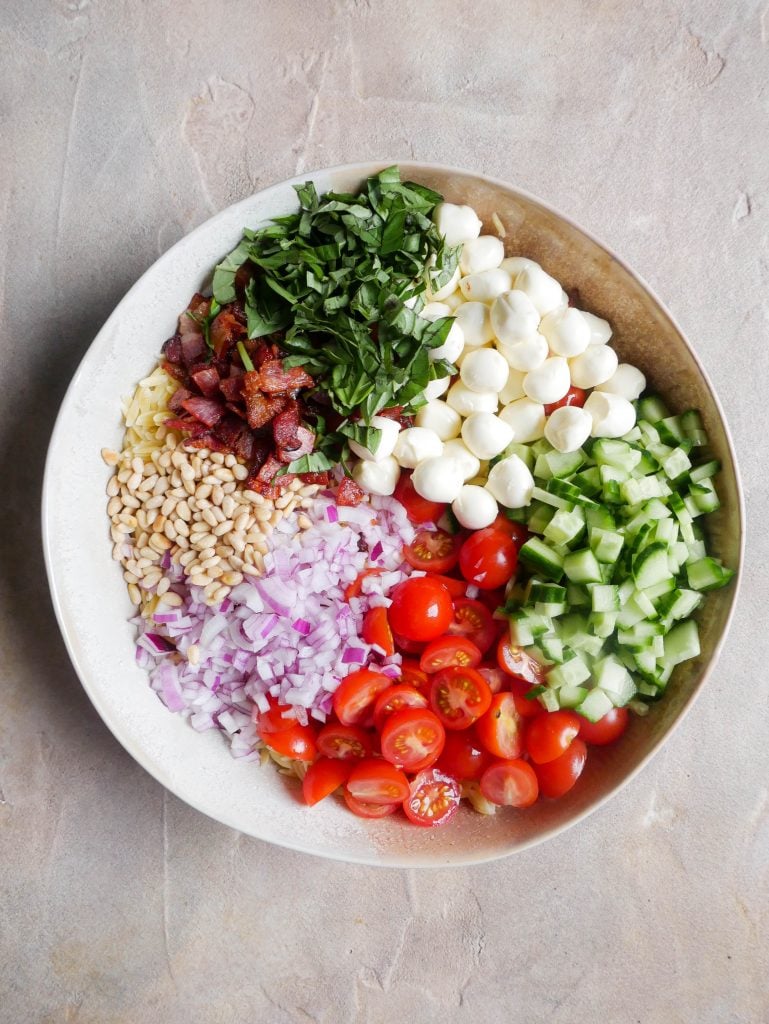 What ingredients you need
This basil pesto garlic summer pasta salad calls for a fair few ingredients but most of them will be found in your fridge or pantry.
Orzo – orzo is a tiny pasta that looks like rice! You can really use any pasta shape you like but this is my preference!
Pesto Dressing – Rich Glen's Basil Garlic Pesto Dressing is tangy, sweet and bursting with basil flavour. If you can't get your hands on this, you can use my pesto recipe for the dressing.
Garlic chips – It just wouldn't be a Daen's Kitchen salad without lots of garlic! These garlic chips are golden and crunchy and make for the perfect addition to any salad.
Bacon – I like to use streaky bacon for that extra fattiness!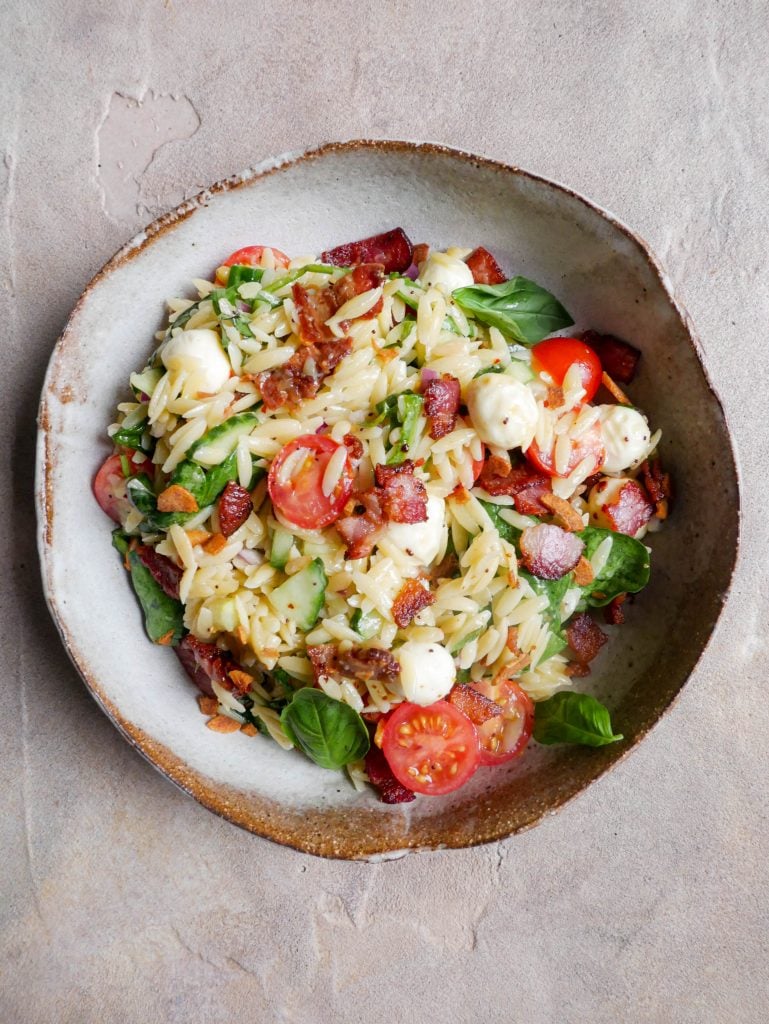 Veggies – mix it up and include or exclude any veggies to your personal preference! In this salad, I like to use cherry tomatoes, cucumbers, red onion and baby spinach.
Cheese – and lots of it! I have used two types of cheese including baby bocconcini and pecorino romano for that sharp flavour!
Lemon – this ties all the flavours of the salad together! Fresh lemon juice is always best.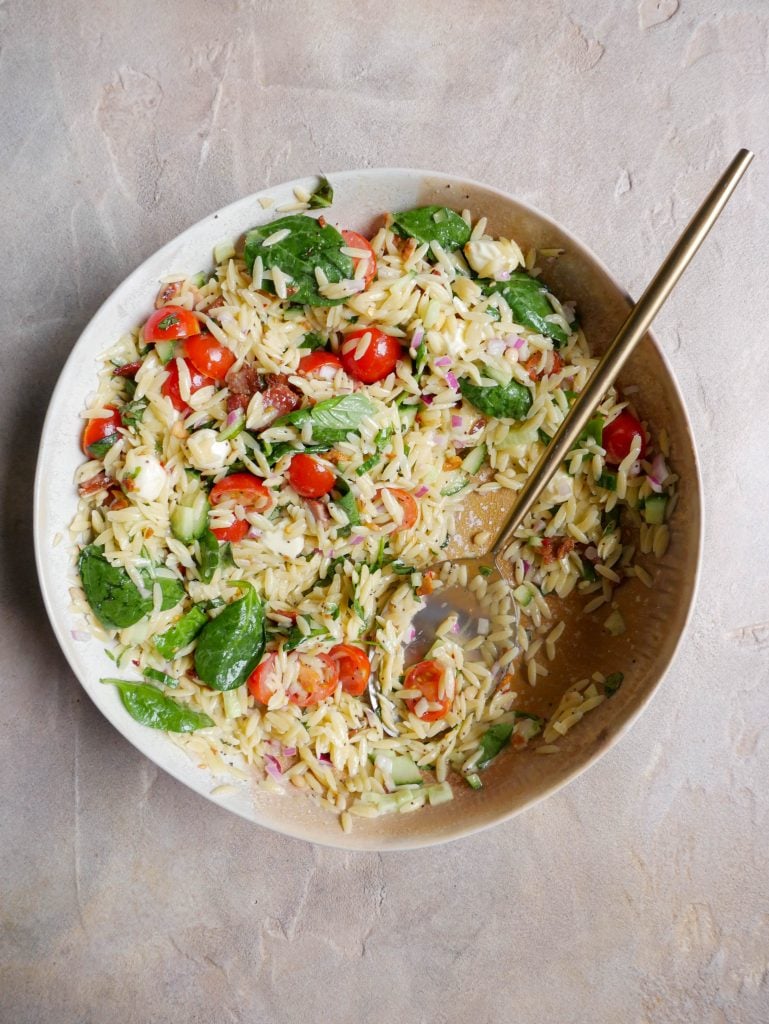 How to make garlic chips
Say hello to your new garlic best friend, garlic chips! They are thinly sliced garlic cloves that are shallow fried to crispy perfection in luxuriously rich olive oil. They make for the most perfect toppings to your salads, sandwiches, pizzas or pasta's. The olive oil is infused with a strong garlic flavour and can be repurposed in all of your cooking! Make sure you keep an eye on them as they cook as they can brown very quickly! Also fry your garlic cloves in batches as to not overcrowd the pan!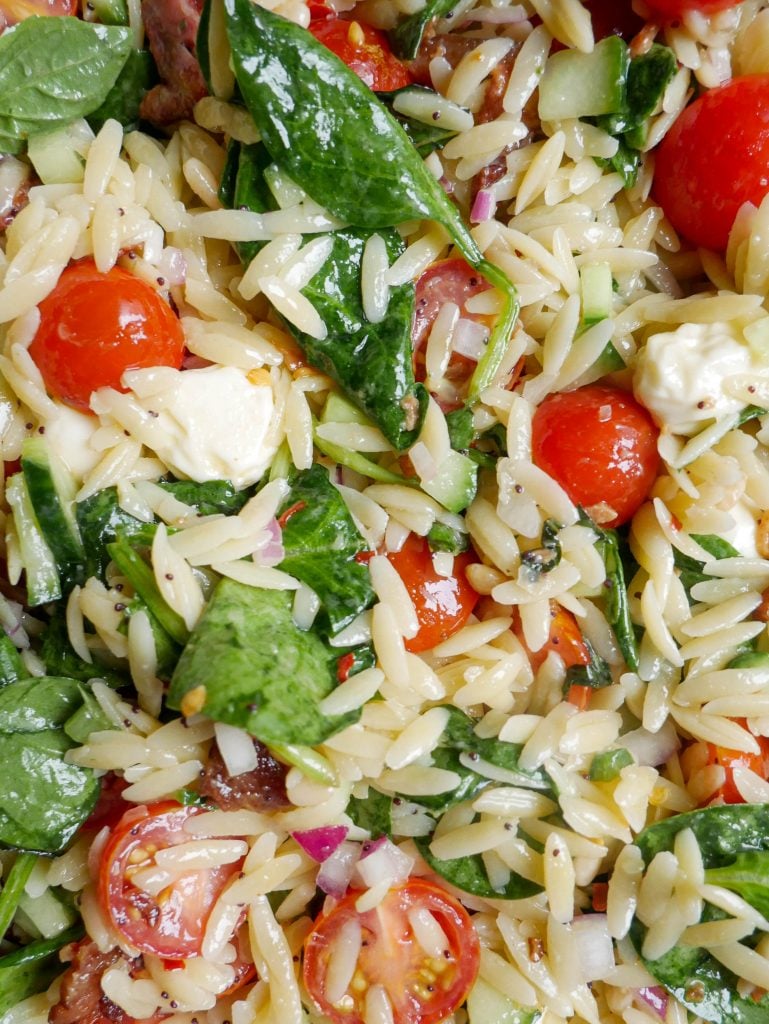 Check out my other salad recipes
Crispy crumbed chicken & bacon salad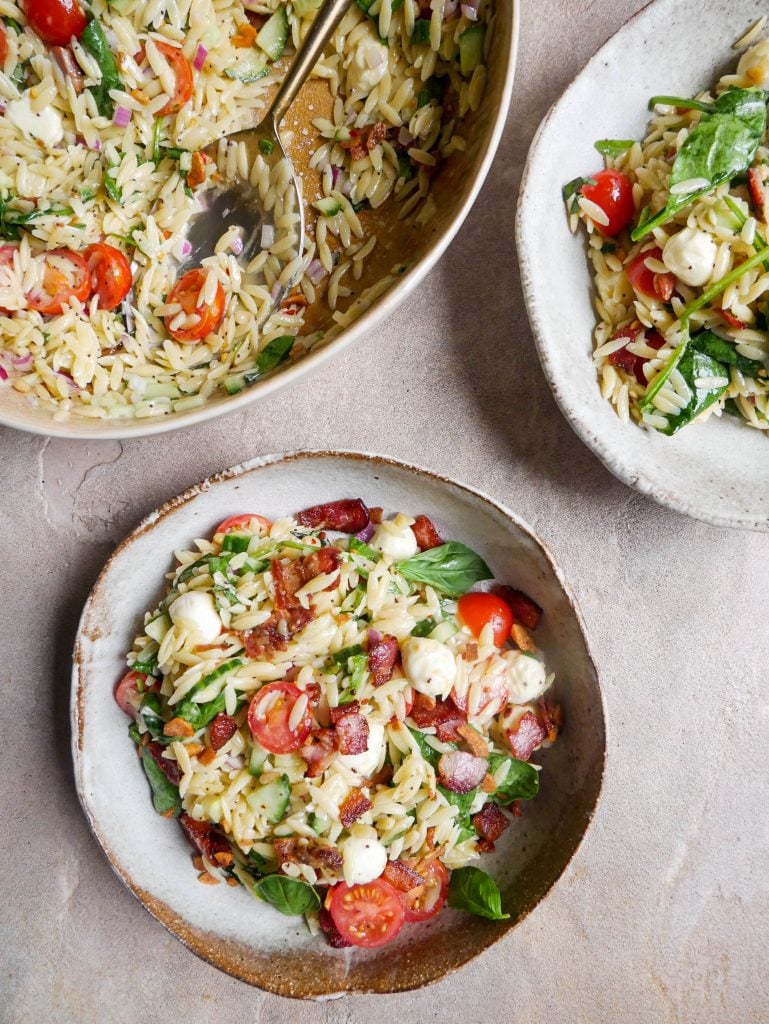 If you make this recipe, please tag me on Instagram, Tik Tok or Pinterest so I can see your wonderful creations!
If you have any questions or would like to leave a review, please do so here! I always love answering your food and recipe related questions and hearing your feedback on my recipes.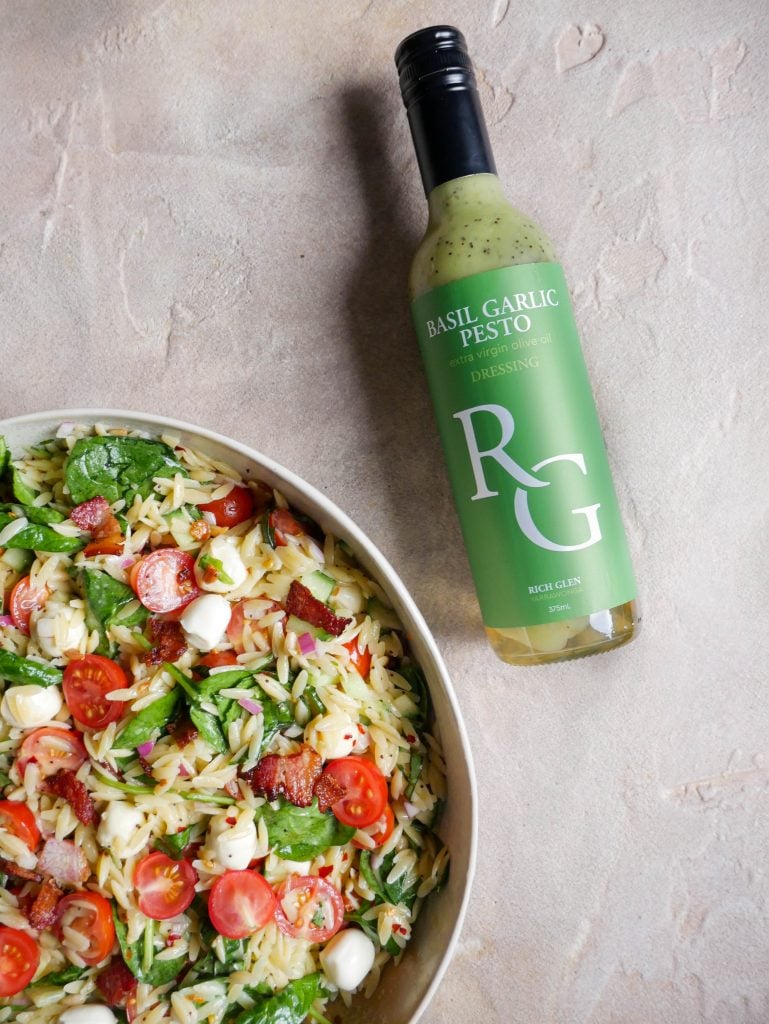 This recipe is sponsored by Rich Glen Olive Oil.
Basil Garlic Pesto Summer Pasta Salad
This perfectly balanced basil garlic pesto summer pasta salad is made with a creamy and tangy dressing, crispy bacon bits and garlic chips and lots of cheese. It's the perfect addition to your Summer feast.
Ingredients
Garlic Chips
6 heads garlic
3 cups Rich Glen Extra Virgin Olive Oil
Pasta Salad
300 g orzo pasta
250 g steaky bacon diced
200 g cherry tomatoes halved
1/2 cucumber finely diced
1/2 red onion finely diced
200 g baby bocconcini
50 g pinenuts
1/4 cup basil finely sliced
3 tbsp Rich Glen Basil Garlic Pesto Dressing
200 g baby spinach
3 tbsp garlic chips
1 lemon
50 g pecorino romano grated
Instructions
Garlic Chips
Peel the garlic by breaking the cloves away and placing them into a heatproof bowl. Submerge in boiling hot water for 5 minutes and drain. The skin will become loose and easy to peel away. 

Using a sharp knife, finely slice the garlic into very thin strips. 

In a deep dish pan on a high heat, heat the olive oil. Place a wooden skewer into the olive oil and if bubbles form around it the oil is hot enough. Turn the heat to medium and toss in half of the garlic chips. Cook for 3 - 4 minutes or until they turn golden in colour. Move the garlic around with a metal spatula to ensure they do not stick to one another. 

Spoon the garlic chips out with a metal skimmer and place onto a plate that is lined with absorbent paper. Cook the remaining garlic chips. 

Store the garlic chips in an airtight jar. You can use them immediately or store them in the pantry for several months. They will be crispiest when used straight away. 

Allow the olive oil to slightly cool then drain into an airtight jar and use in any recipe that requires olive oil. It will keep for several weeks in a dark space.
Pasta salad
Bring a large pot of heavily salted water to the boil. Cook the pasta following the instructions on the pasta packet. Drain and rinse under cold water. Drizzle with a little olive oil while you prepare the remainder of the salad. 

In a cold fry pan, add the bacon. Turn the heat to high and fry until golden and crispy. Remove with a slotted spoon and place onto absorbent paper. 

In a small fry pan on a high heat, toast the pine nuts for 1 - 2 minutes or until they develop a very slight golden colour. Set to the side. 

In a large salad bowl combine the orzo pasta, cherry tomatoes, cucumber, red onion, baby bocconcini, pine nuts and basil. Drizzle with Rich Glen's Basil Garlic Pesto Dressing and toss all ingredients until well combined. Scatter the baby spinach all over and toss through again.

Sprinkle over the garlic chips. Squeeze the lemon juice all over and finish off by grating the pecorino romano all over.