There's been a viral restaurant in Paris that has been going off on TikTok lately. The restaurant serves two things: steak and frites. Basically, steak with fries. It's simple but it's bringing in the crowds because steak and fries is absolutely delicious. I've been lucky enough to work with Westgold Butter to make Steak Frites with Bearnaise – a wonderful French dish that would make Julia Childs stop in her tracks.
Steak frites with Bearnaise
There are only three components of steak frites with Bearnaise: the steak, the fries, and the sauce. So, I'm going to teach you how to nail all three.
Steak
Oh, cooking a good steak. Steak is one of those foods that when it's good it is amazing, perfect. And, when it's bad, it borderlines inedible. I have some homecook hacks to help you nail your next steak – and it includes high quality butter and patience.
If you follow my rules when cooking steak, I promise you that you will be making the perfect steak every single time!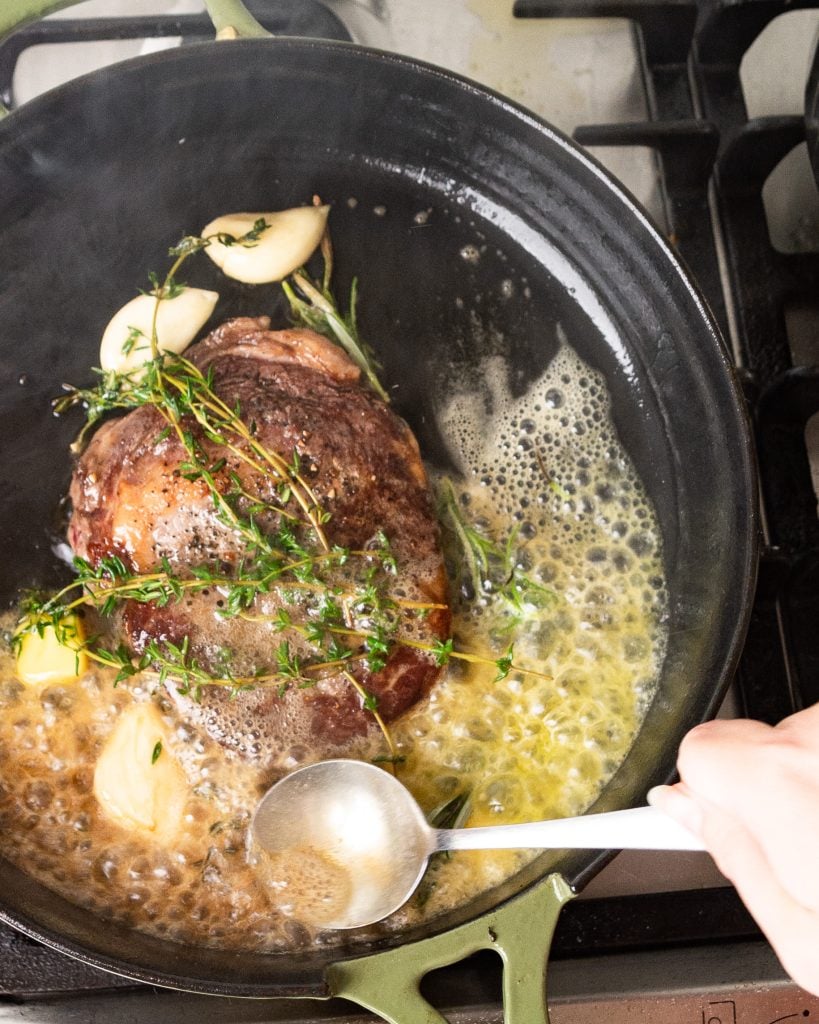 Room temperature
Bring your steak to room temperature before cooking it. Take it out of the fridge at least 1 hour prior to cooking. By bringing it to room temperature, your steak will cook more evenly and result in a more juicy and tender steak.
Heavily season
Heavily season your steak with lots of salt and pepper. You may think that it looks like a lot of salt but this not only flavour your steak but it will also help make the steak more tender. You also lose lots of the seasoning once the steak hits the pan. The black pepper will contribute to a beautiful crust.
Hot, hot hot 
Use a smoking hot cast iron pan when cooking your steak! You want to see a haze coming from the pan before placing your steak onto it. A cast iron pan is best for when cooking steak but you can use also use a non-stick. The hotter the pan, the better your steak's sear and crust will be.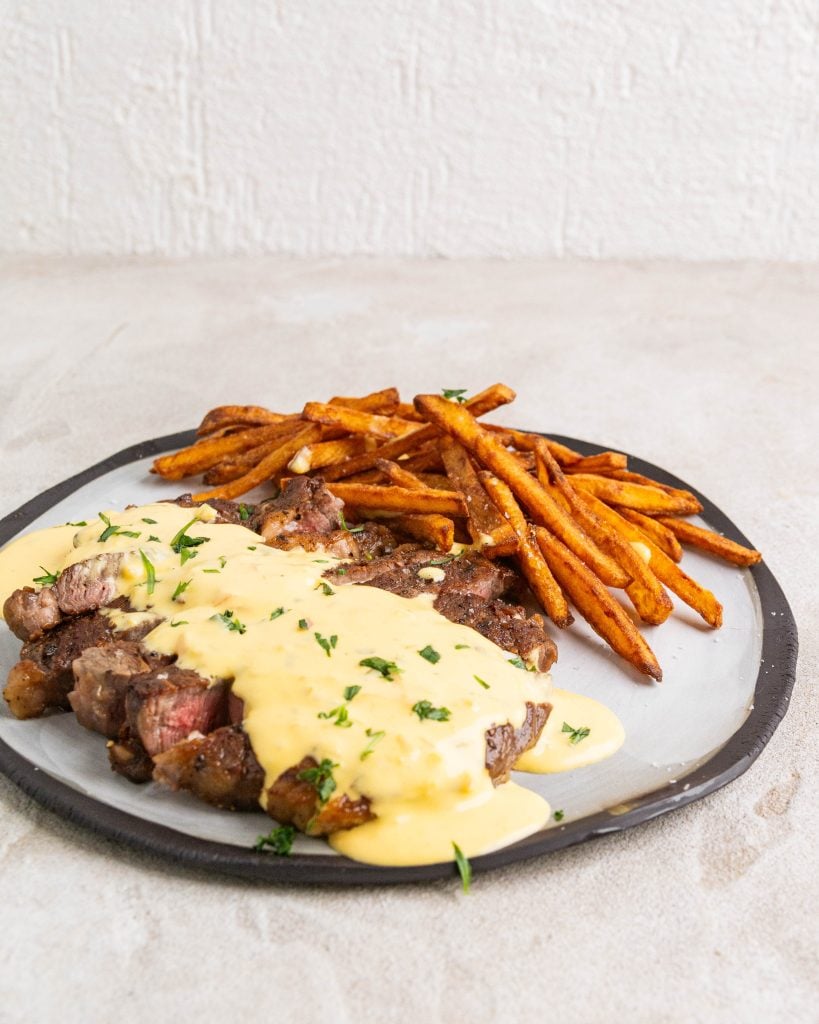 Don't touch it 
Make sure you do not touch or move the steak when you lay it into the pan as this will disrupt the searing process.
Aromatics
These include fresh herbs such as rosemary and thyme and raw garlic. This will beautifully flavour your steak and the butter sauce that is drizzled onto it after it has rested.
Baste that steak
Baste the steak with butter to give it lots of flavour and help make it juicy.
Timing
Timing is so important when it comes to cooking the perfect steak and as every steak is different when it comes to thickness and weight this will slightly alter every time. Once you have cooked a few steaks, you will be able to tell just by looking at it how long the steak needs to cook for. You will also be able to train yourself how to tell if it's ready by giving it a little touch when its cooking in the pan. For a medium rare steak, you want it to be soft touch with a slight bounce. It will feel exactly how the bottom of your thumb feels when touching it. Make sure you have a timer on hand when cooking the steak.
Rest
I know how difficult it can be to not cut into a beautiful piece of steak as soon as it comes off the pan but this step is so important as it leaves you with a juicer steak! I like to rest mine from 5 – 10 minutes.
Flavour
Flavour the steak with a jazzed up butter, pan fried mushrooms or a delicious sauce and whatever you do, don't toss away those lovely buttery juices from the pan. Drizzle it over the steak while it's resting.
High quality 
If possible, always use a high quality steak and butter such as Westgold butter. As this recipe has very minimal ingredients, you will really taste the difference when using high quality.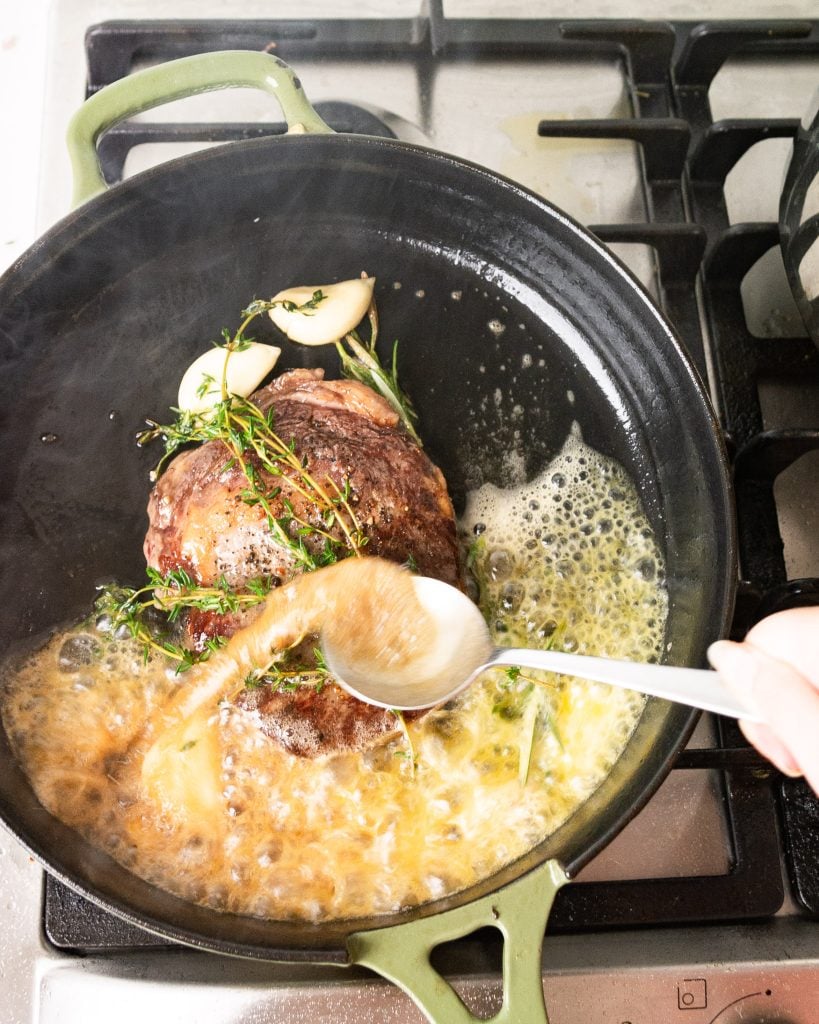 Bearnaise
In traditional French cooking there are five mother sauces: Bechamel Sauce, Veloute Sauce, Espagnole Sauce, Tomato Sauce (sauce tomate), Hollandaise Sauce. There are even chefs known as Sauciers who master just these. In modern times, Hollandaise is associated mainly with eggs benedict, but it's a thick and rich butter based sauce. If Hollandaise is the mother sauce then Bearnaise is its child. And, it suits steak perfect. So this is how to nail the sauce for steak frites with Bearnaise.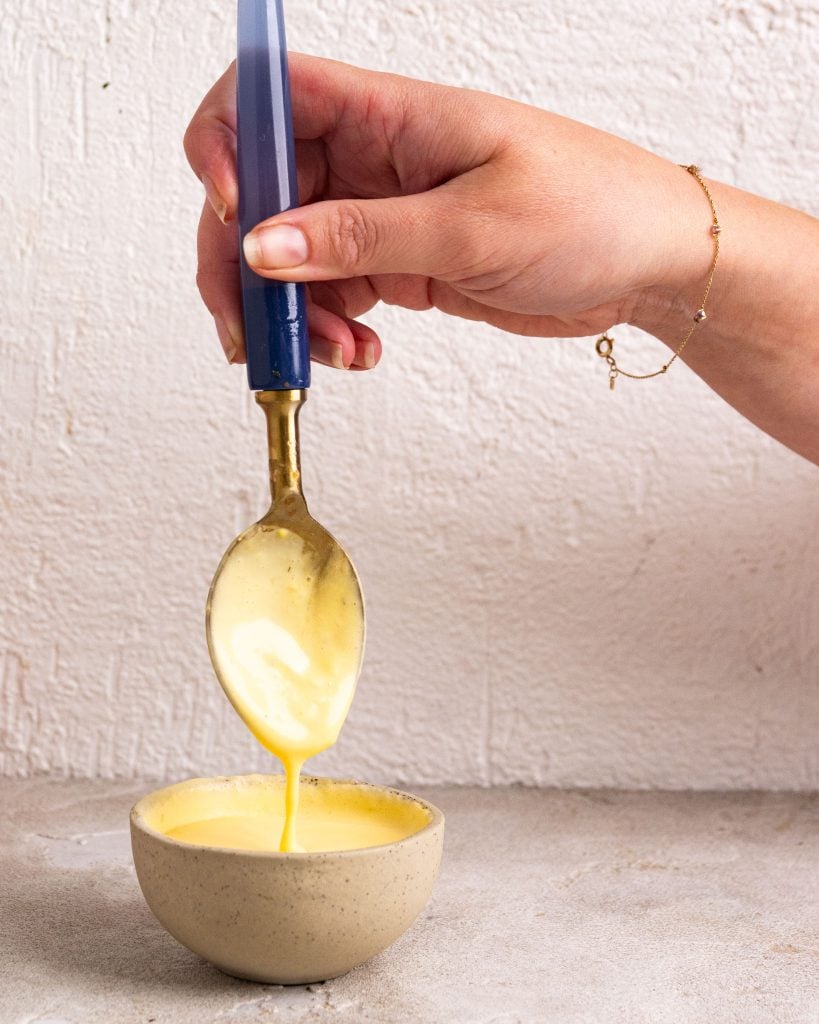 Tips to making the best bearnaise 
Firstly, you need good quality ingredients from the eggs to the butter. Secondly, and this may be the most important tip, very slowly add your butter to the egg yolk and shallot and vinegar mixture to prevent the sauce from curdling. Thirdly, to achieve the right consistency, whisk your sauce on the heat to thicken it or off the heat for a thinner sauce. I like to bring a pot of water to the boil, take it off the heat and make my sauce from the heat and steam of the boiling hot water. I find there is no need to keep your water at a consistent boil. Finish off your sauce by flavouring it with a big pinch of salt and squeeze of lemon.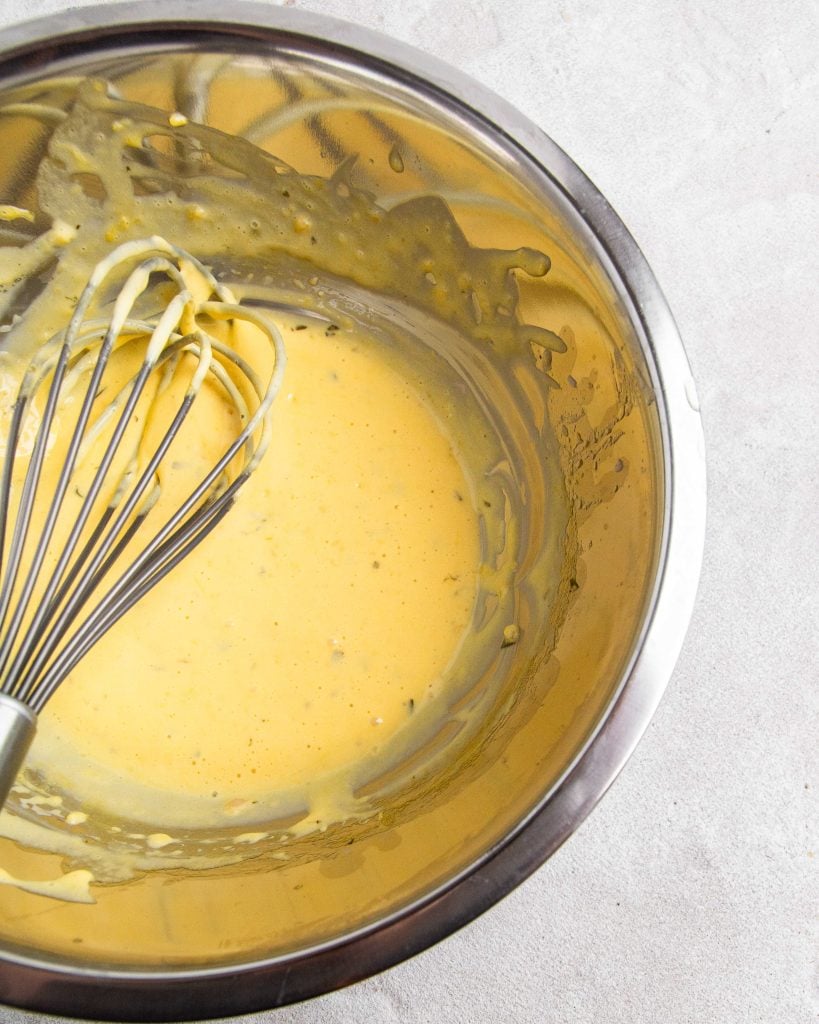 While some people like to just flavour their white wine vinegar with the shallots and tarragon, I like to really finely dice these and cook them until they are soft and have absorbed the vinegar. I then include this in my sauce as it adds a lovely texture. However, you can simply cook them in vinegar and then strain it to remove the herbs and shallots and just use the flavoured vinegar in the sauce.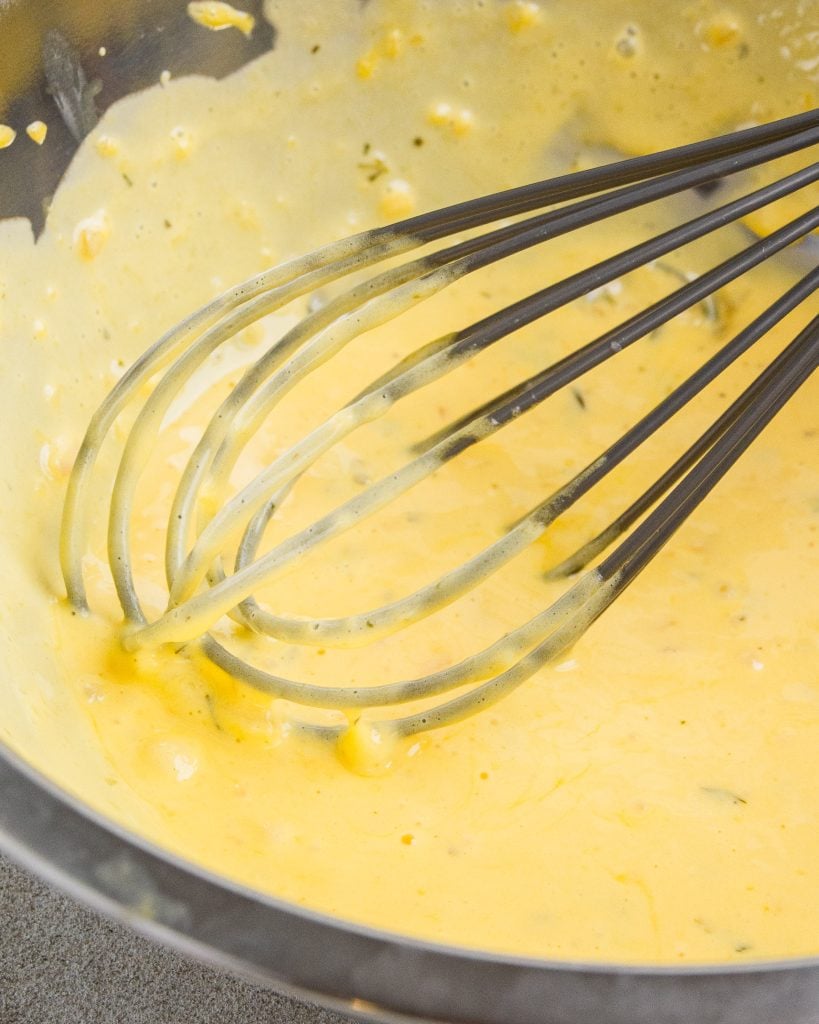 Frites for steak frites with Bearnaise
I've explored fries in many ways on this page, but for this one – you want French fries (of course!). Cut them thin. And be patient. Cooling them down will definitely make a more crispy crunch fry.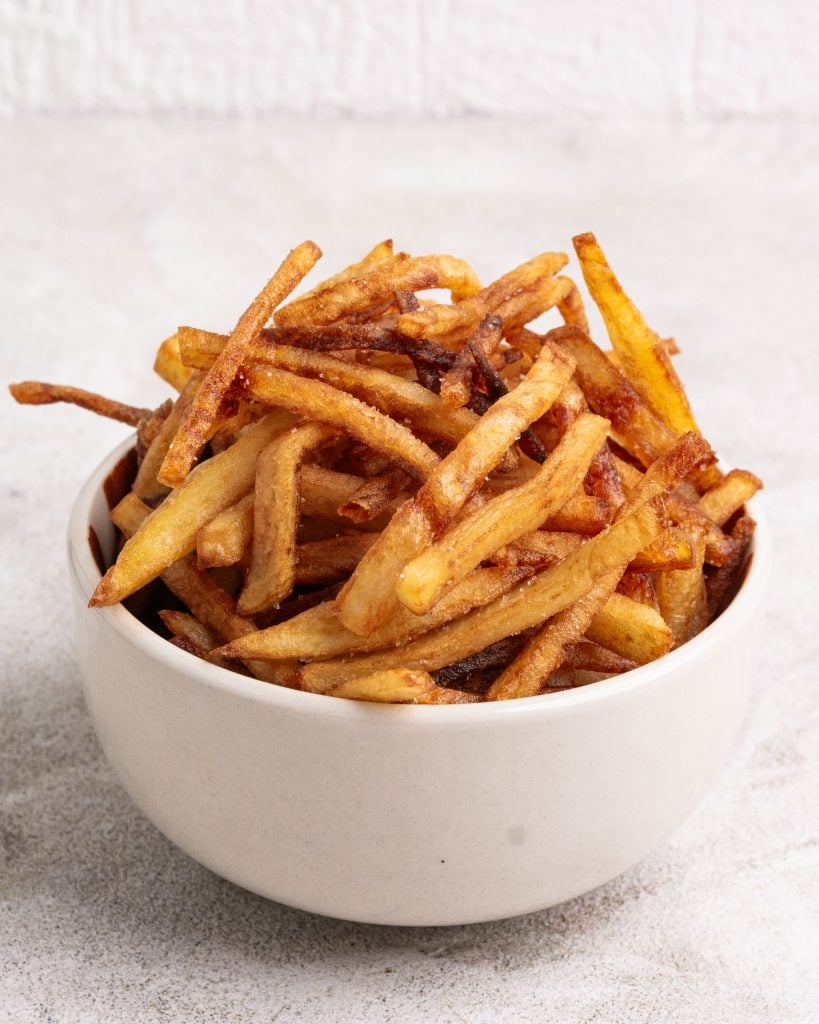 If you make this recipe, please tag me on Instagram, TikTok or Pinterest so I can see your wonderful creations!
If you have any questions or would like to leave a review, please do so here! I always love answering your food and recipe related questions and hearing your feedback on my recipes.
Images by Alanna Penn Photography.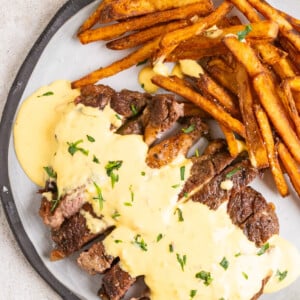 Steak frites with bearnaise
A French classic at home? Yes, please!
Ingredients
French fries
4 potatoes peeled and sliced into 6mm / ¼" fries
1 litre vegetable oil
Flakey sea salt
Steak
2 250 scotch fillet room temperature
2 tbsp olive oil
50 g Westgold salted butter
2 sprigs rosemary
2 sprigs thyme
6 garlic cloves peeled
Flakey sea salt and cracked black pepper
Bearnaise 
150 g Westgold salted butter
1 shallot finely diced
1/2 tbsp tarragon leaves finely sliced
1/4 cup white wine vinegar
1 tbsp lemon juice + extra to serve
Instructions
French fries

Place the cut chips into a bowl of cold water and rinse well until the water turns cloudy. Leave to sit for a minimum of 20 minutes or maximum 2 hours. Drain into a colander and rinse again under cold water.

Fill a large pot with vegetable or grapeseed oil and bring to 140 degrees Celsius. Using a slotted spoon, carefully place the chips into the hot oil and fry for 4 minutes. Using a slotted spoon, remove the chips from the oil and place back onto the cooling rack. Place the chips into the fridge or freezer until cold.

For the second fry, use the same oil but heat it to 200 degrees Celsius this time. Using a slotted spoon, carefully place the chips into the hot oil and fry for 3 - 4 minutes or until golden and crispy. Using a slotted spoon, remove the chips from the oil and place back onto the cooling rack. Season generously with flakey sea salt and serve.
Steak
Bring the steak to room temperature by taking it out of the fridge at least 1 hour before cooking it. Season well with salt and pepper. Massage the seasoning into the steak and leave to sit for 5 minutes.

On a very high heat, bring a cast iron pan to heat and drizzle with oil. When there is a slight haze coming from the pan, place your steak into it, cooking one steak at a time. Cook for 2 - 2.5 minutes until you get a golden and caramalised crust. Turn the steak over and cook for 2 minutes. After 45 - 60 seconds, toss in the garlic, butter, thyme and rosemary. Allow the butter to melt and baste the steak with the butter while it continues to cook.

Take the steak off the pan and transfer to a cutting board. Leave to rest for 5 - 10 minutes.
Bearnaise
In a small pan on a medium heat, combine the vinegar, lemon juice, shallots and thyme and fry for 4 minutes or until the shallots are cooked and have absorbed the vinegar and lemon juice. Take off the heat and allow to slightly cool. Add to a heatproof bowl along with the two egg yolks.

Melt the butter in the microwave or on the stove top on a low heat.

Bring a small pot of water to the boil. Turn off the heat and place the heatproof bowl with the shallot mixture and egg yolks over the pot. Begin to vigorously whisk until the egg yolks have doubled in size and become pale. Take the bowl off the pot and begin to very slowly drizzle in the butter in ½ - 1 tbsp amounts. Continue to whisk as the butter is being drizzled in. Continue until all of the butter has been used and you have a thick and creamy sauce. If the sauce needs to be slightly thicker, start to whisk it over the pot of hot water.

Season with a pinch of salt and squeeze of lemon.

Serve immediately with the steak and fries and an extra sprinkling of tarragon.