A salad fit for a king! It might share its name with Roman dictator Julius Caesar, but Caesar Salad is actually attributed to an Italian immigrant Caesar Cardini, who was living in San Diego at the time. Invented 99 years ago, Caesar salad remains a staple.
Jump to Recipe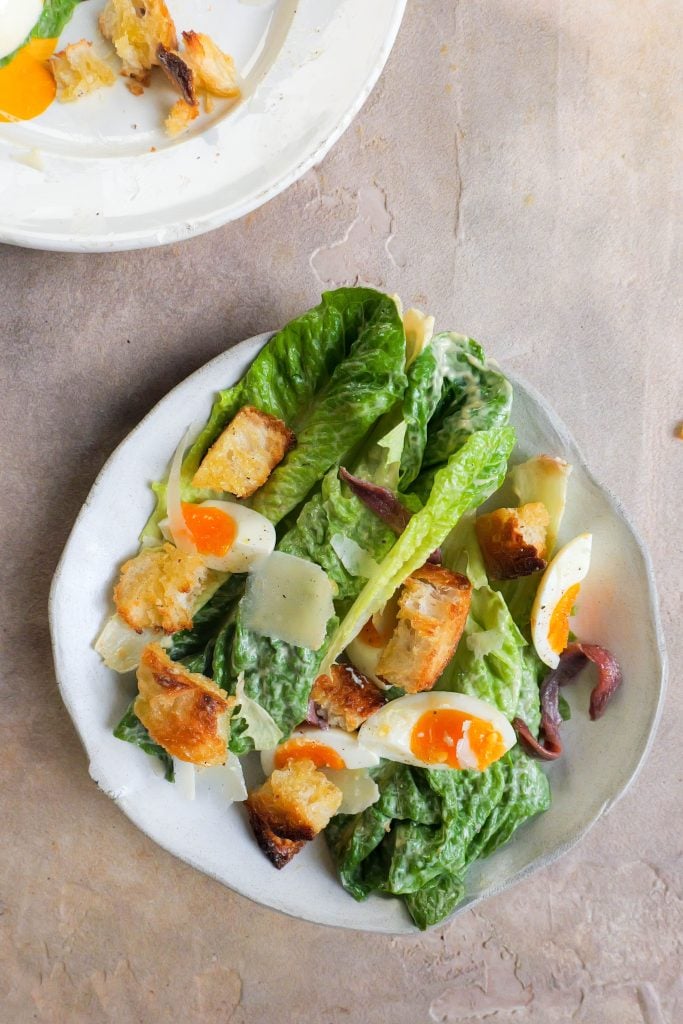 Caesar Salad with Homemade Croutons
What is it that makes Caesar salad continue to be so popular? The creamy, garlicky, punchy dressing is good not just on the salad itself but is a dip for fries, a burger sauce… you name it, this dressing has got it! And, unlike some other salads, Caesar can be the side dish to a perfectly cooked steak, but is also hearty enough to have on its own. Just add some protein from chicken or tofu, chuck in some bacon bits and this salad is a meal in and of itself.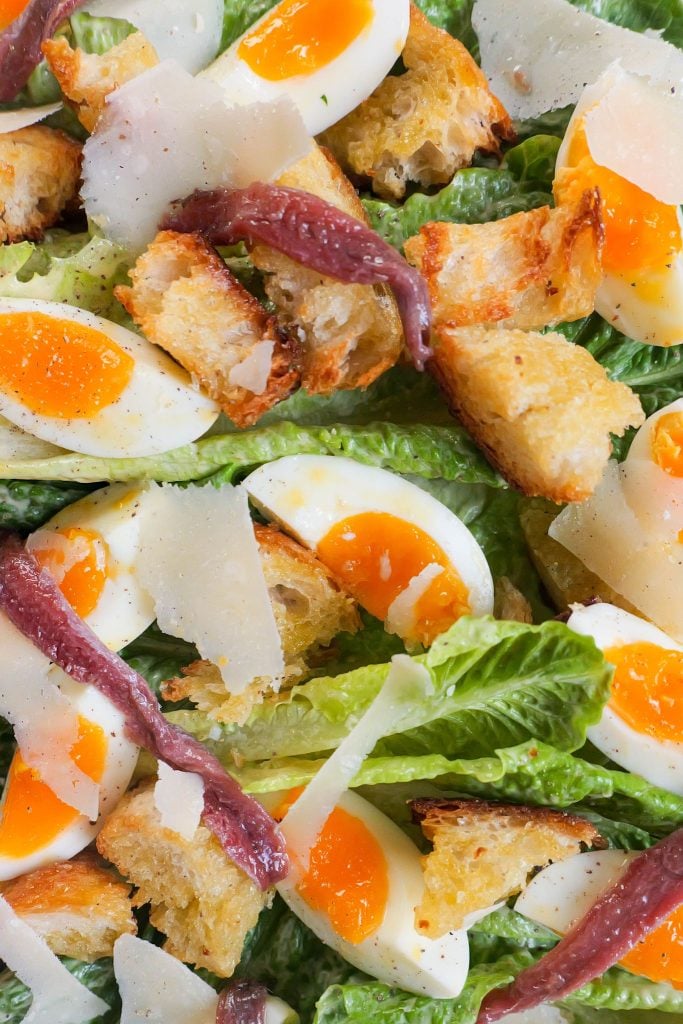 What you'll need
To make the perfect Caesar dressing, you're going to need garlic. My Garlic Confit (found here!) is the perfect addition to this dressing. The simple dressing is elevated with the inclusion of strong garlic, which complements the crispy lettuce and homemade croutons.
The croutons are also not to be overlooked at how important they are. Soaking up that delicious homemade dressing, croutons in a Caesar salad are as important as bread in a panzanella. And, for this one, making your own is far superior to shop bought. Instead of having tiny little cubes of crust, this is about big, ripped, homemade croutons that fill the salad out and give the salad some much needed crunch. 
Jammy eggs! No Caesar salad is complete without the perfect jammy eggs. Boiled eggs might be easy to cook, but perfecting a jammy egg means you need to clock-watch! Pull those babies out at the 7.5 minute mark and put them straight into a pre-prepared ice bath. The gorgeous yolk will provide even more delicious creaminess to the salad.
And, finally, for a traditional Caesar like the one we're making, Cos lettuce. Cold, fresh, crunchy Cos lettuce. It can be substituted with iceberg, but every version I've tried, Cos is always the key to having a fresh, crunchy, flavourful Caesar.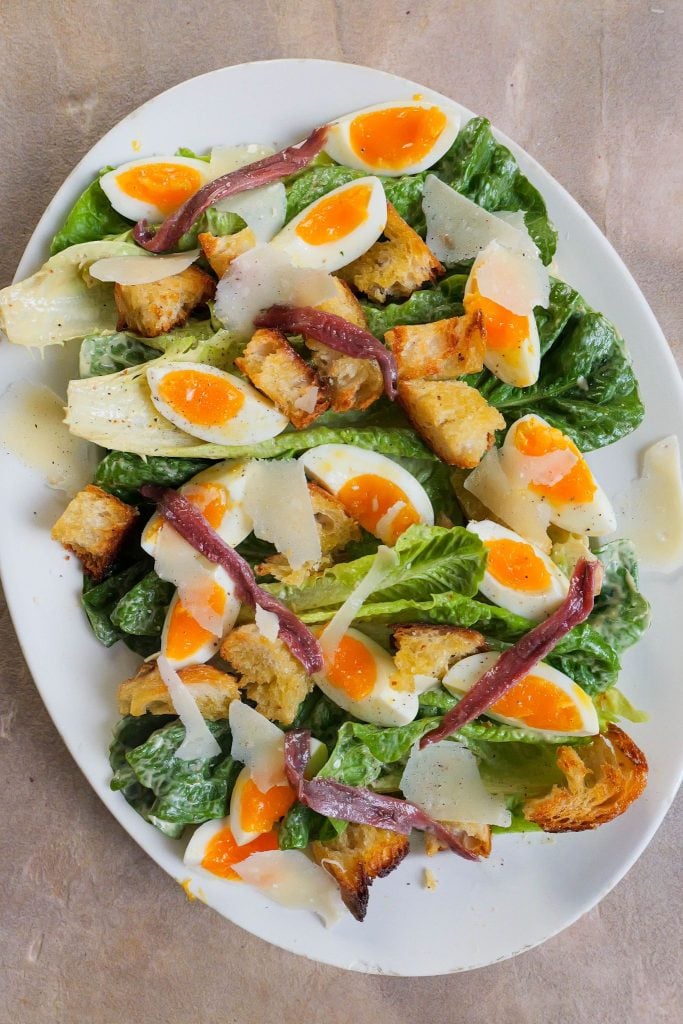 FAQ
Can I use spinach instead of lettuce?
Of course! But it won't have the same crunch factor of lettuce. If you're looking for a dark leafy green, try kale which has that bite.
What else can I add?
If you have any leftover roasted chicken, it would suit this salad perfectly. Or, if you're inclined, salmon fillets that have been flaked with a fork give the salad a delicious, summery taste.
I want to make this salad in advance, but don't want it to go soggy?
Never fear! If you wanted to make this and take it to a picnic or an event but don't want it to get soggy, make the dressing and store it in a jar and bring it along. Shake it well and mix it just before serving.
Can I use regular garlic instead of garlic confit? 
You absolutely can! While I am a bit advocate for using garlic confit in almost anything, regular garlic will work just as fine! It's also the more traditional way of making a Caeser Salad dressing. I recommend 1 – 2 cloves to be used.
The only other thing you'll need is to eat it up quick smart! Caesars are best to have immediately so that everything is as fresh as can be.
Love salads? Check out my other salad recipes here!
If you make this recipe, please tag me on Instagram, TikTok or Pinterest so I can see your wonderful creations!
If you have any questions or would like to leave a review, please do so here! I always love answering your food and recipe related questions and hearing your feedback on my recipes.
Caesar Salad
A salad fit for a king!
Ingredients
Garlic Confit Mayo
20 garlic confit cloves
1/2 cup olive oil or garlic confit olive oil
1/2 cup grapeseed oil
1 egg
2 anchovy fillets
1 tsp lemon juice
1 tsp Dijon mustard
1/4 tsp Worcestershire sauce
pinch of flaky salt
Caeser Salad
6 slices white stale bread torn into pieces
1 tbsp olive oil
flaky sea salt
4 eggs
2 tbsp garlic confit mayo dressing
1 head of cos lettuce with leaves removed from core
30 g parmesan shaved or grated
4 anchovy fillets (optional)
Instructions
Garlic confit mayo dressing
Place all ingredients into a tall jar that is wide enough to fit an immersion blender. Using an immersion blender, blend all ingredients together being careful to not move the blender up and down. Once the ingredients begin to emulsify, move the blender up and down while slowly incorporating all of the oil. Continue until you have a thick consistency.
Caesar Salad
Preheat oven to 200 degrees Celsius.

Tear the bread a part with your hands and place onto a prelined baking tray. Drizzle with the olive oil and season with a pinch of flakey sea salt. Bake for 15 minutes, tossing halfway through, or until golden and crunchy. Set to the side.

Bring a pot of water to the boil. Reduce the heat to medium or until the water is at a slow simmer. Carefully lower the eggs into the water and cook for 12 minutes.

Prepare an ice bath. When the eggs are cooked lower them into the ice bath and leave to sit for 5 minutes. Once cool, peel the eggs by tapping the shell onto a flat surface and getting your finger under the membrane. Peel the shell off and then quarter the eggs.

Place the garlic confit mayo dressing into a large bowl. Mix it through so the bottom and sides of the bowl and covered in the dressing. Place the cos lettuce into the bowl and use your hands to mix through the dressing. Repeat with the croutons.

Place the lettuce leaves onto a platter followed by the croutons, egg, parmesan and lastly anchovy fillets if using. Finish off with a sprinkling of black pepper.