Print Recipe Jump to Video Jump to Recipe
There is something magical about cooking with minimal ingredients and watching them turn into the most scrumptiously delicious meal. When it comes to a good homemade pasta sauce, simplicity and high quality ingredients are key. As this recipe calls for only five ingredients in the sauce, we want to ensure that every element is fully utilised and tasted within every bite.
The combination of olive oil, garlic, tomato and basil is a classic and for good reason. There is a mild garlic flavour throughout as the garlic is removed from the sauce once it has flavoured the olive oil. It's those subtle notes of garlic that are complemented by sweetness from the tomatoes and basil. While cooking, the cherry tomatoes will burst open and create a beautiful sauce-like texture. This recipe is best to cook in summertime, when cherry tomatoes are abundant and sweet.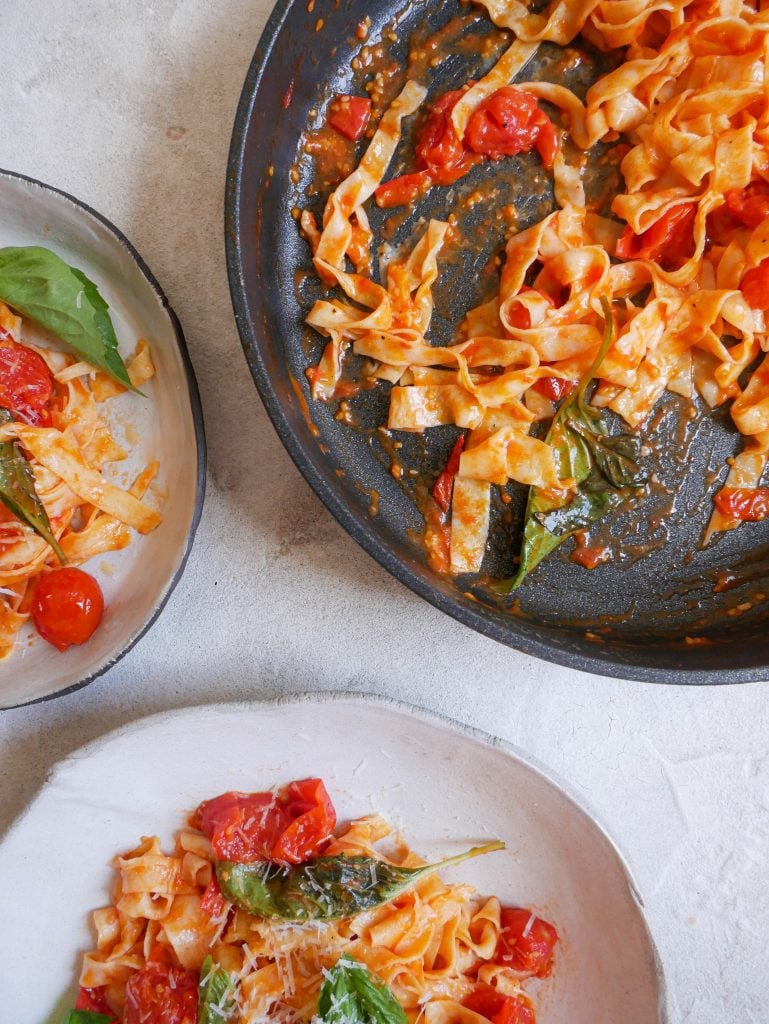 The sauce can be made in under 20 minutes and is brought together by slowly incorporating lots of pecorino romano and starchy pasta water. This will ensure a glossy, smooth and silky sauce that is extremely pleasing to stir around in my Ninja zerostick cookware. I also used the Ninja zerostick pot that is the perfect shape and size for boiling pasta in.
If your day has a slower rhythm to it and your house is quiet, I suggest preparing homemade pasta for this recipe. Making pasta from scratch sounds like a big undertaking, but it can be surprisingly simple and meditative. It's extremely important you weigh all of your ingredients when making pasta as ingredients can vary every time you use them. Making pasta from scratch is also very dependent on the weather and will come down to feel and touch. The more practice the better as you will slowly start to teach yourself what to feel and look for. The pasta can be made in advance and stored in the fridge for 1 – 2 days or the freezer for up to 4 weeks. I like to make my pasta dough the day before I roll out the pasta.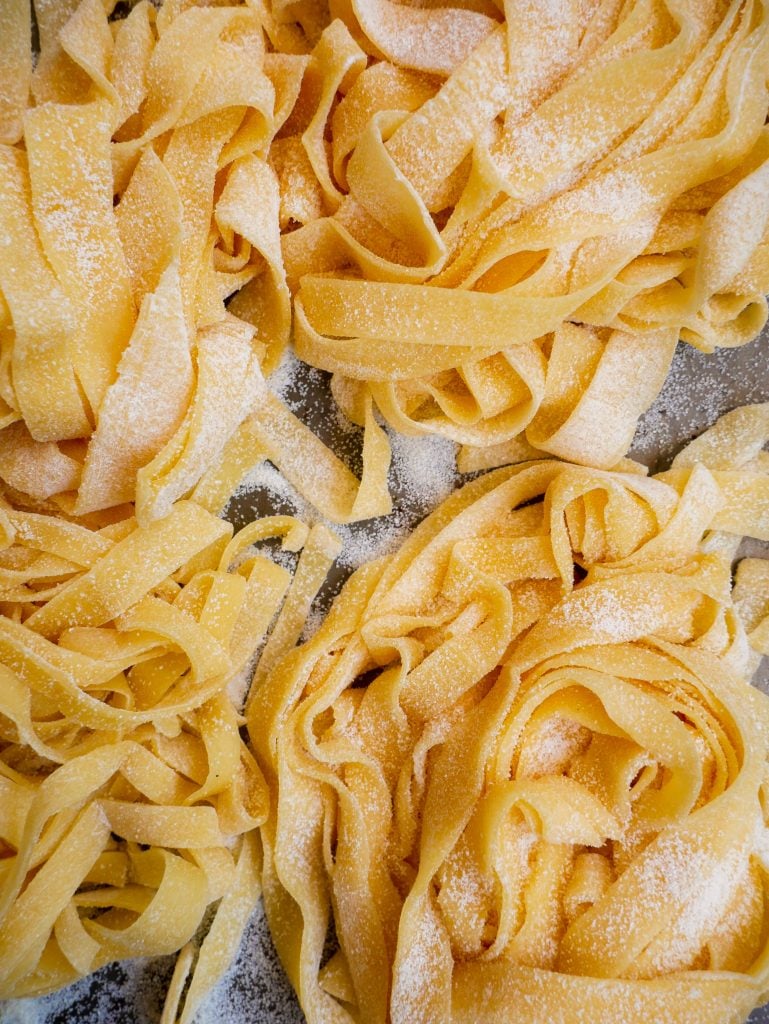 Frequently Asked Questions
Can I use packet pasta? 
You definitely can use packet pasta for this recipe. I prefer a long noodle shape such as tagliatelle or spaghetti but this sauce will work with almost any pasta shape.
Can I use tinned tomatoes? 
Tinned tomatoes will also work in this recipe if you cannot get your hands on fresh.
Can I leave the garlic in the sauce? 
Traditionally, the sauce has a mild garlic flavour. If you would prefer a stronger garlic flavour, I suggest you finely chop or crush the garlic and fry it for 1 – 2 minutes on a low heat in the olive oil. My Nanna's Tomato and Basil Sauce recipe uses lots of garlic and you can find the recipe here.
Can I repurpose the garlic? 
You definitely can! Store it in an airtight container in the fridge for 1 – 2 days until ready for use.
Can I add sweetener to the sauce?
Depending on the quality of your tomatoes, you may need to add a little sugar to the sauce. I would start with 1 teaspoon of brown sugar and work it up gradually from there if needed.
Can I freeze the sauce? 
The sauce can be frozen and kept for up to 4 weeks in the freezer. When ready to use, take it out of the freezer several hours beforehand and allow it to defrost.
What eggs do you use for the pasta dough?
I use eggs from 500g egg cartons. These eggs are best for when working with pasta as their yolks are orange and very rich.
What do I do if my pasta is too dry or moist?
Pasta dough is very dependent on feel and touch and quantities can change depending on many variables such as the ingredients you're working with and the weather. The quantities I work with are a rough guideline of where to start. If your pasta is too dry, add a little water to your dough or hands when working with it. If it is too moist, add a little bit of flour to the dough or hands when working with it.
What does it mean to "cure" pasta?
Curing pasta allows the pasta dough to slightly dry. When you fold the pasta dough to cut into noodle shapes, you want the dough to be slightly dry and not stick to itself so the noodles will unravel. Allow your rolled out pasta sheets to cure for a minimum of 5 – 10 minutes.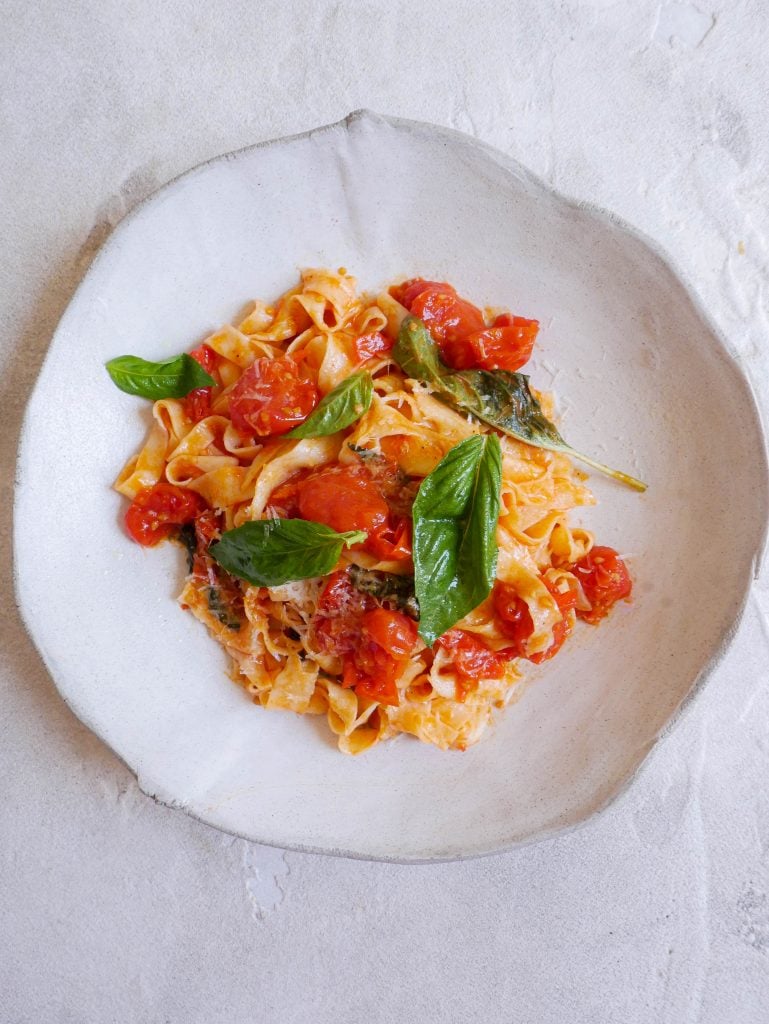 If you make this recipe, please tag me on Instagram, Tik Tok or Pinterest so I can see your wonderful creations!
If you have any questions or would like to leave a review, please do so here! I always love answering your food and recipe related questions and hearing your feedback on my recipes.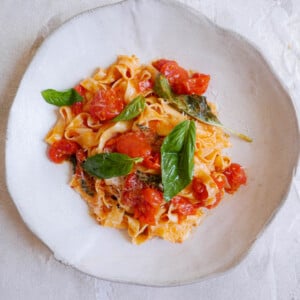 Fresh Cherry Tomato & Basil Tagliatelle
A simple sauce of olive oil, garlic and tomatoes paired with homemade pasta.
Ingredients
Homemade Tagliatelle 
255 g Eggs
400 g White 00 flour
50 g Semolina flour
1 tsp Flakey salt
Cherry Tomato & Basil Sauce
3 tbsp Olive oil
2 Garlic cloves
400 g Cherry tomatoes
1/2 - 1 cup Pasta water
1/2 cup Pecorino Romano grated
1/2 bunch Fresh basil
Salt & Pepper to taste
300 g Pasta
Instructions
Homemade Tagliatelle 
In a large mixing bowl, mix together the white 00 flour, semolina and salt. Place the flour onto a pasta board or clean surface and make a well in the middle of the flour with your fist or the bottom of your mixing bowl that is deep and wide enough to hold the eggs.

Place your eggs into the middle of the flour well and whisk together with a fork. When you're whisking your eggs, slowly combine the flour from the edges of where the eggs are sitting and whisk through with the eggs until a thick, custard-like paste forms. When you can no longer whisk the flour and egg with a fork, bring the flour from the edges into the well with your hands or a pasta scraper and begin to knead the dough into a ball.

Knead the dough for 10 minutes until a firm smooth dough ball forms that is moist and not sticky. Every dough is different so you will need to go by feel. 

Place your dough into a bowl and cover well with plastic wrap or a damp towel. Leave to rest for a minimum of 30 minutes. 

Uncover your dough and cut it into quarters. Take one quarter of the dough and cover the remainder so it does not dry out. 

Place your dough onto a lightly floured pasta board or bench surface. Roll the dough out with a rolling pin into a rectangular shape that is 3mm thick.

Roll the dough through a pasta machine on the widest setting (number 7 on my pasta machine). Fold the dough in half and then flatten with your rolling pin. Repeat this step.

Roll the dough through a narrower setting and fold the dough in half for the second time (number 4 or 5 on my pasta machine). Repeat this step twice.

Finally, roll the dough on the second narrowest setting (number 2 on my pasta machine) until you have a long rectangular pasta sheet that is roughly 10cm wide and 1mm thick. Dust the pasta sheet with flour, lay out onto a floured surface and leave the dough to slightly cure for 5 - 10 minutes. Repeat this process with the remainder of the dough. 

 Lightly flour your pasta sheet then gently fold it in half. Continue to fold the dough in half until you can't fold it anymore. Using a knife, cut the sheet into ribbons roughly 8mm wide. Unravel the pasta sheet to release the ribbons. Curl the pasta into a nest and dust with semolina flour. 
Cherry Tomato & Basil Sauce
On a low heat in the Ninja zerostick deep dish pan, bring the olive oil to heat. Add the garlic cloves and cook for 2 - 3 minutes or until they begin to slightly brown. With a slotted spoon, remove the garlic from the olive oil and set to the side. 

In the same pan on the same heat, add the cherry tomatoes with ¾ of the basil leaves and a large pinch of salt and pepper and cook for 15 minutes on a low simmer. The cherry tomatoes will burst open and a sauce-like texture will form. Stir occasionally. 

While the sauce is cooking, fill the Ninja zerostick pot with heavily salted water and bring to the boil. If using fresh pasta, cook for 2 minutes or until very al dente. If using packet pasta, follow the instructions on the back of the pasta packet for al dente pasta and drain your pasta 2 minutes before the suggested cooking time as it will continue to cook when it's stirred through the sauce. Reserve 1/2 - 1 cup pasta water. 

Add the pasta to the sauce and slowly incorporate the pecorino romano and pasta water until a glossy and silky texture forms. Finish off with an extra sprinkling of pecorino romano and fresh basil leaves.