Is there anything better than when you order garlic bread at a pizza restaurant and it comes out as garlic bread pizza? My eyes always light up, because I love the garlicky bread flavour combined with the char of the pizza dough.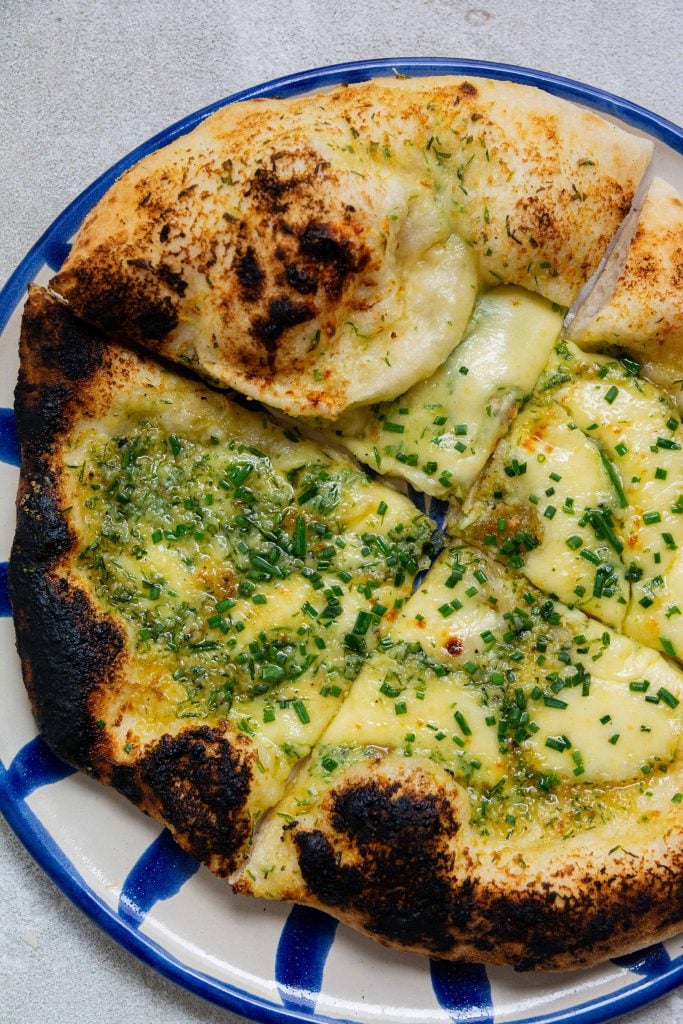 Garlicky bread pizza 
I've already given you guys the recipe for the best and most decadent cheesy ultra garlicky garlic bread – a real winner for your Italian night feast. But this time, using the pizza dough method that I used for the salami pesto burrata pizza, it's about garlic butter and fresh dill to that will bring this to life.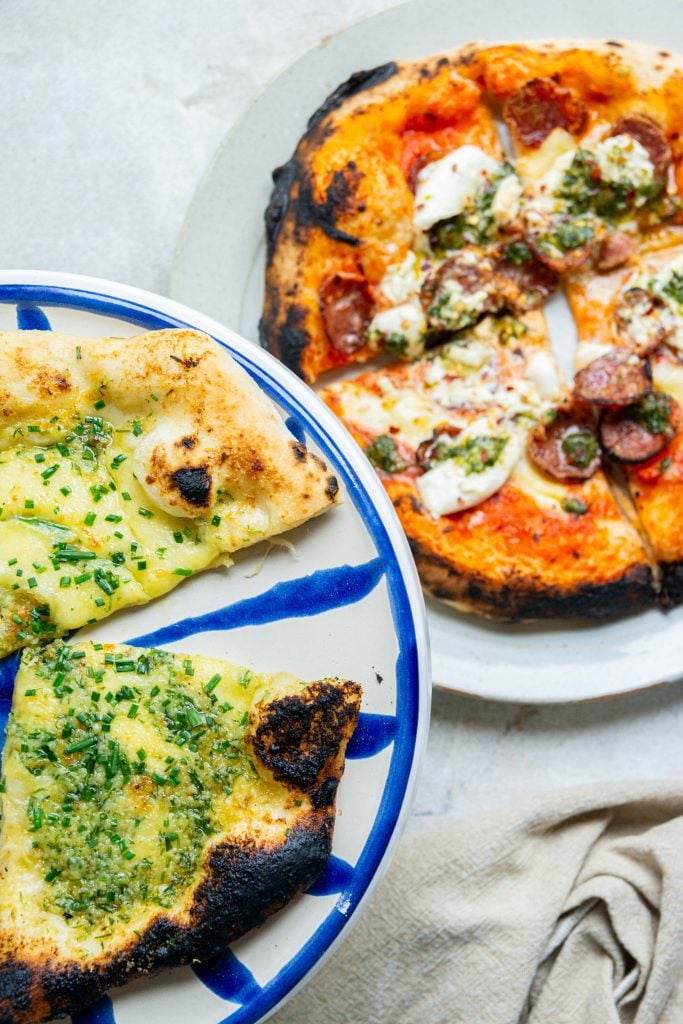 Feeling doughy
I know that dough can feel like an overwhelming or messy concept, but honestly this dough versus frozen dough is so much better. It is so fresh and really easy to make. Once you've nailed this dough, you'll be able to make so many different toppings on it – let your imagination run wild!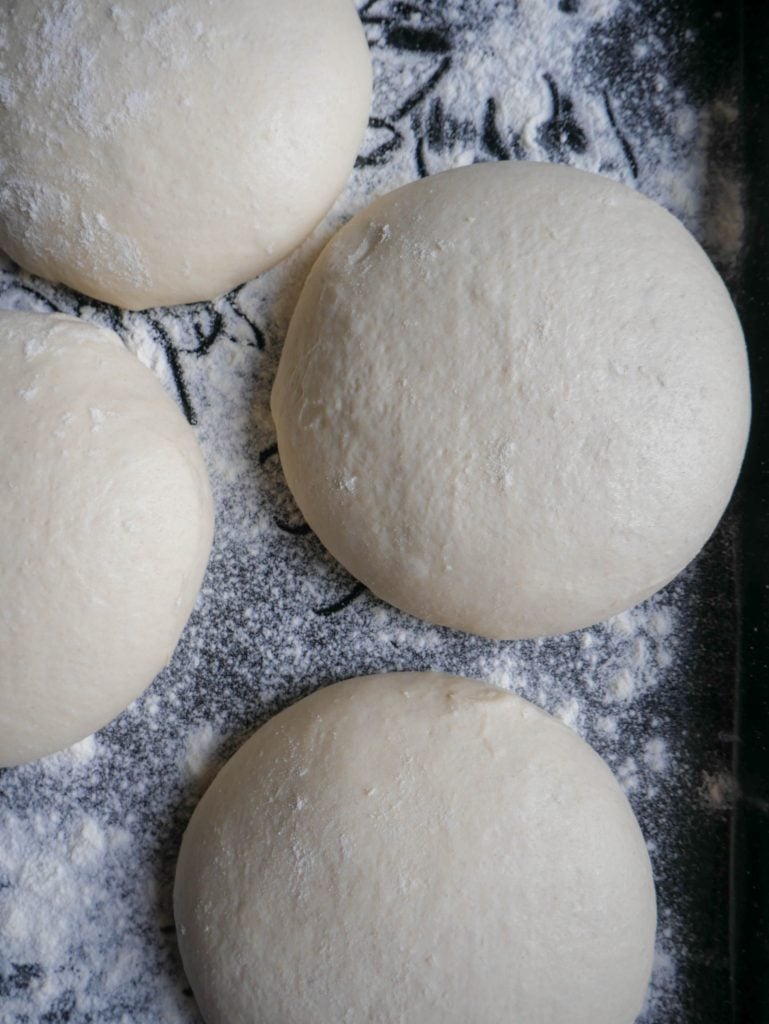 Garlic butter
Is there anything more delicious (and more versatile) than garlic butter? I use mine on bread, on steak, and now on this garlicky bread pizza. It is all about the basics with this recipe – and this garlic butter on homemade dough is the most simple, but also most tasty combo that can be made by anyone!
Cheesy, yes pleasy!
What's a pizza without some cheese? I use two different types of cheese in this – mozzarella and parmesan. Mozz is such a great pizza cheese because it melts so well and will cover the base. The parmesan helps to cut through the rich pizza and bring a sharpness. 
Herbaceous
There's not many meals I would do without some fresh herbs on top. For this one I chose dill, but I think rosemary or parsley would suit it as well! This is where this recipe is so flexible – it's about what you've got in your fridge or on hand.
FAQ for garlicky bread pizza
Can I add anything else to the garlicky bread pizza?
Yes! Chilli flakes or even honey would be a great accompaniment for this. This is such a good recipe for being the base of whatever you like to add to your pizza.
What about using the oven?
Pizzas are about one thing when it comes to cooking – high, high, HIGH heat! Crank that bad boy right up to see the cheese bubbling away on top.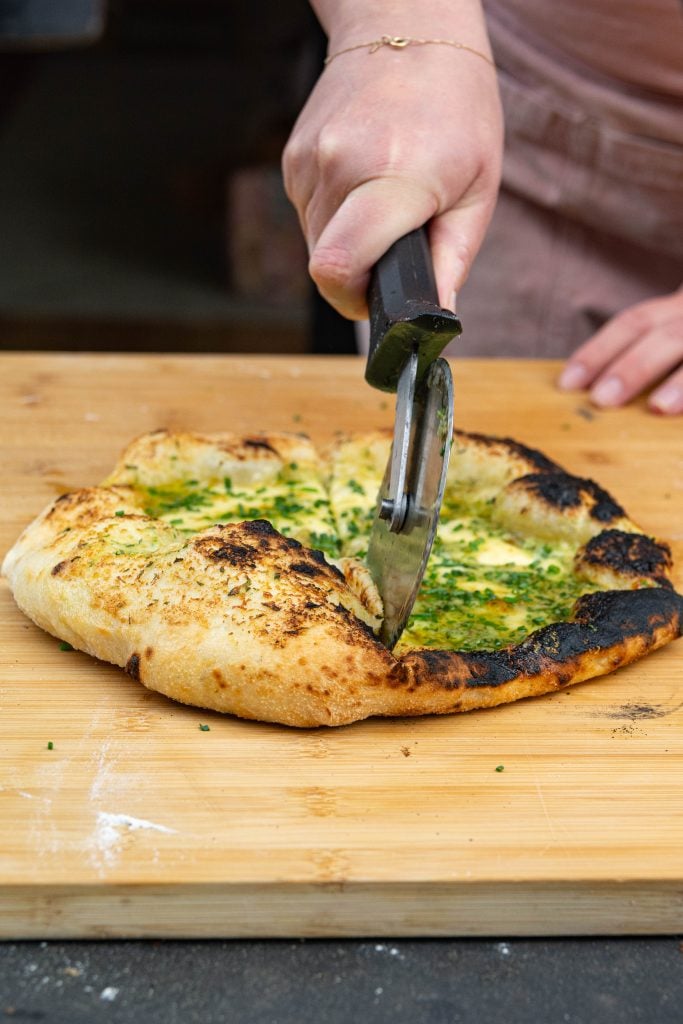 If you make this garlicky bread pizza, please tag me on Instagram, Tik Tok or Pinterest so I can see your wonderful creations!
If you have any questions or would like to leave a review, please do so here! I always love answering your food and recipe related questions and hearing your feedback on my recipes.
Garlic bread pizza
What's better than garlic bread? Garlic bread pizza!
Ingredients
Pizza dough
800 g 00 flour
520 g lukewarm water
4 g yeast
16 g fine sea salt
Garlic Butter
2 bulbs garlic
1 tbsp olive oil
100 g unsalted butter at room temperature
30 g chives finely sliced
50 g parmesan grated
salt and pepper
Pizza assembly
2 tbsp garlic butter
30 g mozzarella sliced
20 g parmesan grated
chives finely sliced to serve
Instructions
Pizza dough
In a small bowl, combine the water, yeast and honey. Whisk to combine then leave to sit for 5 minutes to allow the yeast to activate. You will know the yeast is active when bubbles form at the top of the water.

In a large bowl, combine the flour and salt and whisk together. Pour in the water and bring the dough together with your hands until all of the flour is moist and a shaggy dough forms. Cover with plastic wrap and leave to sit at room temperature for 20 minutes.

Remove the dough from the bowl and place onto non floured work surface and slap and fold it for 2 minutes. Using slightly damp hands, pick up the far side of the dough, pull it up towards your body, then slap it down and over the surface of the remaining dough that is sticking to the surface. Rotate the dough and repeat until the dough is smooth. Place back into the bowl, cover with plastic wrap or a damp tea towel and leave to sit for 10 minutes. Remove from the bowl and repeat the slap and fold for an additional 2 minutes or until the dough forms into a smooth bowl.

Transfer the dough to a bowl that has been drizzled with extra virgin olive oil, cover very well with plastic wrap and leave to sit in the fridge for 14 – 18 hours.

When ready to use the dough, uncover and punch all of the air out of it. Cut the dough into 5 equal sections. Each section should weigh 250g. Use a scale to measure them.

Form each piece of dough into a round by pinching the edges of the dough together and folding them over themselves. Place the dough rounds, seam side down, on an unfloored work surface and roll each into a smooth ball by cupping your hand into a C-Shape and rolling the dough back and forth. It's important this step is done on a work surface that has friction and has not been floured. Place the dough balls onto a large baking tray roughly 4 fingers a part as they will rise and grown in size. You may need more than one baking tray. Cover with plastic wrap or a damp tea towel and leave to sit in a warm spot for 2 – 4 hours.

When ready to assemble the pizza, take one pizza dough and place onto a heavily floured work surface. Push around the edges of the ball to remove as much air as possible and shape the dough into a flat pizza shape. Punch down the middle of the dough, leaving a thin boarder. Pick the dough up and drape it over your fists and knuckles while rotating it to stretch it out into a 10 – 12 inch round circle.
Garlic butter
Preheat oven to 160 degrees Celsius / 320 degrees Farenheit.

Using a sharp knife, slice the top off the garlic bulb, about 2 – 3 cm down from the top to expose the raw cloves. Place the bulb of garlic into the centre of an oven proof dish and scatter the tomatoes around the garlic bulb. Drizzle with olive oil and then just the tomatoes with the balsamic glaze. Sprinkle a generous amount of salt and pepper all over. Bake for 1 hour.

Take the dish out of the oven and remove the garlic from the dish and set to the side. Allow to slightly cool until you are able to handle it. Using your fingers, squeeze the roasted garlic cloves out of their skin.

Place the garlic cloves, butter, chives, parmesan and pinch of salt and pepper into a food processor and blend.
Pizza assembly
Preheat pizza oven to 450 degrees Celsius / 850 degrees Fahrenheit.

Assemble the pizza on a floured work surface. Top the pizza with the garlic butter followed by the mozzarella then a sprinkling of parmesan cheese.

Place the pizza into the oven and cook for 60 – 90 seconds while rotating the pizza as it cooks.

Remove from the oven and place onto a chopping board. Finish off with a sprinkling of fresh chives. Slice and serve immediately.