It's back! Another pasta recipe that's perfect for a weeknight! This is something that I have loved creating, maybe I should even make it a series! I'm giving Jamie Oliver's 15 Minute Meals a run for their money with my one pot creamy orzo. What makes this even tastier is that it's served on the cutest Kip & Co serving plates – because, of course, we eat with our eyes first!
One pot creamy orzo
For this recipe, there might look like there's a few ingredients, but they're normally pantry staples. From the chicken stock through to the tomatoes, garlic and lemon – these are easily accessible ingredients that you might just have on hand. These quick weeknight meals are all about two things: easy to make and accessible ingredients.
How do I make this weeknight meal a bit more special? My Kip & Co plates elevate these meals so that it doesn't feel like a quick throw together but a Sunday special.
Orzo, or… risoni
Risoni, orzo. It's all the same thing – just known as different names in different places. I love orzo because it feels like the cheats way to make risotto. It's less work and less of a labour of love, and can be made on a weeknight. This is a great and fun pasta shape that is often overlooked, but not anymore!
Tomatoes, tomatoes, tomatoes
I know that on the internet I'm known as the garlic girl, but I actually think I use just as many tomatoes as I do cloves of garlic! Scorch the tomatoes so that they become soft and jammy and become part of the sauce itself.
Bringing the sauce together
One pot creamy orzo is brought together and made saucier by using cream and chicken stock. The two liquids are thickened up with the inclusion of tomatoes as well as cheese, and all brought together. And, the other good thing? It's all in one pot!
FAQ for one pot creamy orzo
What can I add to this to make it heartier?
I think that it can take so many different ingredients. Some salty bacon, or some really fresh herbs. Anything you wanted to add if you needed to do a fridge cleanout like zucchini or sweet potato.
Will it keep?
This is a great meal because it will make a delicious lunch the next day. Your colleagues will be drooling when you reheat this one in the office kitchen!
If you make this recipe, please tag me on Instagram, Tik Tok or Pinterest so I can see your wonderful creations!
If you have any questions or would like to leave a review, please do so here! I always love answering your food and recipe related questions and hearing your feedback on my recipes.
Images by Alanna Penn Photography.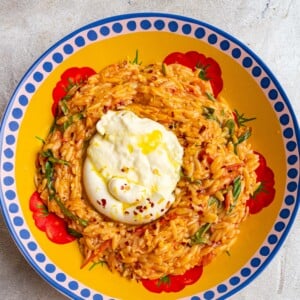 One pot creamy orzo
Another delicious weeknight one pot pasta recipe!
Ingredients
3 tbsp olive oil
4 garlic cloves sliced
400 g cherry tomateos
1/2 cup cream
1 cup chicken stock
1 cup orzo
large basil leaves sliced
1/2 lemon juice + zest
50 g pecorino romano
180 g buratta
salt + pepper
Instructions
In a large fry pan on a medium heat, bring the olive oil to heat. Add the garlic and cook for 1 – 2 minutes, stirring occasionally. Add the tomatoes to the pan and cook for 4 minutes or until soft and jammy. Add the cream, chicken stock, orzo and generous amount of salt and pepper and stir through. Bring to the boil then reduce the heat to low and cook on a low simmer for 5 – 8 minutes or until the orzo is plump and cooked and 80% of the liquid has been absorbed. Add a little more chicken stock if needed.

Take off the heat and stir through the basil, lemon juice and zest and pecorino romano.

Serve with burrata, chili flakes and an extra sprinkling of basil leaves.