There is something truly addictive about pan fried halloumi that has been doused in a sweet marinade and is then cooked to golden, caramelised and sticky perfection. This is one moreish way to eat cheese but it has to be one of my favourite ways.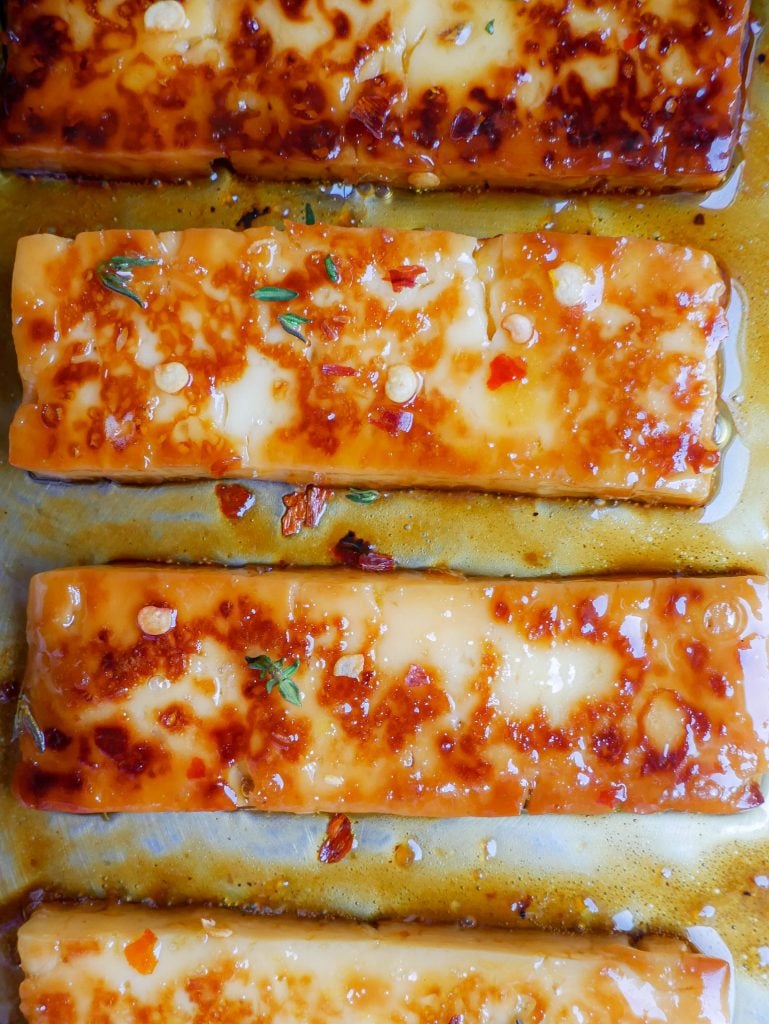 Pan Fried Halloumi
Halloumi is a firm and salty cheese that squeaks when you bite into it. It's traditionally made with sheep and goats milk and originated from Cypriot. Thanks to its firm texture, it's one of those cheeses that was made to be fried! It will always hold its shape and will soak up marinade like a cloth with water. While some people like to pan fry their halloumi on a dry pan, I always like to add a little olive oil for that extra fruity flavour. There are many ways you can serve pan fried halloumi yet my favourite way is on a piece of sourdough that has been fried in olive oil with some freshly sliced avocado.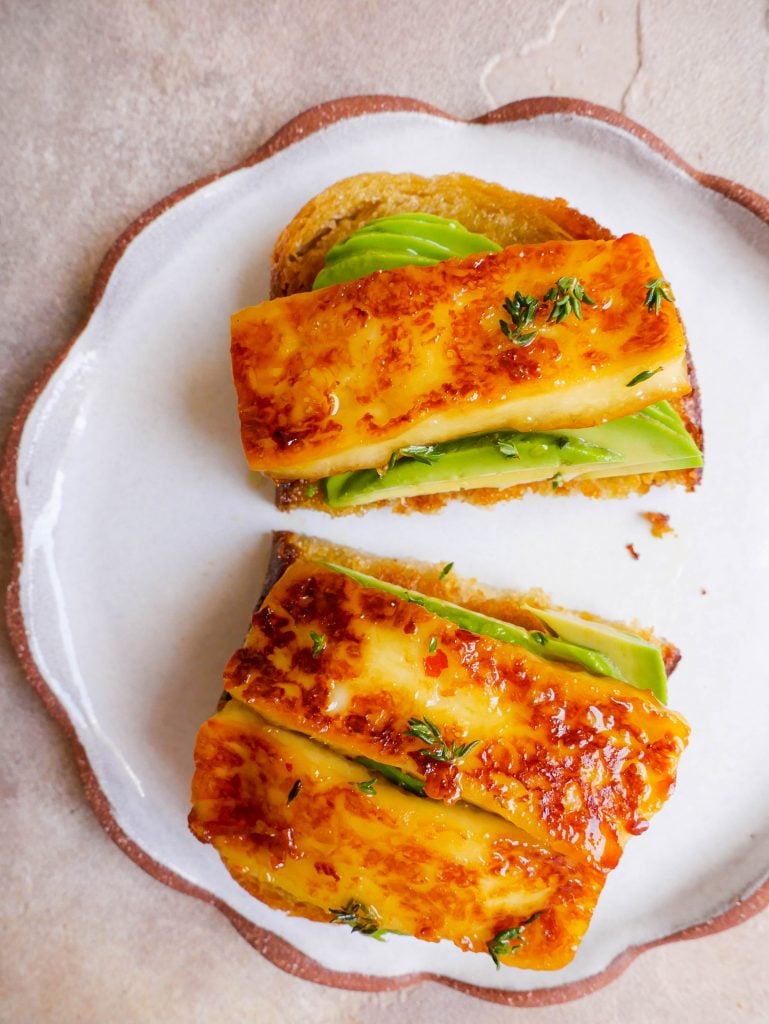 Hot Honey
Hot honey is very on trend at the moment and for good reason! It's sweet, spicy and makes for the perfect condiment to drizzle on almost anything from pizza toppings to toast. It also makes for the perfect halloumi marinade! This recipe has everything I want in life – sweetness from the honey, saltiness from the halloumi and a kick from the chili flakes. Store the hot honey in a sterilised air tight jar for several months in a dark pantry.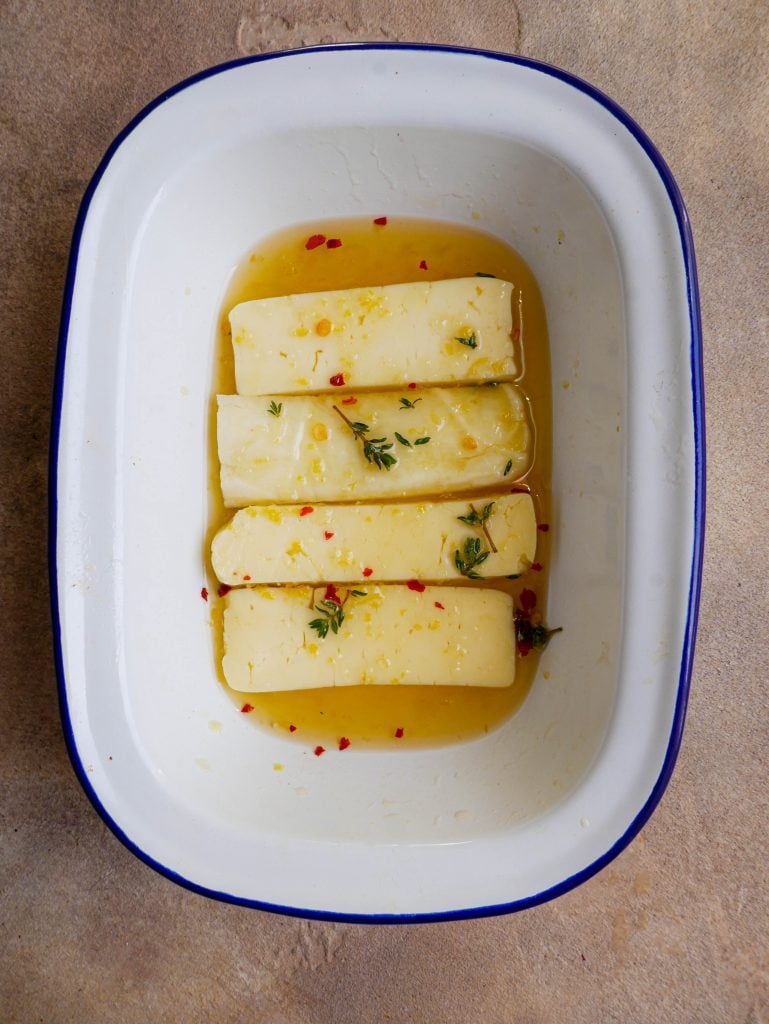 If you make this recipe, please tag me on Instagram, Tik Tok or Pinterest so I can see your wonderful creations!
If you have any questions or would like to leave a review, please do so here! I always love answering your food and recipe related questions and hearing your feedback on my recipes.
View more of my toast and breakfast recipes here.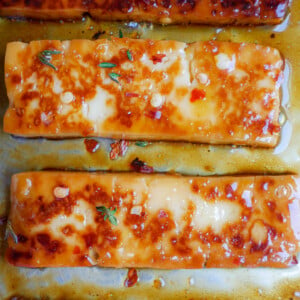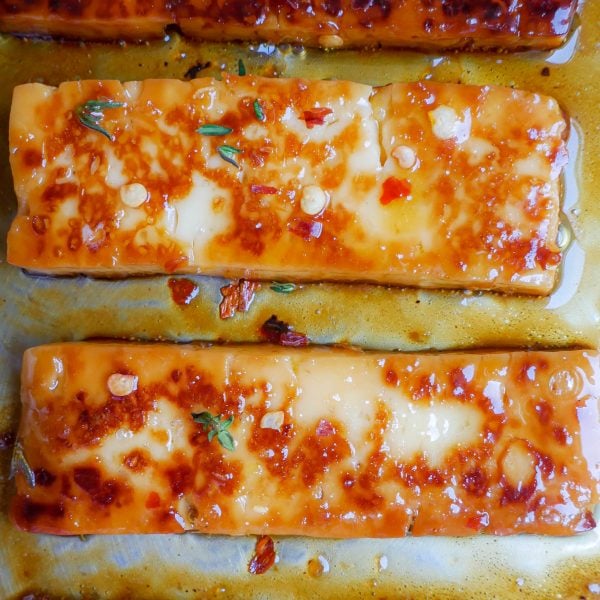 Pan Fried Hot Honey Halloumi
Ingredients
180 g halloumi
3 tbsp honey
1 lemon zested and juiced
1 tsp chilli flakes
1 tsp fresh thyme leaves
pinch of flakey sea salt
1 tbsp olive oil extra virgin
Instructions
Slice the halloumi into 3cm thick strips.

Place all remaining ingredients, excluding the olive oil, into a bowl and mix well until you have a runny consistency. If your marinade needs to thicken up add a little more honey or if it's too runny add a little extra lemon juice.

Place the halloumi into a small baking tray or deep dish pan and spoon the marinade all over. Cover and leave to marinate for a minimum of two hours or ideally overnight.

In a fry pan on a medium heat, bring your olive oil to heat. Add several pieces of the halloumi to the pan and fry for 2 - 3 minutes on each side or until golden brown. Make sure you don't overcrowd the pan and work in batches. Repeat this step until you have cooked all of the halloumi.

Drizzle the cooked halloumi with the remaining marinade and enjoy in salads or on sourdough.