There's nothing that's more of a staple to a picnic, barbeque or Australian Christmas party than a potato salad. I've gone above and beyond to bring the humble potato salad to all new heights, and created (what I truly believe to be) simply the best potato salad. 
Simply the best potato salad
As the mercury has started rising in Australia, it's time to look to spring and summer food. My hometown of Melbourne's weather has really started to turn on, and people are doing one of Melburnites favourite pastimes – flocking straight to the park. So, with picnics next on the agenda, what's the biggest crowd pleaser? Why, it's potato salad of course. And this one is with all the fixins.
Which potatoes are the best potatoes?Eggs (yes, eggs!)
Potatoes are such a common staple of every pantry, but it can be a real question mark over which ones are best for what dish. Well, for this recipe, you should look for the small little spuds. I've gone with baby dutch or cocktail potatoes.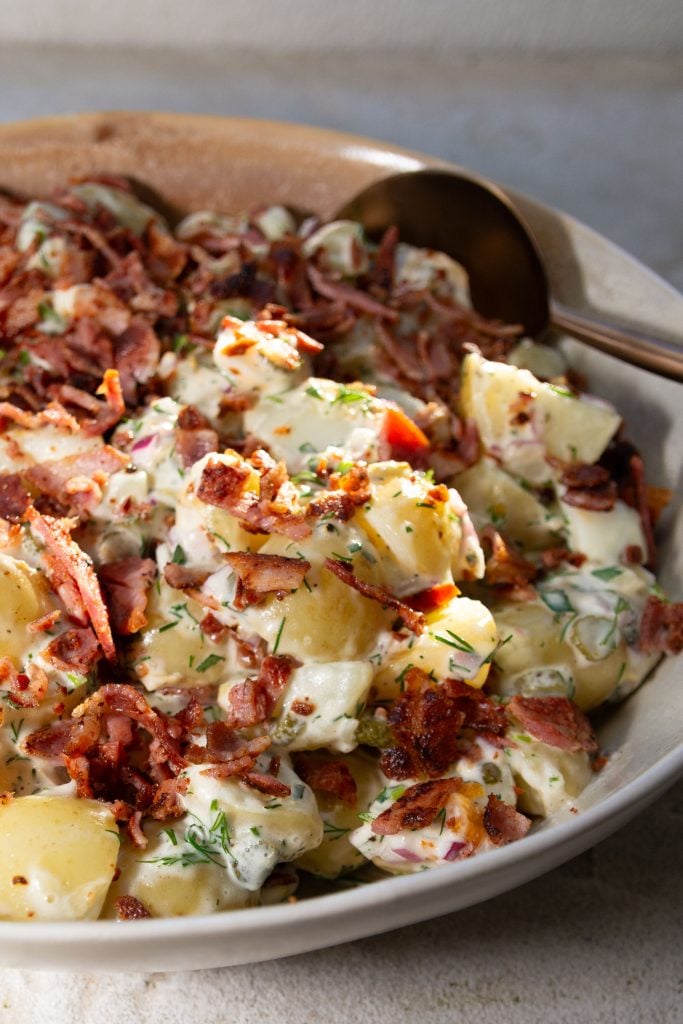 Eggs (yes, eggs!)
I know a lot of people might be confused by the inclusion of egg in this recipe. Some potato salad purists might even stop reading now, but hear me out – eggs in the salad give it such a lovely texture and flavour. It's not overbearing among all the other ingredients, but it is so worth it. For this one, I use eight minute eggs, which I've detailed here in the caesar salad recipe and here with my egg salad.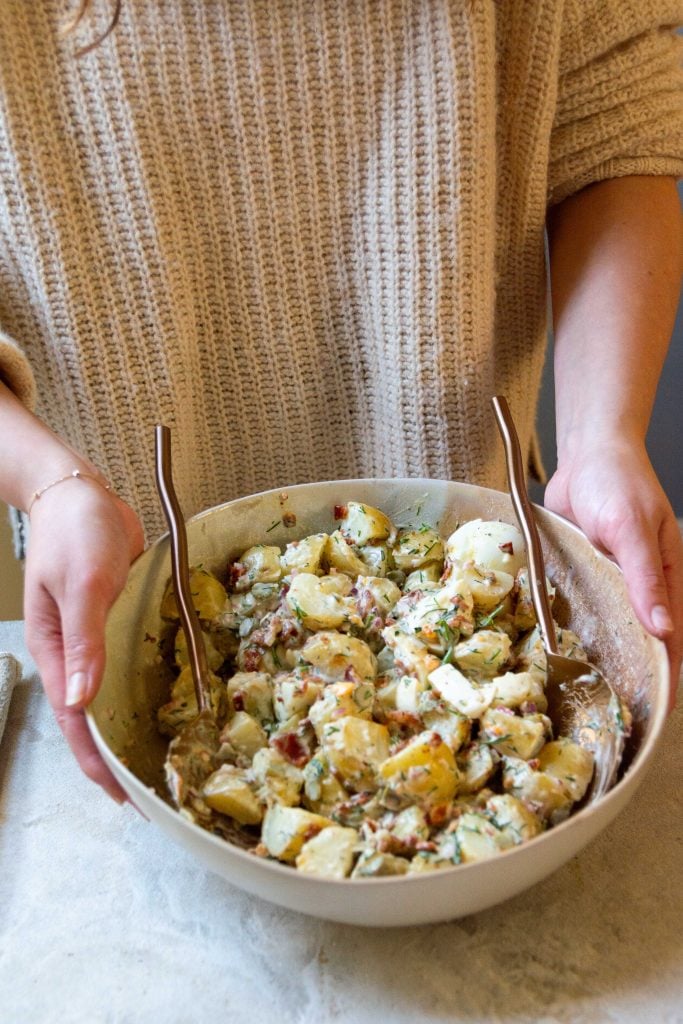 Everything goes better with bacon
It's such a well known trope that "everything goes better with bacon", but… it really does. Everything goes better with the saltiness and savouriness of bacon. And this recipe is absolutely not different! Streaky, crunchy bacon – too yum!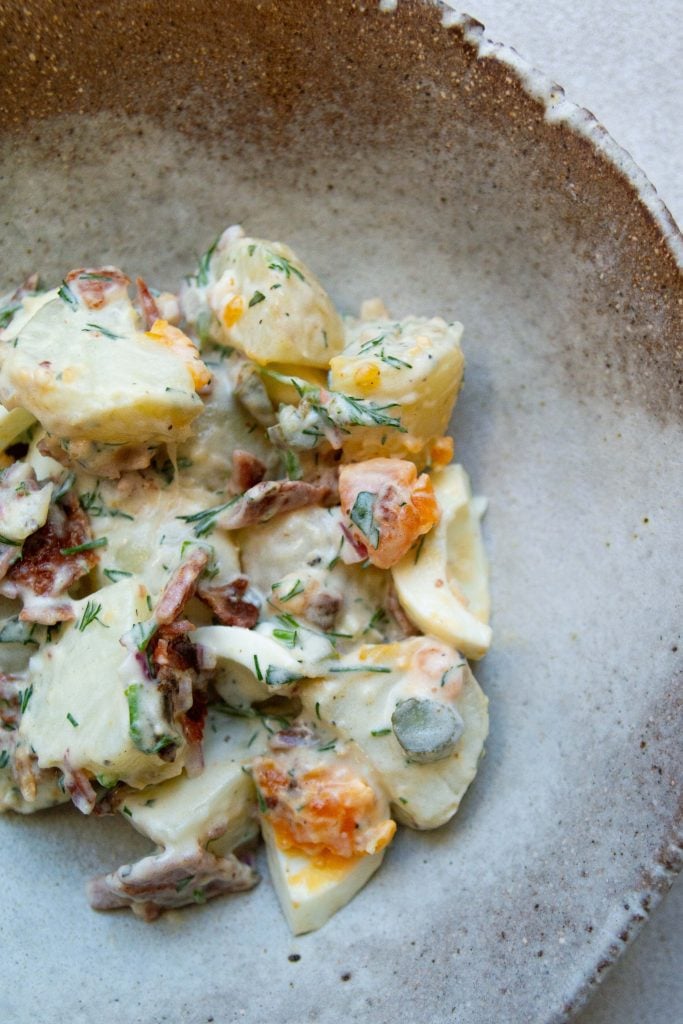 Simply the best potato salad dressing
Now, we all know – salads are about one thing and one thing only: the dressing. You can't make a great salad without a great salad dressing. This one is all about the umami and savouriness that you get from dijon and gherkins – not just the gherkins themselves but the gherkin juice is where the flavour is! Don't skip this! And even for pickle haters, the flavour really blends into the sauce and is such a vital part of it.
Herbs, herbs, herbs! 
Of course this salad needs some soft herbs to accompany it. And for this salad, I've used bright summery herbs: dill and tarragon. These will give it a brightness and lightness. Perfect for any picnic.
How to make simply the best potato salad 
It's not a hard recipe to make, it's just about making sure that your dressing takes some muscle power: whisk, whisk, whisk! Emulsify that dress to make it creamy and delicious.
If you make this dish, please tag me on Instagram, Tik Tok or Pinterest so I can see your wonderful creations!
If you have any questions or would like to leave a review, please do so here! I always love answering your food and recipe related questions and hearing your feedback on my recipes.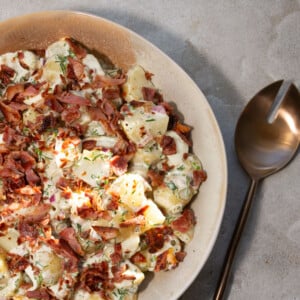 Simply the best potato salad
It's picnic weather! And there's no picnic staple better than a potato salad.
Ingredients
1.5 kg baby dutch or cocktail potatoes
4 eggs fridge cold
250 g streaky bacon
1 cup mayoannaise
1 tbsp Dijon mustard
1/2 lemon
1/4 cup gherkin or pickle juice
40 g gherkins or pickles finely chopped
1/2 red onion finely diced
1/2 cup dill finely chopped
2 tbsp tarragon finely chopped
sea salt
cracked pepper
Instructions
Place the potatoes and 2 tbsp of fine sea salt into a pot and cover with cold water. Bring the water to boil then cook the potatoes for 15 minutes or until they are tender enough to be poked with a skewer. Drain the potatoes into a colander then cover with a tea towel to allow the potatoes to slightly steam. Set to the side while you prepare the rest of the salad.

Bring a pot of a water to the boil. On a medium heat, boil the eggs for 8 minutes then place into an ice bath for 5 minutes. This will prevent the eggs from cooking any further and allow them to slightly cool so they are easy to peel.

Remove the eggs from the ice bath. Tap the bottom of the egg onto a hard surface to break the shell. Remove a small piece of shell until the membrane is exposed. Insert your finger under the membrane and begin to remove the shell. Repeat this with all of the eggs. Cut the eggs into sixths then set to the side.

Place the bacon into a cold and dry frypan. Set the heat to high and cook the bacon for 4 minutes on each side or until crispy. Allow the bacon to slightly cook then finely chop.

While the potatoes are still warm, quarter them then prepare the potato salad dressing.

In a large bowl, combine the mayonnaise, Dijon mustard, lemon juice and gherkin juice and whisk together. Add the gherkins, red onion, dill, tarragon and generous amount of salt and pepper and stir through the dressing. Add the potatoes and eggs to the dressing and gently stir through. Finish off by sprinkling the bacon all over.

Serve immediately while warm or cover and leave in the fridge to serve cold.