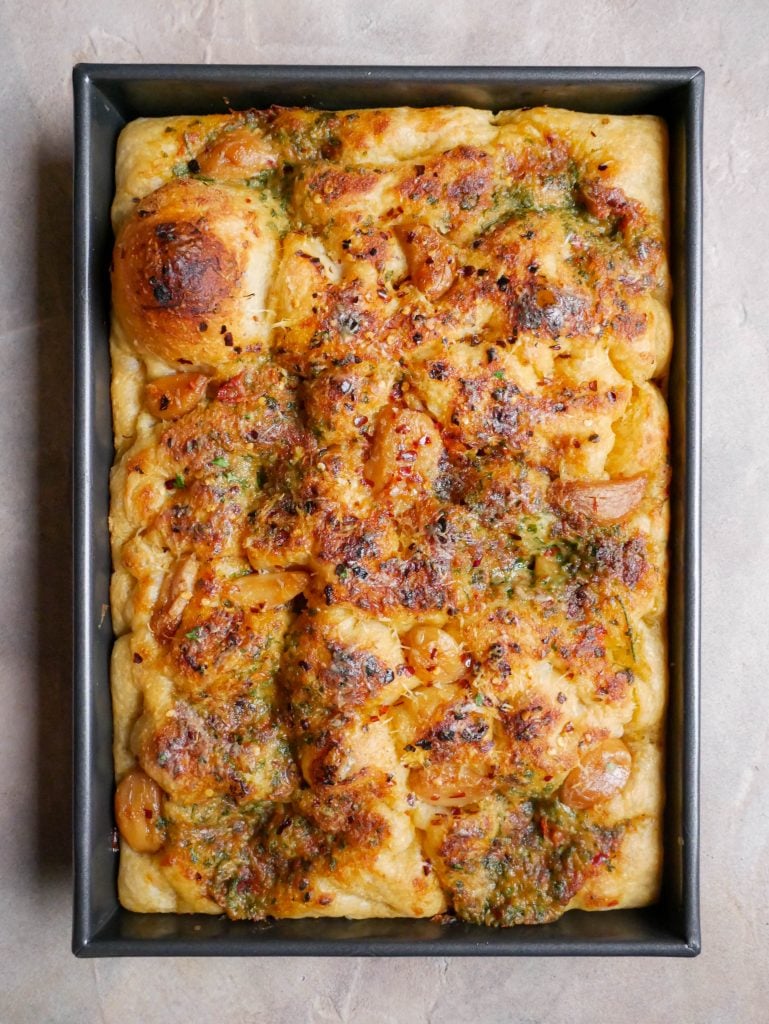 Your search for the best garlic bread ends here. It's spicy, crunchy on the outside while fluffy on the inside and full of garlic. This is the garlic bread of your dreams! Pair a slice of this focaccia based garlic bread with your favourite serving of pasta and you are in for a delicious treat.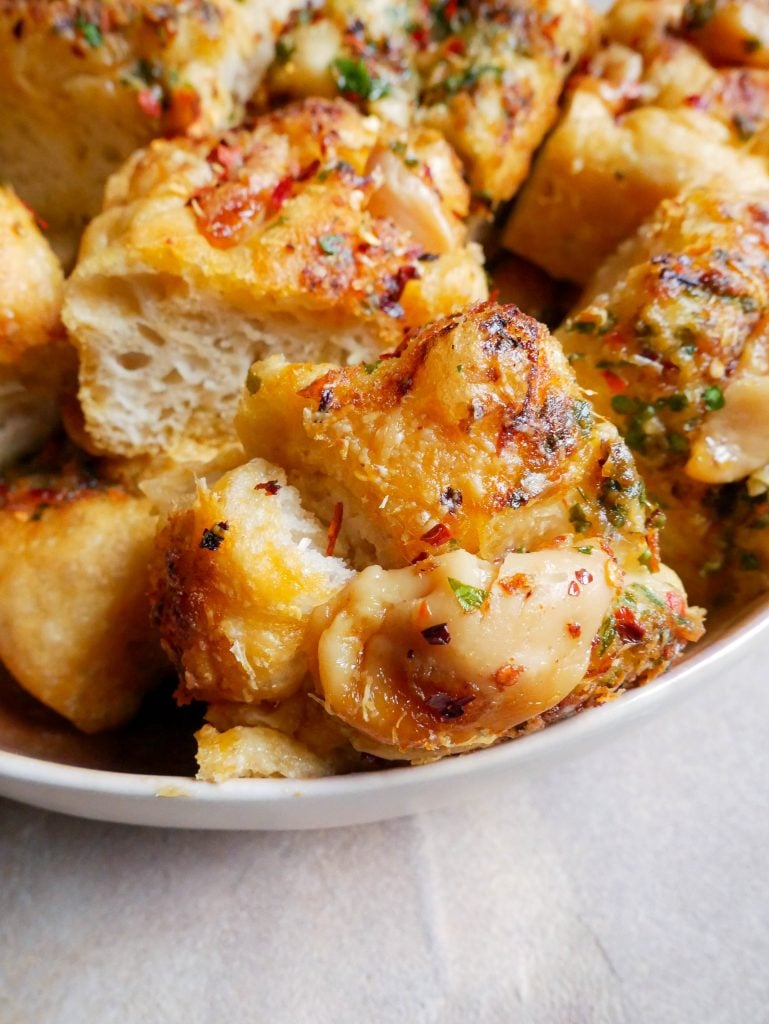 Now I know what you are thinking, this garlic bread does not look like your regular garlic bread. Indeed, you would be correct. This garlic bread sits a little outside of the box making it one of the most exciting and indulgent garlic breads you will ever eat. It's made on a focaccia base with a homemade garlic butter that is packed to the brim with garlic confit cloves, 20 to be exact. It's then finished off with more garlic confit cloves, yes more garlic, and a generous sprinkling of parmesan cheese resulting in a cheesy, crunchy and golden crust.
Chilli Oil Garlic Confit
This is not your regular garlic confit, it's a cool garlic confit. It's cooked on a low heat for two hours in Rich Glen's Fiery Chilli Olive Oil. The colour of this olive oil is absolutely sublime and creates a work of art when poured over the blank canvas that is the focaccia and all over the garlic cloves. For that extra element of heat, birds eye chillies are also cooked with the garlic cloves.
When the garlic is cooked confit style, it softens the flavour of the garlic and gives it a buttery and velvet texture. Confit is a French cooking technique where something is cooked in lots of fat at a low heat and for a very long time. If you're not a fan of chilli, it's perfectly fine to confit the garlic in regular extra virgin olive oil.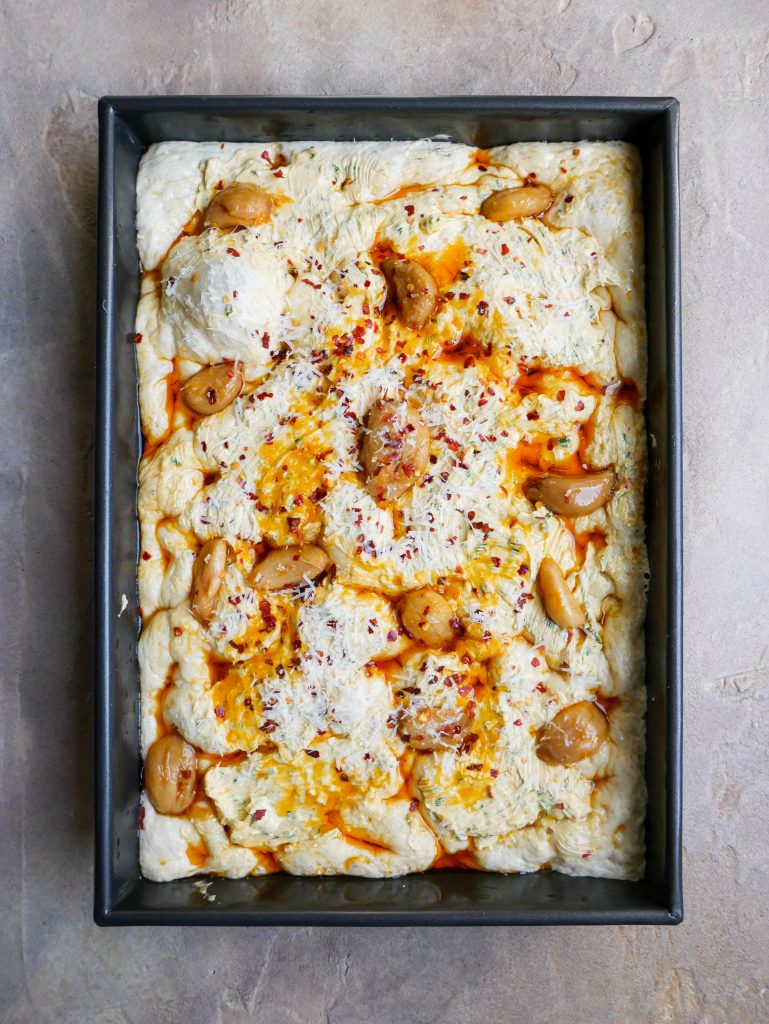 My top tips for making the best focaccia
Leave the dough to rest and rise as long as you can – if you have the time, I recommend leaving it for 24 – 48 hours as this will result in a fluffier and lighter dough. If you are short on time try and leave it for a minimum of 8 hours.
Use a high quality olive oil and don't be shy with it – this is a recipe that relies heavily on olive oil not just for the taste but also for the texture and that golden and crunchy crust. It's important we are not skimping on the quality which is why I recommend using Rich Glen olive oil. If you are not a fan of adding the garlic confit, you can simply omit this from the recipe and use Rich Glens Wild Garlic Olive Oil or their signature extra virgin blend.
Find a warm spot in your house for the second rise – this will help the dough rise for its second rise when it's been transferred to the baking tray. If you are making your focaccia in winter, a little trick I learnt is to leave the light on in your oven and let the focaccia dough rise in there.
Don't be afraid to get creative – my favourite topping for focaccia is garlic confit and rosemary however, you can top the focaccia with whatever you please! Don't be afraid to get creative and personalise it to your personal taste.
Frequently Asked Questions About Garlic Confit
How do you store garlic confit?
I store garlic confit in a sterilised air tight jar in the fridge for 3 – 4 weeks. Make sure you don't discard any of the oil as it can also be repurposed and used for cooking.
How long can you store garlic confit?
Confit is traditionally a preserving method and can allow the garlic to keep for several months. However, to be on the safe side I recommend to keep it for 2 – 3 weeks when stored correctly.
What can I use the garlic confit for?
There are so many things that garlic confit can be used for! You can spread it on toast and top it with slices of avocado, it can be used in salad dressing, pasta sauces and for pizza toppings. The oil can also be repurposed and used in any recipe that requires olive oil.
What flavour does garlic confit have?
When cooked confit style, the flavour of the garlic softens and is must more mild and sweet when compared to raw garlic.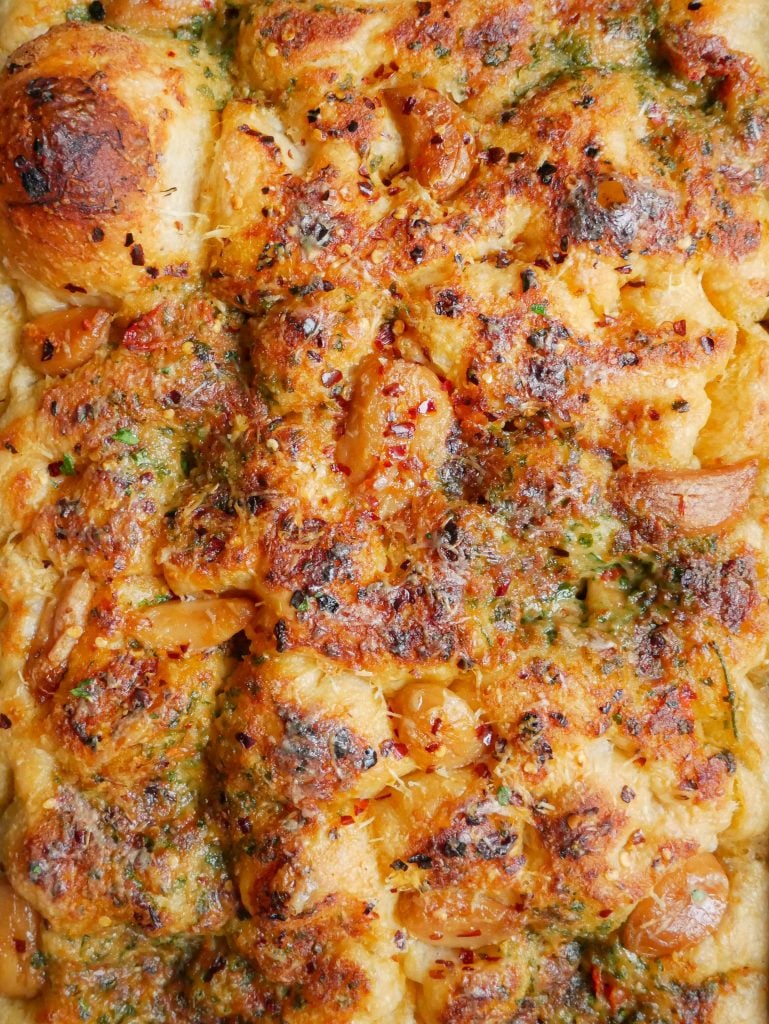 If you make this recipe, please tag me on Instagram, Tik Tok or Pinterest so I can see your wonderful creations!
If you have any questions or would like to leave a review, please do so here! I always love answering your food and recipe related questions and hearing your feedback on my recipes.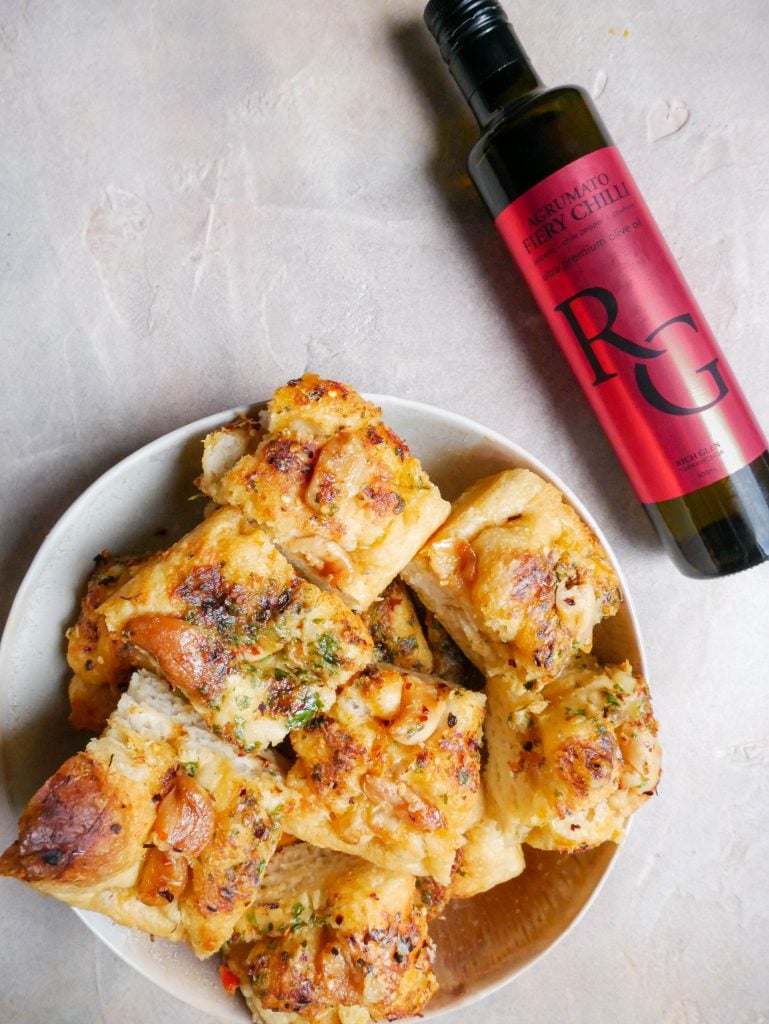 This recipe is sponsored by Rich Glen Olive Oil.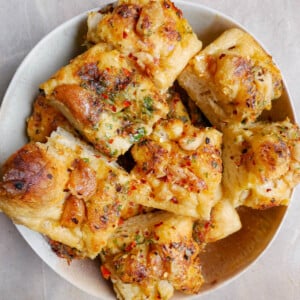 Spicy Garlic Confit Butter Focaccia
An indulgent garlic bread made with chilli olive oil garlic confit and a homemade garlic confit butter.
Ingredients
Chili Oil Garlic Confit
3 cups Rich Glen Fiery Chili Olive Oil
6 heads garlic
3 birds eye chillies halved
Spicy Garlic Confit Butter
100 g salted butter at room temperature
20 garlic confit cloves
2 bird eye chillies optional
1 handful parsley
1/2 tsp flakey sea salt
Focaccia
2.5 cups lukewarm water 2 cups cold water and 1/2 cup boiling hot water
1 sachet dry yeast 7g
2 tsp honey or maple syrup
5 cup white all purpose flour
2.5 tsp flakey sea salt + extra for sprinkling
6 tbsp Rich Glen Extra Virgin Olive Oil + 2 tablespoons garlic confit oil
10 - 12 spicy garlic confit cloves
100 g spicy garlic confit butter
1 tsp chili flakes
30 g parmeson cheese grated
Instructions
Chili Oil Garlic Confit
Preheat the oven to 120 degrees Celsius. 

Peel the garlic by breaking the cloves away and placing them into a heatproof bowl. Submerge in boiling hot water for 5 minutes and drain. The skin will become loose and easy to peel away. 

Place the garlic cloves and chilies into an ovenproof dish and fully submerge in olive oil. It's important the garlic is fully submerged in the olive oil so it does not burn. Bake for 2 hours or until the garlic has slightly browned in colour. 

Allow to cool and store in an airtight container or jar for up to several weeks in the fridge.
Spicy Garlic Confit Butter
Place all ingredients into a food processor and blend until smooth and all ingredients are well combined. 
Spicy Garlic Confit Focaccia
In a medium bowl, mix together the lukewarm water, yeast and honey with a whisk and leave to sit for 5 minutes or until the yeast has foamed. This will indicate that your yeast is active. 

In a large bowl, combine the flour and salt and whisk together. Add the yeast mixture to the bowl and bring the dough together with your hands or a spatula until a shaggy and sticky dough forms.

Coat a large mixing bowl with 4 tablespoons of the garlic confit olive oil and transfer the dough to the bowl. Coat the dough in the olive oil. Cover the bowl with plastic wrap and place into the fridge. Leave the dough to rise for a minimum of 6 hours but ideally for 24 hours. The dough will double in size and look bubbly. 

Take the dough out of the fridge and fold it over itself in quarters. Gather up each edge of the dough with your hands and fold it over itself while turning the bowl. The dough will deflate while you shape it into a neat ball. 

Coat a deep rectangular baking dish (I use a pan that is 34cm x 23cm x 5cm) with 2 tablespoons of the garlic confit olive oil and transfer the dough ball to the baking dish. Using your fingers, stretch the dough out slightly into a rough rectangular shape. There is no need to stretch the dough out to the edges of the pan as the dough will rise and spread. Cover the pan with a tea towel and leave the dough to rise in a warm area of your house for 3 - 4 hours. If your dough is uncovered there is risk of too much air getting into the dough and creating a dry and crusty layer on top.

Preheat the oven to 180 degrees celsius. Once the dough has risen, drizzle 1 tablespoon of garlic confit olive oil over the top and then use your fingers to indent or dimple the dough. Scatter the garlic confit butter over the focaccia, ensuring it's at room temperature, and spread it all over with a brush. Place the garlic confit cloves into the dimples of the dough and sprinkle chili flakes and pinch of salt all over. Finish off by sprinkling the parmesan cheese over the top. Drizzle the dough with 1 tablespoon of the garlic confit olive oil to prevent the butter from burning. This will also help the crust of the dough get golden and crispy when baking. Bake for 20 - 30 minutes or until the dough has developed a golden crust on top. 

Let the bread slightly cool before removing it from the baking tray. Place onto a wire rack. 

Slice the bread and enjoy on its own or as a side to pasta.