It's basil season in Australia so let's make the most of it by making pesto from scratch and using it to create the sandwich of all sandwiches. This pesto focaccia sandwich is full of pesto (quite literally), mortadella, creamy burrata and irresistibly crunchy garlic chips.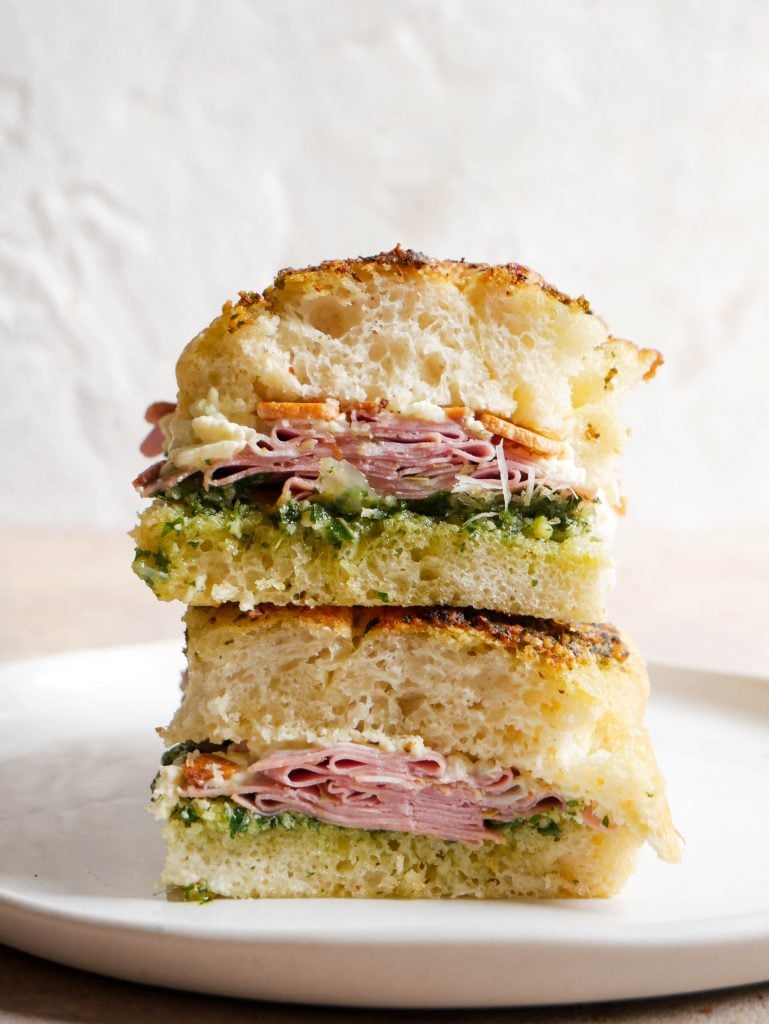 Mortadella & burrata pesto focaccia sandwich
There's a new sandwich in town and this one is crunchy, creamy and cheesy. If you love pesto, cheese and garlic, just imagine how delicious they all are when combined into a focaccia that is fluffy on the inside and crunchy and golden on the outside. This is my take on a traditional Italian sandwich that uses burrata, mortadella and pesto. Instead of using pistachios for that crunchy element, I have used my homemade garlic chips because I am a garlic girl through and through.
If you're unsure what mortadella is, it's a sliced sausage meat that is very well liked in Italy. It's very common to see it used on sandwiches and it can be served plain or with olives throughout!
Pesto
If you have ever tasted homemade pesto, you will know that store bought pesto just doesn't compare. It's an extremely simple condiment to make and relies heavily on high quality ingredients. I like to make my pesto when basil is in season as it's at its sweetest and plumpest. While I make my pesto in a food processor, the traditional way is to use a mortar and pestle. While I do tend to prefer the taste of pesto made in a mortar and pestle, the food processor will give you a slightly runnier texture that is perfect for topping my focaccia with. Plus, the processor is much more fuss free and quick!
You can create my pesto eggs with this pesto!
Pesto focaccia
If you're new around here, I love a focaccia recipe and I take my focaccia recipes very seriously. Next up on the list is a pesto focaccia. And please don't tell my other little focaccia babies I told you this, but this one is my favourite. The pesto creates the most gorgeous flavour throughout every bite. If you're new to making bread, focaccia is the perfect place to start! It requires no kneading, very little skill and is almost impossible to mess up.
View all my focaccia recipes and tips for making it here.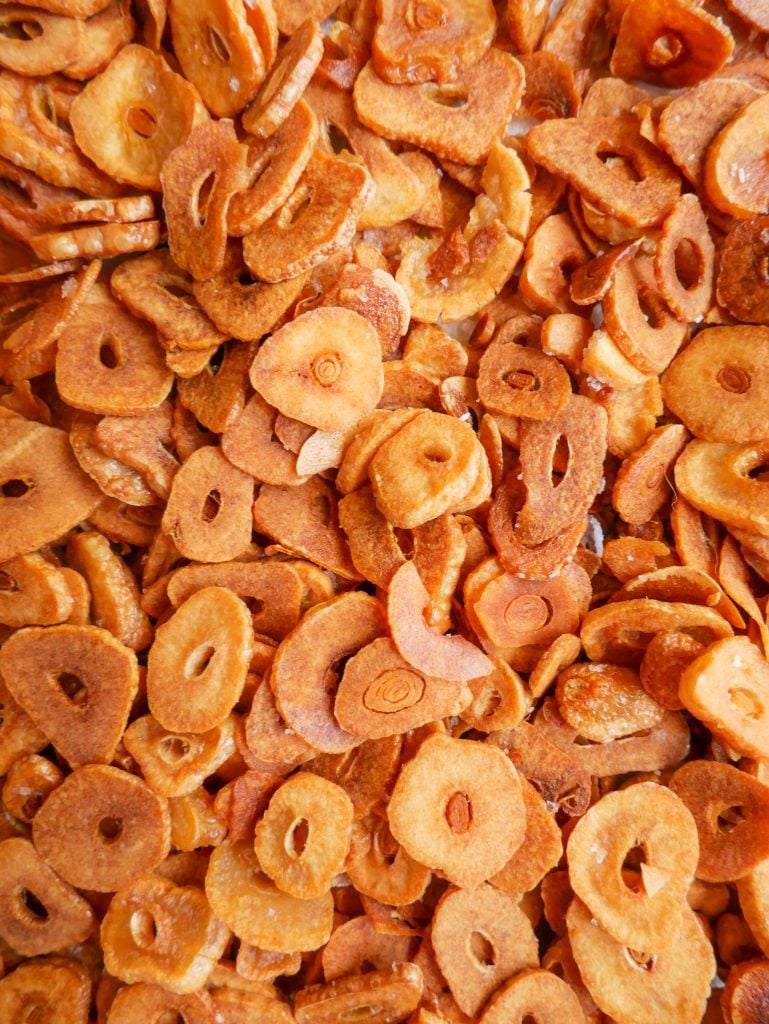 Garlic chips
Move aside garlic confit, there's a new garlic girl in town and this time she's golden, crispy and absolutely addictive. Say hello to your new garlic best friend, garlic chips! They are thinly sliced garlic cloves that are shallow fried to crispy perfection in luxuriously rich olive oil. They make for the most perfect toppings to your salads, sandwiches, pizzas or pasta's. The olive oil is infused with a strong garlic flavour and can be repurposed in all of your cooking!
Store the garlic chips in an airtight container or jar for up to 3 months in your pantry. They will slightly lose their crunch as time goes on but they are still delicious nonetheless.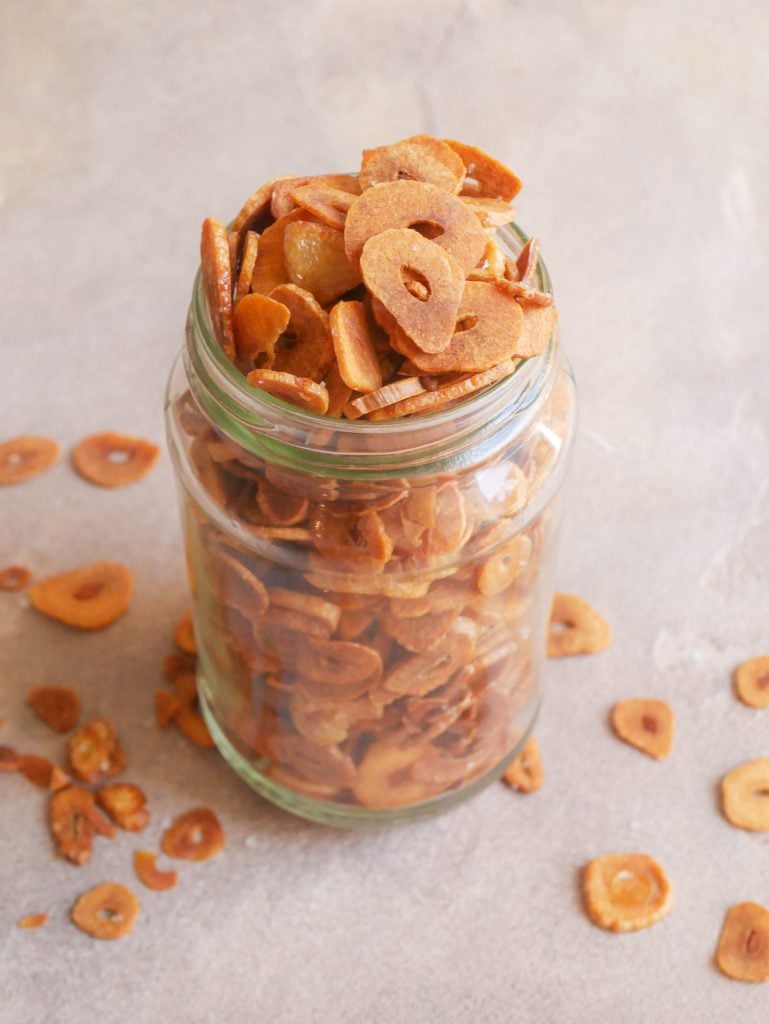 If you make this recipe, please tag me on Instagram, Tik Tok or Pinterest so I can see your wonderful creations!
If you have any questions or would like to leave a review, please do so here! I always love answering your food and recipe related questions and hearing your feedback on my recipes.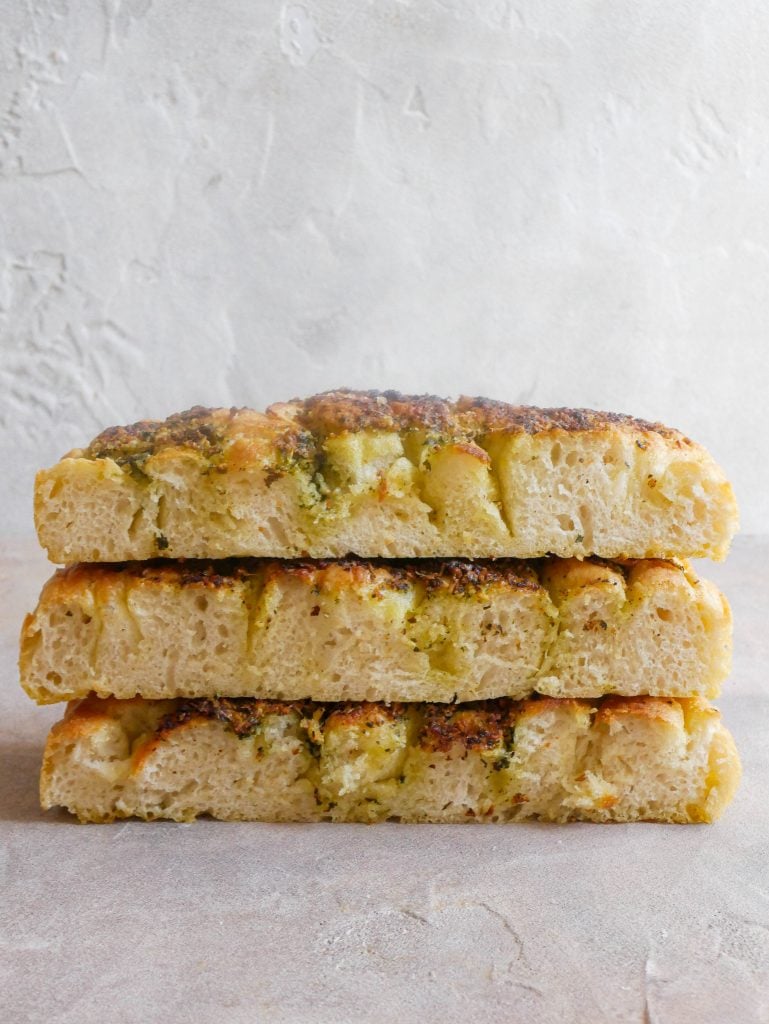 You can purchase Rich Glen Olive Oil here. This recipe is sponsored by Rich Glen Olive Oil.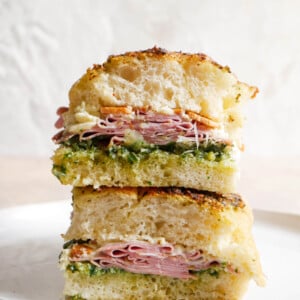 Mortadella & Burrata Pesto Focaccia Sandwich with Garlic Chips
It's basil season in Australia so let's make the most of it by making pesto from scratch and using it to create the sandwich of all sandwiches.
Ingredients
Pesto
1 bunch basil leaves
1 garlic clove
1/4 cup pine nuts
1/2 cup Rich Glen olive oil
1/4 cup pecorino romano grated
pinch of flakey sea salt
Pesto focaccia
4 tbsp pesto
2.5 cups lukewarm water 2 cups cold water + 1/2 cup boiling hot water (600ml)
1 sachet dry yeast 7g
2 tbsp honey or maple syrup
5 cups white all purpose flour
2.5 tsp flakey sea salt
6 tbsp Rich Glen Olive Oil
Garlic chips
6 heads garlic
3 cups Rich Glen Olive Oil
Sandwich
1 slice pesto focaccia
1 tbsp pesto
150 g mortadella
120 g burrata
1 tbsp garlic chips crushed
pinch of salt and pepper to taste
Instructions
Pesto
In a food processor, blend the basil, garlic cloves, pine nuts and olive oil until all ingredients are well combined but you still have quite a chunky texture. Add the pecorino Romano and stir through. Start with 1/4 cup and if you need more cheese slowly add in.

If making ahead, store in an airtight jar in the fridge for up to 3 days.
Pesto focaccia
In a medium bowl, mix together the lukewarm water, yeast and honey with a whisk and leave to sit for 5 minutes or until the yeast has foamed. This will indicate that your yeast is active. 

In a large bowl, combine the flour and salt and whisk together. Add the yeast mixture to the bowl and bring the dough together with your hands or a spatula until a shaggy and sticky dough forms.

Coat a large mixing bowl with 3 tablespoons of olive oil and transfer the dough to the bowl. Coat the dough in the olive oil. Cover the bowl with plastic wrap and place into the fridge. Leave the dough to rise for a minimum of 6 hours but ideally for 24 hours. The dough will double in size and look bubbly. 

Take the dough out of the fridge and fold it over itself in quarters. Gather up each edge of the dough with your hands and fold it over itself while turning the bowl. The dough will deflate while you shape it into a neat ball. 

Coat a deep rectangular baking dish (I use a pan that is 34cm x 23cm x 5cm) with 1 tablespoon of olive oil and transfer the dough ball to the baking dish. Using your fingers, stretch the dough out slightly into a rough rectangular shape. There is no need to stretch the dough out to the edges of the pan as the dough will rise and spread. Cover the pan with a tea towel and leave the dough to rise in a warm area of your house for 3 - 4 hours. If your dough is uncovered there is risk of too much air getting into the dough and creating a dry and crusty layer on top.

Preheat the oven to 200 degrees celsius. Once the dough has risen, use your fingers to indent or dimple the dough. Spoon the pesto over the focaccia. Drizzle the dough with 2 tablespoons of olive oil. This will help the crust of the dough get golden and crispy when baking. Finish off with a sprinkling of flakey sea salt. Bake for 20 - 30 minutes or until the dough has developed a golden crust on top. 

Let the bread slightly cool before removing it from the baking tray. Place onto a wire rack. 
Garlic chips
Peel the garlic by breaking the cloves away and placing them into a heatproof bowl. Submerge in boiling hot water for 5 minutes and drain. The skin will become loose and easy to peel away. 

Using a sharp knife, finely slice the garlic into very thin strips. 

In a deep dish pan on a high heat, heat the olive oil. Place a wooden skewer into the olive oil and if bubbles form around it the oil is hot enough. Turn the heat to medium and toss in half of the garlic chips. Cook for 3 - 4 minutes or until they turn golden in colour. Move the garlic around with a metal spatula to ensure they do not stick to one another. 

Spoon the garlic chips out with a metal skimmer and place onto a plate that is lined with absorbent paper. Cook the remaining garlic chips. 

Store the garlic chips in an airtight jar. You can use them immediately or store them in the pantry for several months. They will be crispiest when used straight away. 

Allow the olive oil to slightly cool then drain into an airtight jar and use in any recipe that requires olive oil. It will keep for several weeks in a dark space.
Sandwich
Cut your focaccia into thirds lengthways. Slice 1 piece of the focaccia in half.

Assemble your sandwich by beginning with a layer of the pesto, followed by slices of the mortadella, burrata and lastly the garlic chips and a pinch of salt and pepper.Top with the other half of focaccia and cut in half.