Fettuccine Alfredo has become a classic staple for many home kitchens. And, why not? Creamy and comforting, fettuccine Alfredo is a simple recipe that packs a lot of flavour. But, for mine, I skip the cream and use Westgold salted butter instead. It makes it creamy and rich, but also glossy.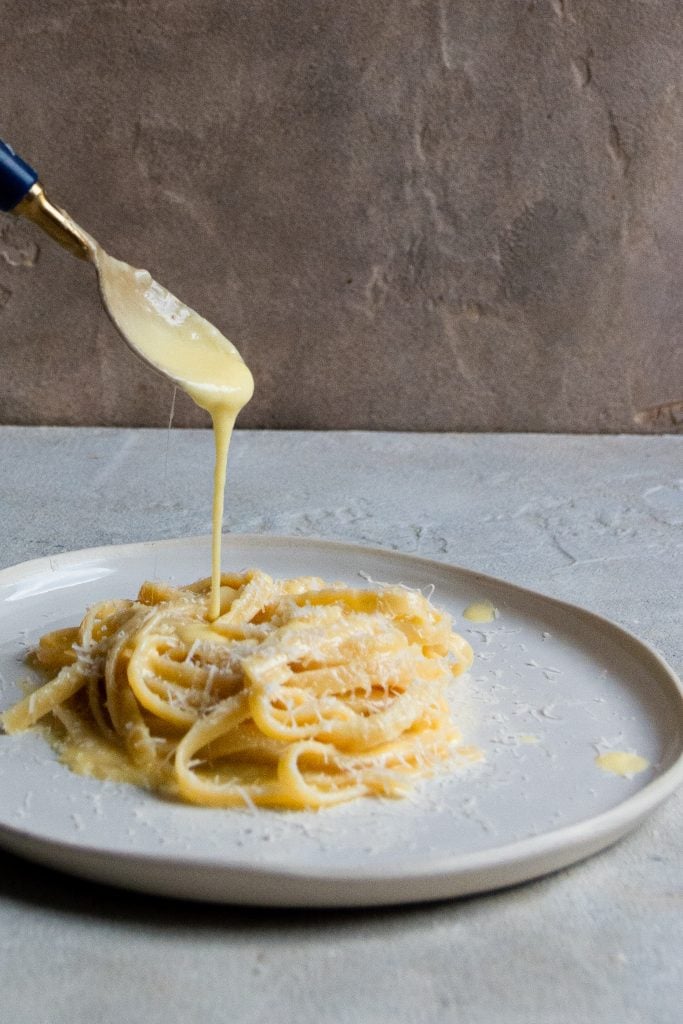 Fettuccine Alfredo sauce
Named after an Italian restaurateur in the 1920s, Fettuccine Alfredo has its roots in Rome, but was popularised in the United States soon after – which is where heavy cream was brought into the dish. However, it's the original version that my recipe focuses on, substituting cream with even more butter and cheese. Similar to a classic carbonara, which has also been popularised with the use of cream, this recipe is about emulsifying the butter and cheese to create something silky, decadent and just delicious.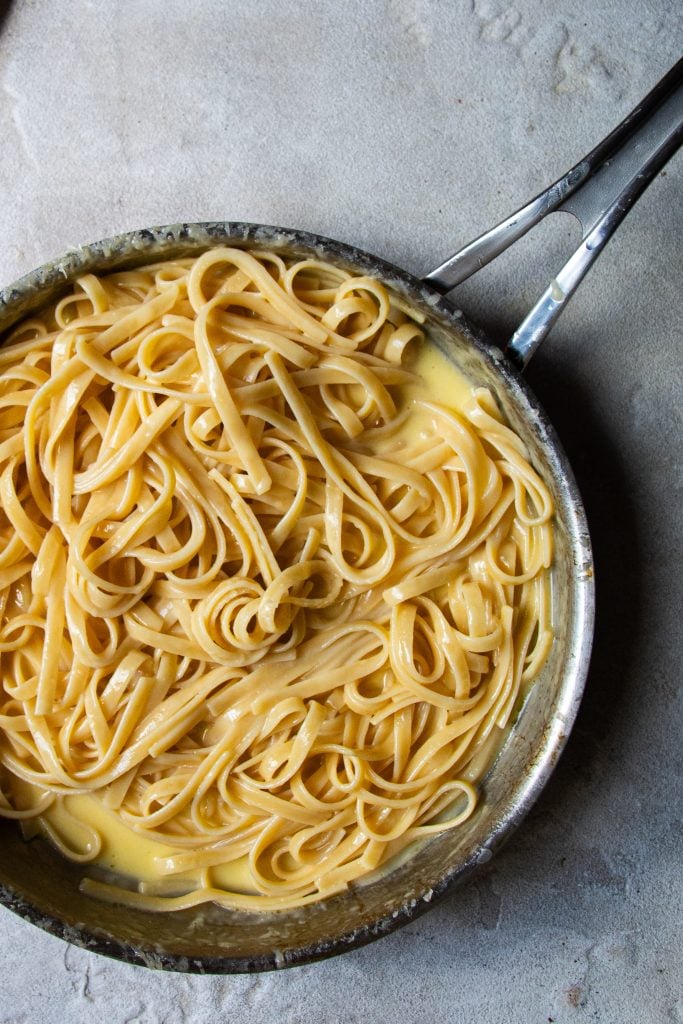 Butter and lot's of it!
To make my Fettuccine Alfredo, it's about high quality ingredients. And there's no higher quality butter than Westgold Butter. With a rich and natural taste, Westgold Butter melts beautifully into a creamy sauce that coats the pasta without the heaviness of cream. It's easy to work with and won't go lumpy – really, it makes the tastiest Alfredo sauce.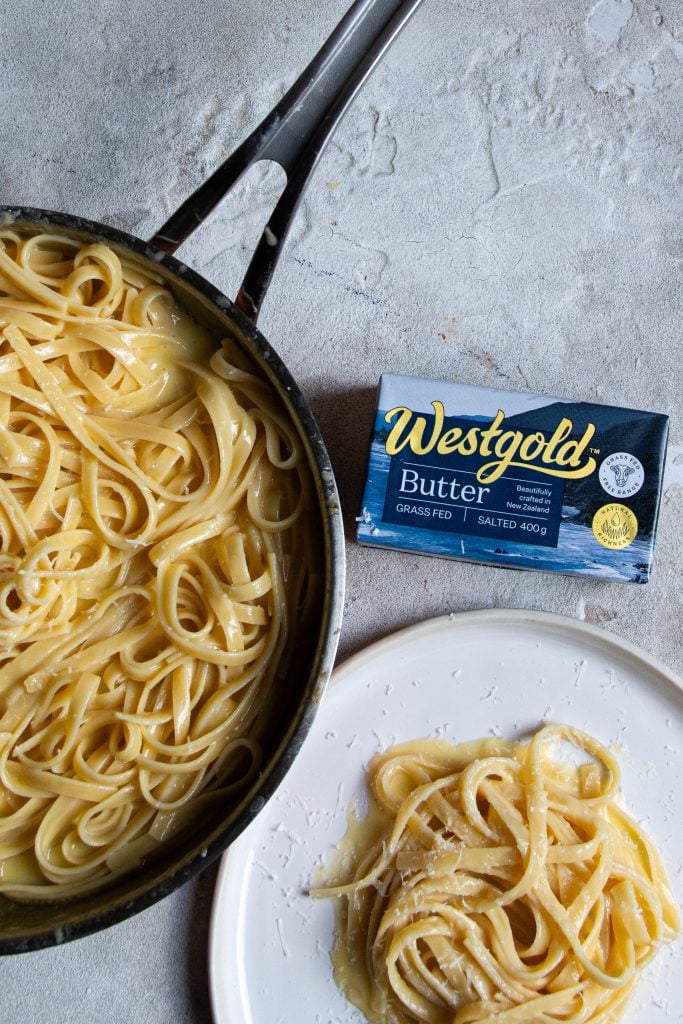 What you're going to need
Cheese is an important part of this recipe, and it's worth spending on some high quality Parmigano Reggiano. Its sharpness is included to really cut-through the richness of the salted butter. Don't skimp on the cheese! In both quality and amount. It melts down with the butter and creates a savoury sauce fit for a Roman empire.
I feel like a broken record, but it's quality, quality, quality! Nothing beats freshly made pasta, and getting beautiful pasta from the store has never been easier. Delis, specialty Italian stores and even the supermarkets now have incredible quality pasta, but this requires a thicker one. Fettuccine! It will coat those thick noodles and deliver so much flavour in every bite. 
And of course, you are going to need butter and lots of it! Just make sure it's a high quality one like Westgold butter.
Making the perfect pot of Fettuccine Alfredo
If you know my carbonara technique, then you know my Alfredo one. It's about three things: low heat, pasta water (we call that liquid gold!), and patience. Stir it through, monitor the heat carefully, and add the pasta water slowly to make sure it doesn't become too runny. This is about trusting your instincts, and in no time, you'll be indulging in this savoury bowl of yumminess.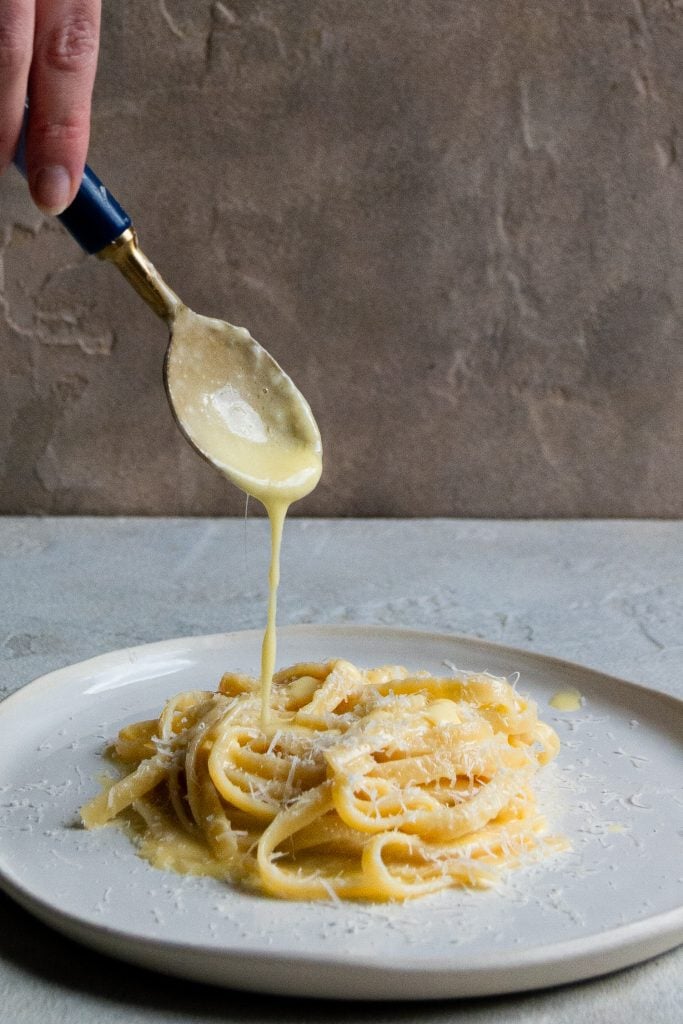 FAQ
Can I add anything to it?
Yes! Of course! This sauce is an amazing base but make it to suit your taste. Add in some fresh spinach if you want some green, or some pre-cooked chicken if you have any leftovers – the world is your oyster (or shall I say, Alfredo sauce?!)
Can I use short pasta?
Yes, short pasta can definitely be used, but Fettuccine is the traditional type to use. And, it makes for some slurpy fun.
Can I reheat the sauce or make it ahead of time?
I would advise against this as the sauce really does taste best when it is eaten straight away! However, there are ways around this. Reserve a small amount of pasta water and stir that through when reheating the pasta to bring it back to it's silky and glossy self!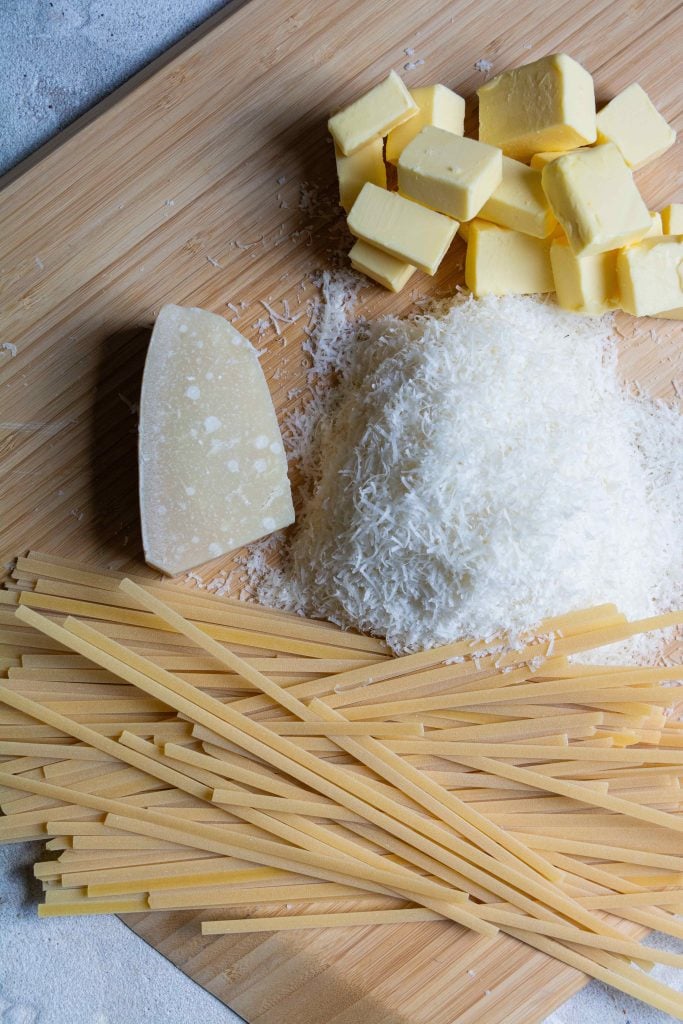 If you make this dish, please tag me on Instagram, Tik Tok or Pinterest so I can see your wonderful creations!
If you have any questions or would like to leave a review, please do so here! I always love answering your food and recipe related questions and hearing your feedback on my recipes.
Fettuccine Alfredo
Make this classic, but sans the cream! This is back to basics (and the tradition).
Ingredients
500 g fettuccine
250 g Westgold salted butter cut into cubes
250 g Parmigano Reggiano grated
Salt
Instructions
Bring a large pot of heavily salted water to the boil. Cook the pasta for 2 – 3 minutes less than the instructions on the packet as it will continue to cook when we stir it through the sauce. Drain and reserve up to 2 cups pasta water.

In a large deep frypan on a low heat, add the pasta, butter and a splash of pasta water. Using tongs, stir the butter and water through the pasta until an emulsified sauce has formed. Add the cheese in thirds with a splash of pasta water and stir through until fully incorporated and you have a silky and glossy sauce. Continue this step until all the cheese has been used. You may not need the full 2 cups of pasta water so it's best to slowly add it in. If the sauce is cooking too fast, take the pan off the heat as you are incorporating the cheese.

Serve immediately with an extra sprinkling of cheese.