The perfect lasagna is rich, creamy and indulgent and is made with layers of beef and pork ragu, cheesy bechamel sauce and el dente homemade pasta sheets. One bite of this Lasagna with Ragu and Bechamel Sauce and you will instantly be transported to Italy.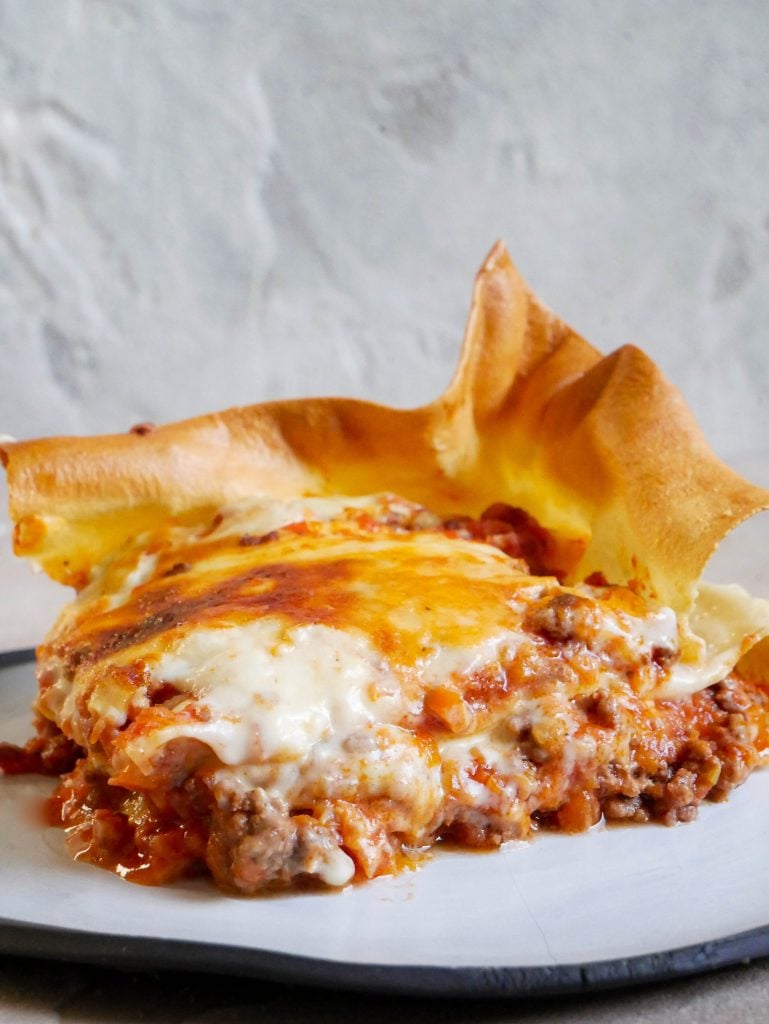 A good lasagna… let me rephrase that… a GREAT lasagna takes time and is a labour of pure love. If you have chosen to make the lasagna sheets from scratch it can take a good part of the day to make but it's totally worth it. Especially when it's this lasagna.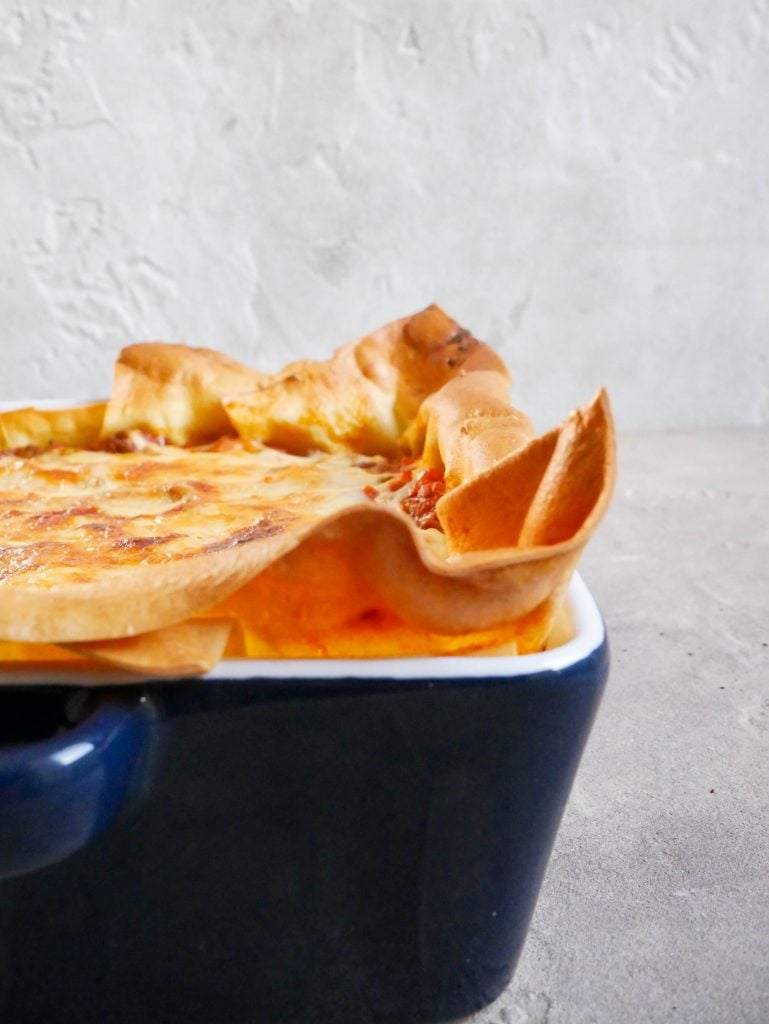 Secrets for the perfect Lasagna with Ragu and Bechamel 
Patience is of the essence. There are many little secrets I will reveal for the perfect lasagna but if there is one that is an absolute non-negotiable. You must leave your lasagna to sit for at least 30 minutes before cutting into it. And sure, this is much easier said than done. When that lasagna comes out of the oven and the cheese is bubbling away, your house is filled with the most comforting aroma. Your eyes are bigger than your stomach! All you want to do is cut into it, I promise. But you must trust me on this and wait. Something magical happens within those 30 minutes. All the layers gel together to form the perfect lasagna union. Trust me on this as you will not be disappointed
Layering. It's important you layer your lasagna in the correct order. The first layer should always be a small smear of ragu sauce so the bottom layer of lasagna sheets do not dry out or stick to the bottom of your baking pan. Follow this with lasagna sheets, a larger layer of ragu and lastly a layer of bechamel. Repeat this until your baking dish is ¾ full and finish off with a small sprinkling of cheese as too much cheese will leave you with pools of oil at the bottom of your dish. 
High quality. When making a dish that is simple and requires few ingredients, I always strive to use high quality ingredients. This is why I use Rich Glen Olive Oil. I also use high quality cheese, milk, butter and meat.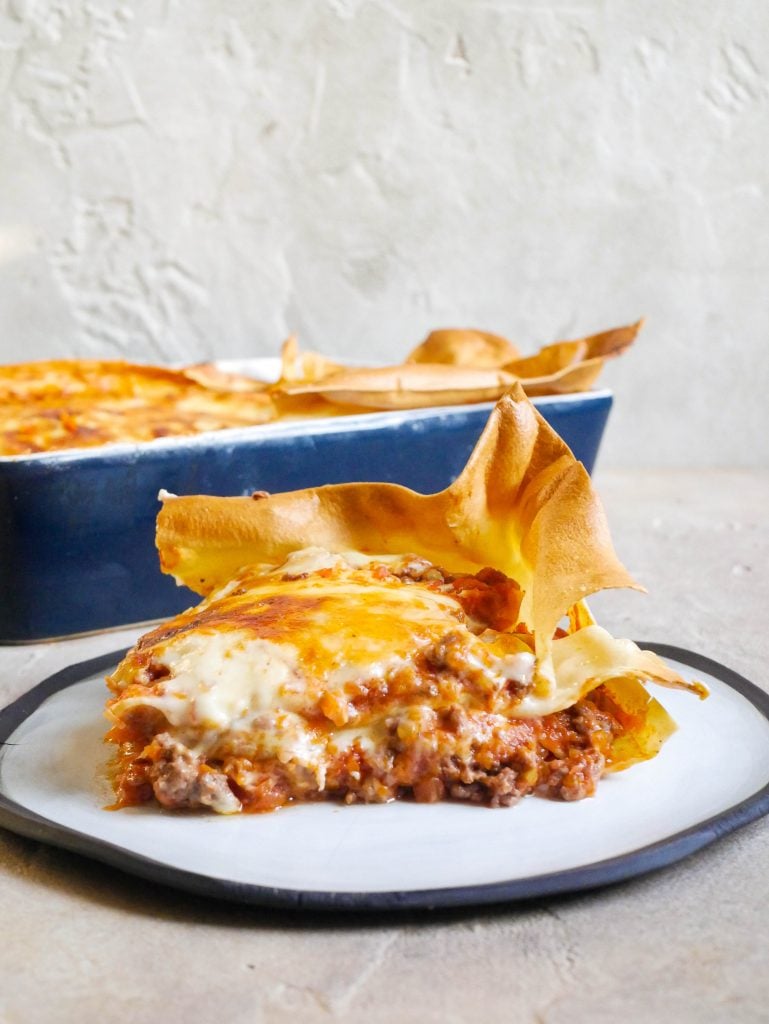 Ragu Sauce
I'm always greeted with a smile whenever someone walks into my home and can hear my ragu sauce bubbling away on the stove. This is a slow cooked ragu sauce that is made with a mixture of beef and pork (you've got to have the pork for the flavour) and in a rich tomato and white wine based sauce. When I make my ragu, I begin by browning and caramalising my meat in lots of olive oil to create depth and flavour. Our family touch is to use a mix of tinned tomatoes and fresh. As my mother says, when only using tinned tomatoes, your sauce will be too rich and the tomato flavour will overpower. 
As true with most slow cooked meals, this ragu is great made early in the morning. Why? The flavours intensifies as the day goes on.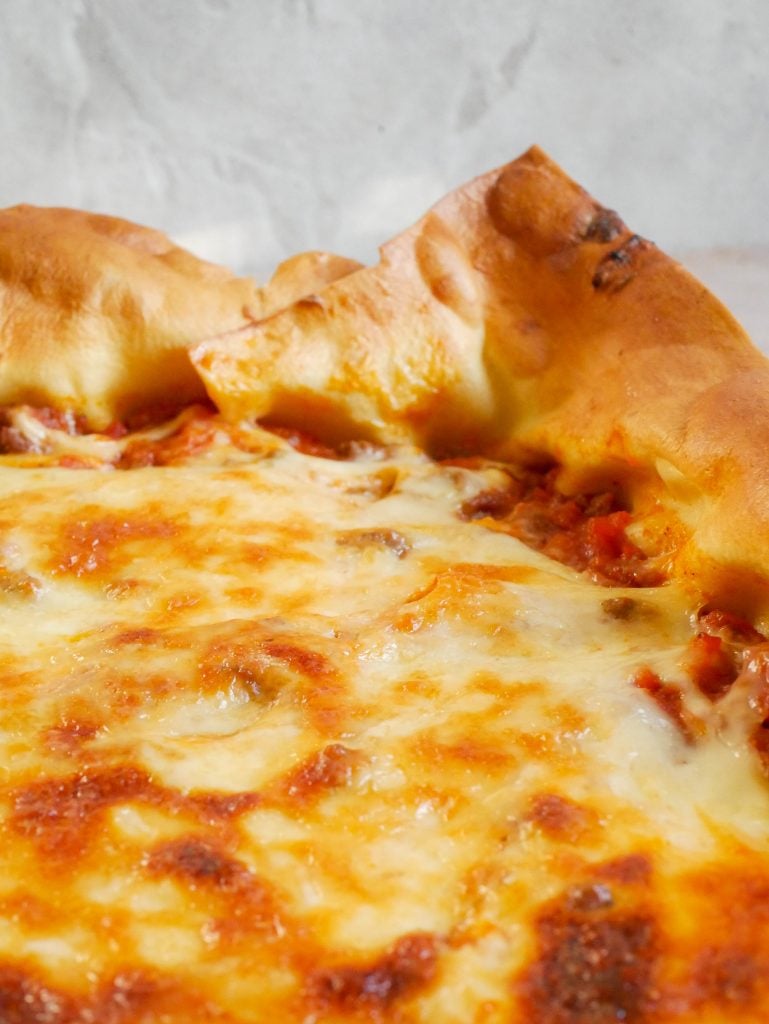 Bechamel Sauce
This bechamel sauce is flawless. It's smooth, buttery and creamy with just the right amount of cheese. Bechamel is a white sauce that is made with cream, milk and butter. Want to make a great bechamel? It's important you are constantly whisking the milk through the roux and doing this step in thirds. I also like to add a little cheese to my bechamel sauce to amplify its flavour. If your bechamel is too runny, keep whisking it on the heat a little longer. If it's too thick, simply whisk through a little extra milk.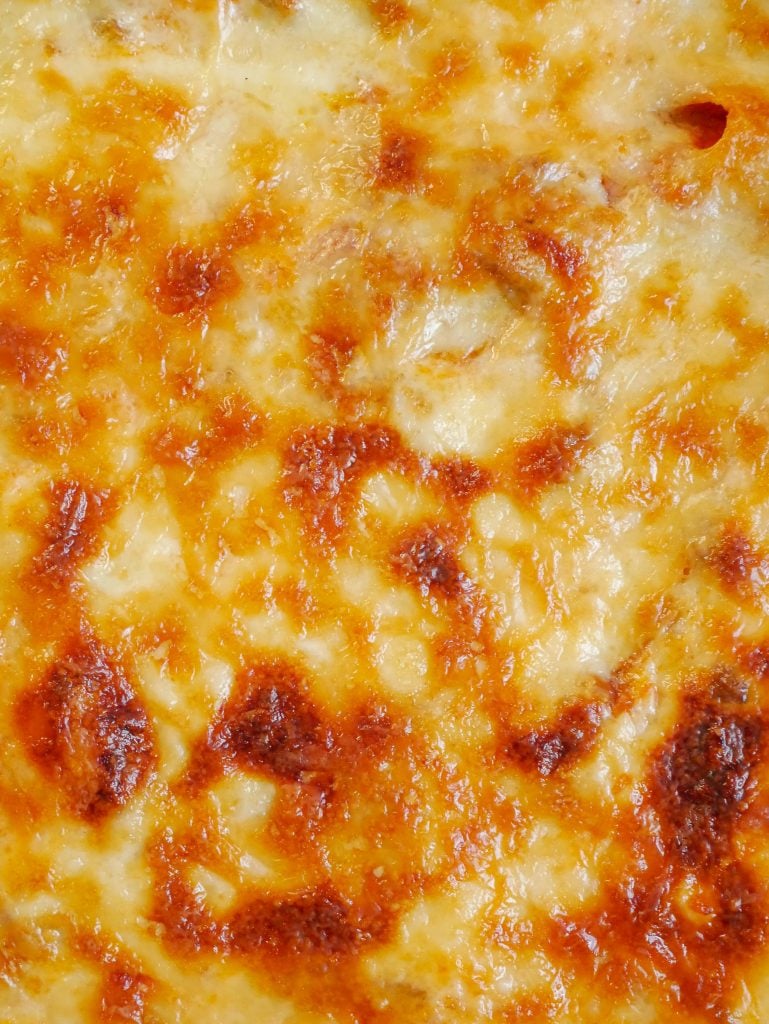 Lasagna Sheets
From homemade lasagna sheets that crisp up around the edge  to curly lasagna sheets that you buy in a box from the grocery store, there are many options to choose from and it really comes down to your personal preference. I have used homemade lasagna sheets as I'm a sucker for  luxuriously silky and soft texture and those crispy, crunchy and golden brown edges. But let's face it, this take time and sometimes you want to turn to pre-bought fresh pasta sheets or dry lasagna sheets. All options will work well but just take note if the pasta needs to be parboiled before assembling your lasagna.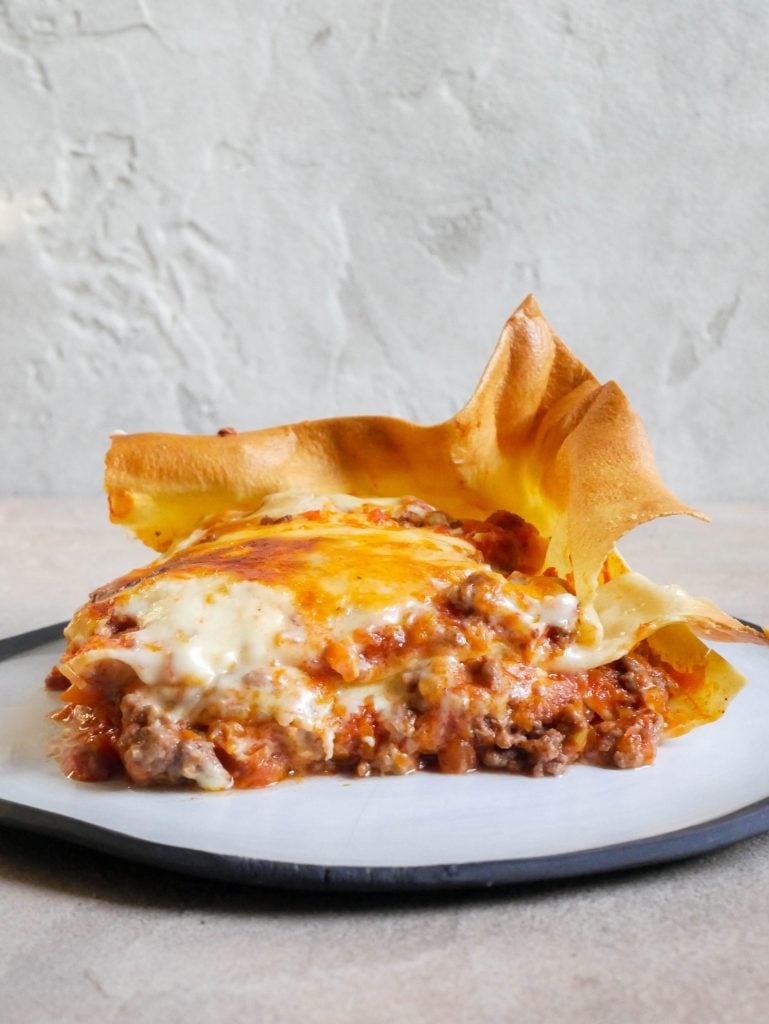 Frequently Asked Questions for Lasagna with Ragu and Bechamel
How do I store the leftover Lasagna with Ragu and Bechamel? 
You can keep the lasagna in your fridge for up to 3 days and it truly gets better over time! Simply reheat it in the oven or microwave when ready to serve. You can also slice the lasagna into individual serves and store in the freezer for up to 3 months. When ready to eat, defrost it and then pop in the oven to reheat. 
What size baking dish do you use?
I use a lasagna baking dish that has 3.85L capacity, measures 25.4 (w) x 9.1 (h) x 6.8 cm (d). You can view the one I use here.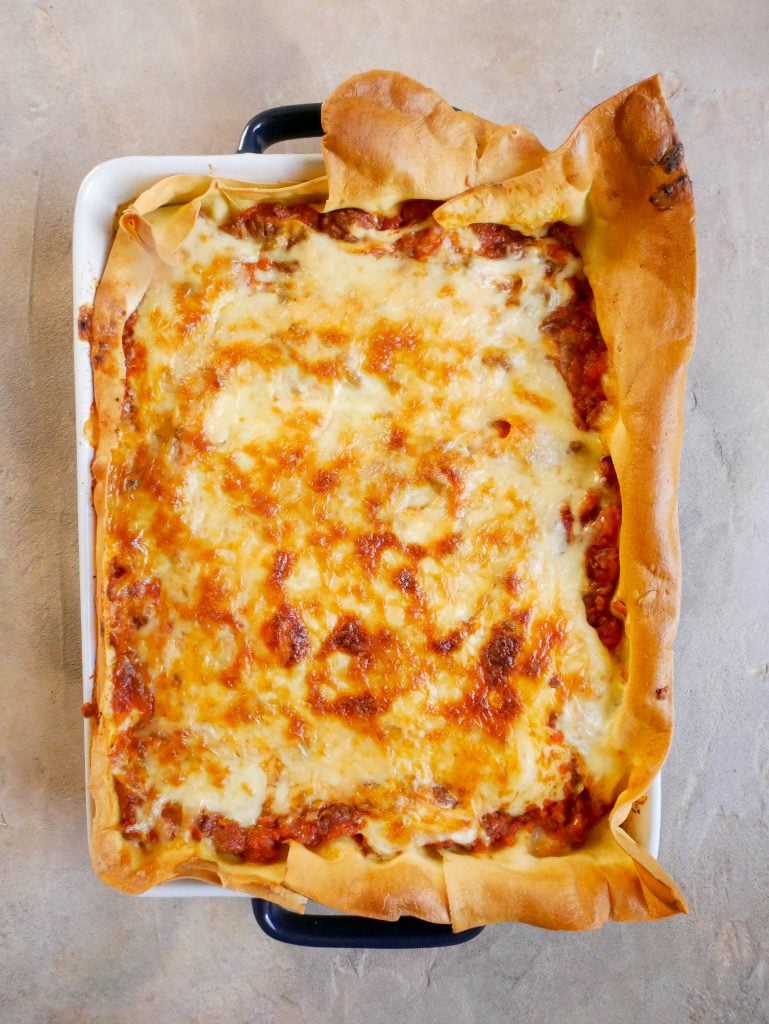 If you make this recipe, please tag me on Instagram, Tik Tok or Pinterest so I can see your wonderful creations!
If you have any questions or would like to leave a review, please do so here! I always love answering your food and recipe related questions and hearing your feedback on my recipes.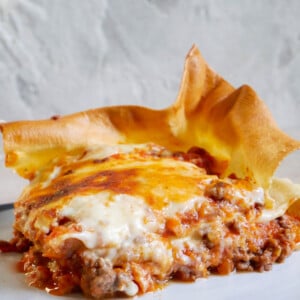 Lasagna with Ragu & Bechamel Sauce
The perfect lasagna is rich, creamy and indulgent and is made with layers of beef and pork ragu, cheesy bechamel sauce and el dente homemade pasta sheets.
Ingredients
Ragu Sauce
500 g beef mince
500 g pork mince
4 tbsp Olive Oil
2 white onions finely diced
2 carrots finely diced
2 stalks celery finely diced
6 garlic cloves crushed
2 tbsp tomato paste
1/2 cup white wine
700g passata
5 tomatoes skined and diced
1/2 cup water
salt and pepper to taste
Bechamel Sauce
100 g unsalted butter
1 tbsp Olive Oil
2 garlic cloves crushed
1/2 cup white all purpose flour
3 cups milk
50 g gruyere cheese grated
50 g parmeson grated
salt and pepper to taste
Hand rolled lasagna sheets
250 g eggs
400 g white 00 flour
50 g semolina flour
1 tsp flakey sea salt
Assembly
1 box fresh lasagna sheets
20 g parmeson finely grated
20 g mozzarella finely grated
Instructions
Ragu Sauce
Season your mince with a generous amount of salt and pepper. In a large pot on a high heat, add 2 tablespoons of olive oil and bring to the heat. Add half of the mince into the pan and fry for three minutes, breaking the mince down with your spoon and stirring occasionally. You want to cook your mince in batches so it does not overcrowd the pot and broil. Take your mince out of the pot with all of its juices and repeat this step. Don't worry if your meat is still a little pink and not cooked through as it will continue to cook in this sauce. This step ensures we are building flavour and texture in the dish. Take the second bath of mince out of the pot with all of its juices and set to the side.

In the same pot, add two tablespoons of olive oil and bring to the heat. On a low - medium heat in the same pot, cook the onions, carrots, celery  for 10 - 12 minutes or until they become fragrant and translucent. Halfway through cooking the vegetables, add the garlic to the pot and cook for 5 - 6 minutes. Turn the heat to high and add the tomato paste to the pot. Cook for 3 minutes stirring quite often until it turns a deep red colour and is almost sticking to the pan. Deglaze the plan with the white wine and stir until 50% of the liquid has been absorbed.

Add your passata, tomatoes, water, cooked mince and salt and pepper to the pot and stir well. Bring your ragu to the boil and then turn the heat down to low and leave to simmer for 2 hours with the lid off. If the sauce is getting too thick as it cooks, pop the lid on. Taste your sauce as it cooks to ensure it is seasoned to your liking. You may want to add more salt or pepper.
Bechamel Sauce
In a large fry pan on a low - medium heat, melt the butter. Add the olive oil and crushed garlic and cook for 2 minutes making sure you stir occasionally so the garlic does not burn.

Add the flour to your pan and cook for several minutes stirring quite consistently with a whisk until a paste like texture forms. Add in your milk one cup at a time, whisking until smooth and thick. Whisk through the cheese and then leave to simmer for 3 minutes until your sauce has thickened and is at a consistency you like. You can add more milk if needed.
Hand rolled lasagna sheets
In a large mixing bowl, mix together the white 00 flour, semolina and salt. Place the flour onto a pasta board or clean surface and make a well in the middle of the flour with your fist or the bottom of your mixing bowl that is deep and wide enough to hold the eggs.

Place your eggs into the middle of the flour well and whisk together with a fork. When you're whisking your eggs, slowly combine the flour from the edges of where the eggs are sitting and whisk through with the eggs until a thick, custard-like paste forms. When you can no longer whisk the flour and egg with a fork, bring the flour from the edges into the well with your hands or a pasta scraper and begin to knead the dough into a ball.

Knead the dough for 10 minutes until a firm smooth dough ball forms that is moist and not sticky. Every dough is different so you will need to go by feel. 

Place your dough into a bowl and cover well with plastic wrap or a damp towel. Leave to rest for a minimum of 30 minutes. 

Uncover the dough and cut off a quarter piece. Cover the rest of the dough so it does not dry out. Place your dough onto a lightly floured pasta board or bench surface. Roll the dough out with a rolling pin into a rectangular shape that is 3mm thick. Roll the dough through a pasta machine on the widest setting (number 7 on my pasta machine). Fold the dough in half and roll it through again. Roll the dough through a narrower setting twice and fold the dough in half for the second time (number 4 or 5 on my pasta machine). Finally, roll the dough on the second narrowest setting (number 2 on my pasta machine) until you have a long rectangular pasta sheet that is roughly 10cm wide. Dust the pasta sheet with flour, cover with a towel and set to the side while you repeat this step with the remainder of the dough. You can cut your lasagna sheets to suit the size of your baking dish after they have been parboiled.
Assembly
Pre-heat your oven to 180 degrees Celsius.

In a large pot of heavily salted boiling water, quickly blanch your fresh lasagne sheets for roughly 1 - 2 minutes. Place them into a bowl of cold water to prevent them from further cooking then lay them out on clean tea towels.

In a large baking dish, smear a small amount of ragu sauce on the bottom then layer your lasagne sheets over the top. Smear a larger amount of ragu sauce over the lasagne sheets then a layer of bechamel sauce and then your lasagne sheets over the top. Repeat this step until your baking dish is filled or you have finished your sauces. You should get roughly 4 layers. For the final layer, sprinkle the cheese over your white sauce. You want to be careful with how much cheese you put on as too much cheese can make your lasagne very oily.

Bake your lasagne for 40 minutes or until the cheese is golden brown and the edges are crunchy. Leave your lasagne to sit for 30 minutes before serving. Enjoy!